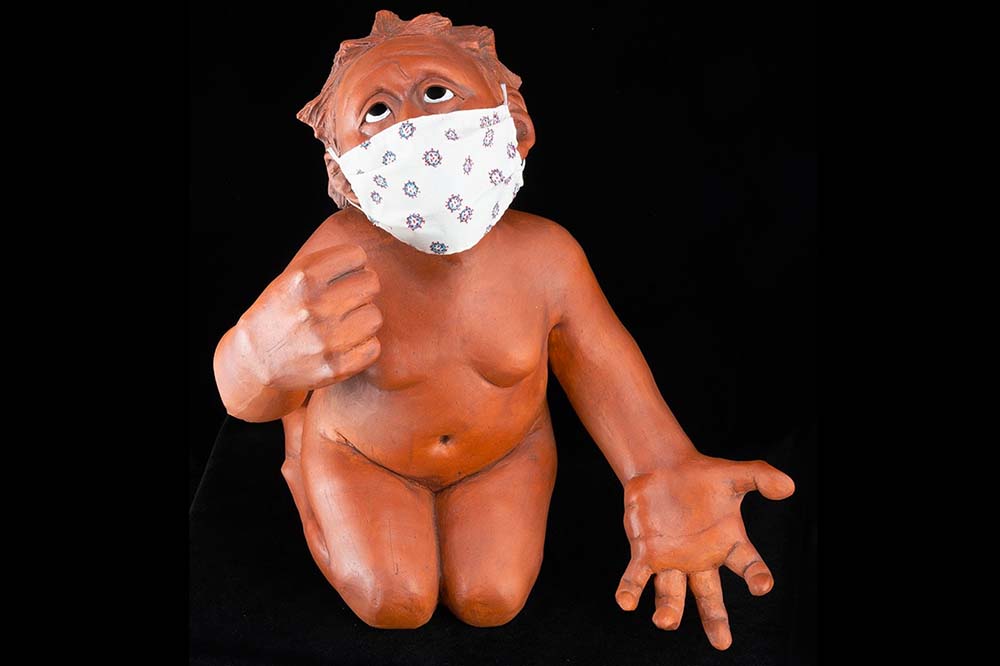 Details

Arts and Culture
The Southwestern Association for Indian Arts' Santa Fe Indian Market has always been an open, free event. That is, until COVID-19 forced the event online last year.
This year, amid the volatility of the ongoing pandemic, the group came up with a hybrid solution in an attempt to bring artists and visitors back to an in-person show while trying to keep everyone involved safe.
The Santa Fe Indian Market kept six entrances, each with its own sanitation station, and the event was ticketed, keeping the number of people in one space down. Artists were given the option of requiring masks inside their booths, and all indoor events required masks.
Alongside the in-person event, SWAIA hosted two silent auctions on its website, offered an online art market through art e-commerce site ArtSpan, and live-streamed events such as the Indigenous Fashion Show and Best in Show ceremony.
"We're trying to strike a balance," said SWAIA spokesperson Audrey Nadia Rubenstein. "A lot of our events were reimagined."
A number of Native art shows across the United States have tried to strike a similar balance, offering smaller, in-person events to supplement largely virtual offerings from the previous year. For example, the Cherokee Homecoming Art Show and Sale in Tahlequah, Okla. will take place beginning Aug. 27, hosting both virtual and in-person sales.
The efforts demonstrate the importance of the Native art shows to Native artists, said Moonhawk Art co-owner MaryBeth Timothy.
"These shows are where artists from many different tribal communities and tribal communities at-large come together, share and network. This in itself is important for us to connect with each other," Timothy said. "Sometimes we share important cultural information and techniques with one another. It's like a support system and gathering place for Native creatives."
The shows are also important from a financial standpoint: In-person shows represented about half of Moonhawk's income prior to COVID-19 prompted shutdowns.
"Once the shows were all canceled and the wholesale orders stopped due to venues shutting down, we had to quickly get things figured out. Of course, we applied for grants, PPP and the EIDL. Those helped tremendously, but were short term," Timothy said. "I was fortunate enough to get a few book illustration contracts. That was amazing timing."
The drop in income was felt across the art industry. Global sales fell to an estimated $50 billion in 2020, down 22 percent from 2019's estimated $67 billion, according to a report on the global art market from international arts organization Art Basel.
The report notes that 61 percent of in-person events in 2020 were cancelled. That left many artists without an online presence at a major disadvantage.
According to the SWAIA annual report, while 1,021 Indigenous artists were juried into the 2020 Sante Fe Indian Market, 450 participated in the virtual market, and only 77 of those artists had existing websites at the time they joined.
Timothy and her husband John were prepared for the shift online, she said, having attached an Etsy shop to their website early on.
Many fellow artists weren't so lucky.
"More are considering it now," Timothy said.
That's the case for Josiah Jacobs, an Asheville, N.C.-based Lumbee sculptor. James makes a point of maintaining little to no presence online, but he said the current circumstances are forcing him to reconsider.
"I had high hopes when the shows started coming back that things might be coming back to normal," Jacobs said. "I turned to doing mechanic work for a while, tried to wait it out, but it looks like shows are closing again or will have to soon."
Jacobs, who works primarily in metal, said that he made a living off of his sculptures in the Asheville region for 10 years before COVID-19 hit. Because he didn't sell his work online, the pandemic shut him down completely.
A move into virtual space may be necessary to continue chasing his passion, but he said he doesn't quite know where to start.
"I know cars, and I know metal, but I've never been any good with computers," Jacobs said. "I've had a hard time just figuring out [smartphones]. I'm not looking forward to the process."
Timothy said that once she and her husband got their feet under them following the initial COVID surge of 2020 and started focusing more on their online shop, sales climbed steadily.
"Once everything shut down, we started really working on it and building it to where we have increased our sales by quite a bit," Timothy said. "I think we've been doing pretty well. … Plus, working from home, you don't have the expenses that you have when travelling to shows (gas, hotel, eating out, booth fees, tolls). So there's not as much money going out, which adds up quickly."
As individual artists update and adapt to a hybrid space, so too do larger organizations like SWAIA. In addition to the hybrid format behind this year's Santa Fe Indian Market, the group hopes to shift some of the focus from a single large art event to smaller events and a virtual art store, Rubenstein said.
"What we're doing is we're trying to create opportunities for Native artists year-round," Rubenstein said. "What we're doing because of that is we're launching a new e-commerce site. That's going to be a place for Indigenous artists to come together in the digital space and create a footprint."
That new platform is a series of small, online storefronts, or "micro-sites," called "Indigenous Collections."
"The micro-sites initially will capture SWAIA artists, but our vision for this is really to be for all the United States' and Canada's Indigenous people," SWAIA Executive Director Kim Peone told Tribal Business News' sister publication Native News Online. "It's an opportunity for us to create online storefronts for artists where we help manage their content for them, and then streamline those sales with artists who live in remote areas."
That virtual market may become necessary as the spread of the COVID-19 Delta variant continues intensifying, driving some Native artists away from large gatherings. That includes Timothy, who said she and her husband plan to work primarily online for the near future.
"Now shows are starting to cancel again, but we had already decided not to put in for anymore shows for a while, due to COVID and family obligations," Timothy said.
Jacobs echoed the sentiment. As much as he wants to get back to sculpting, as a diabetic he is especially susceptible to severe COVID-19 symptoms.
"I guess I'm going to have to learn to use a computer," he said. "My hands are itching to work on something again, and if going online is the only way I'm going to get to do that, that's what I'm going to do."