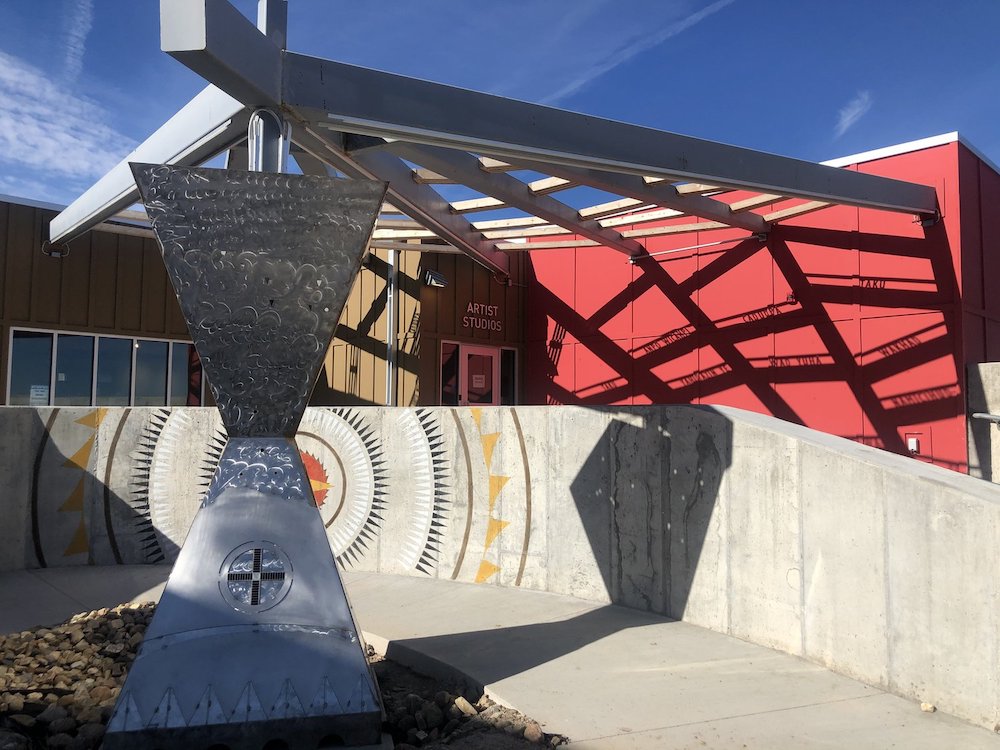 Details

Arts and Culture
A new mixed-use facility could be a boon for artists on the Pine Ridge Reservation, where 8 out of 10 home-based businesses involve some sort of art.
More than 79 percent of home-based businesses on the Pine Ridge Reservation in South Dakota involve some sort of art, according to a study by Rapid City, S.D.-based arts nonprofit First Peoples Fund. Roughly two-thirds of those businesses pull in less than $10,000 a year.
That could change with the debut of The Oglala Lakota Artspace, a new arts facility that celebrated its grand opening in mid-May. The 8,500-square foot workshop, studio, and classroom opened under the stewardship of First Peoples Fund in conjunction with nonprofit real-estate developer Artspace and Native Community Development Financial Institution (CDFI) Lakota Funds.
First Peoples Fund, which provides grant funding, research, and support to Native creators across the country, plans to offer workshops, classes, and studio space to Oglala Lakota artists who didn't have access to those amenities before, said consultant and Lakota hip-hop artist Talon Bazille Ducheneaux.
"It's a really exciting time," Ducheneaux said. "I grew up in Crow Creek and Cheyenne River, and we didn't have anything like this. After middle school, I didn't have access to any music program … other than sitting on the drum itself. Now people are going to have this as a resource, not only as a studio for artists to record and create in, but as a place to facilitate passing on knowledge and sharing skills. We're able to actualize that dream."
Breaking new ground for Artspace
The facility was developed alongside Artspace, which has a long history of building mixed-use arts facilities across the United States. So far, the organization has been involved in the creation of 60 such spaces, though the Oglala Lakota Artspace represents the first such space on reservation lands, said Artspace Vice President of Property Development Greg Handberg.
The project represents the culmination of a long-time partnership with First Peoples Fund, which began working with Artspace roughly around 2009, and more recent collaboration with Lakota Fund, Handberg said.
"We thought a building like this could make a difference," Handberg said. "It really took several years of homework to determine whether or not that was true, but we eventually built that understanding that a building like this might help."
Initial work completed on the Oglala Lakota Artspace in 2021. While the facility only recently celebrated its grand opening, First Peoples Fund has been using the space for an array of classes and workshops for months now. Getting the facility to a point where it could be used was a "learning experience" for Artspace, Handberg said.
"The process of creating the building certainly took a ton of patience," Handberg said. "The building opened in the heart of COVID — so there's been a long rollout of the building to get activity happening in there."
That learning experience was enough to prompt Artspace and First Peoples Fund to launch a new cohort under Artspace called "Pathways," which aims to build a curriculum around the Oglala Lakota Artspace's development and launch for other tribes and Native organizations to study, Handberg said. By sharing the story and process behind the facility's development, Artspace hopes to prompt other organizations and communities to determine whether or not a new arts building would be a good move for them.
The cohort is funded by a grant from Margaret A. Cargill Philanthropies, which also contributed to the Oglala Lakota Artspace development, Handberg said.
"They have a strong set of objectives around Native culture, and it occurred to them that there may be a way for the things that were learned during this building that may be useful to other Natives," Handberg said. "We want to share that."
Ideals in a cohesive space
The Oglala Lakota Artspace coalesces many of First Peoples Funds' ideals into a singular whole, making a variety of resources available for artists and creative entrepreneurs in a single spot, according to CEO Lori Pourier, who grew up on the Pine Ridge reservation.
Those include a recording studio, traditional artist studios, classroom space, an outdoor market space, a performing space, and a storefront for local nonprofit Lakota Federal Credit Union. The artspace will also serve as a headquarters for the First Peoples Fund's Dances With Words' spoken word initiative and their "Rolling Rez Arts" bus, which serves as a mobile arts space, bank, and business training center.
The result is an "Indigenous Arts Ecology," Pourier said, a "relationship-based collective arts ecosystem" meant to support Natives throughout their creative process.
"We believe Indigenous arts and culture are vital to solving the systemic, generational, social, and economic challenges faced by Native nations across the country," Pourier said in a statement. "I am elated to see the building come to life with artists and community members."
Ducheneaux said it was important to see that ecology built by a Native-led organization who could better understand what kind of support and programming Native artists needed, as opposed to non-Native investors and studios that may stumble in supporting Indigenous creators.
He pointed to a story regarding a Tuscarora singer named Pura Fe who, in the midst of producing a solo album, was asked to dress "stereotypically" for the album art regardless of the content of her album as an example.
"She really had to just fight for her album cover to be what she wanted it to be," Ducheneaux said. "Transform that to today, where I can be a Native hip-hop artist and I've had a project partially supported by First Peoples Fund, and they never interfered in that way."
The artspace will give more artists access to that kind of Native-first perspective and support, Ducheneaux said.
"I think that's most important because that's what's truly going to shift how we see each other," Ducheneaux said. "It's a vibe, it's a community, it's a connection. That's something we desperately need, and I think things like this steer us in the right direction."
The Oglala Lakota Artspace space has hosted small events and workshops during its development, but now the grand opening should make more people aware of its presence in the community, said First Peoples Fund Special Initiatives Program Manager Emmy Her Many Horses.
With the doors fully open, Her Many Horses said the organization hopes to change that perception and install the Oglala Lakota Artspace as a supportive anchor for artists and creatives.
"We have a lot of people really excited to come into the space — they're excited to see what other classes and things we have to offer, and artists are really looking forward to seeing how they can get involved," Her Many Horses said. "Having demos and festivities should help people feel like they can come and see all the things we can offer.
Her Many Horses said the Oglala Lakota Artspace's position on the Pine Ridge reservation — and its direct management by Oglala Lakota administrators — would help it personalize the various classes, workshops, and cultural events planned for the space's future. Moreover, it could help create a place for people to explore new avenues of art; Her Many Horses pointed to her own love of musical theater as an example.
"I think having a space like this opens up so many possibilities. It's a way to tell young people and artists, yes, this is something you can have if you want it to belong to you," Her Many Horses said. "I think so often we're not included in conversations about this kind of art, and people put Natives in little boxes.
"We want to make sure that through the offerings at the (Oglala Lakota Artspace), we're getting rid of the box, and saying, these are all the ways our people can be artists, and that our artists should be valued at the same level as artists from other communities."