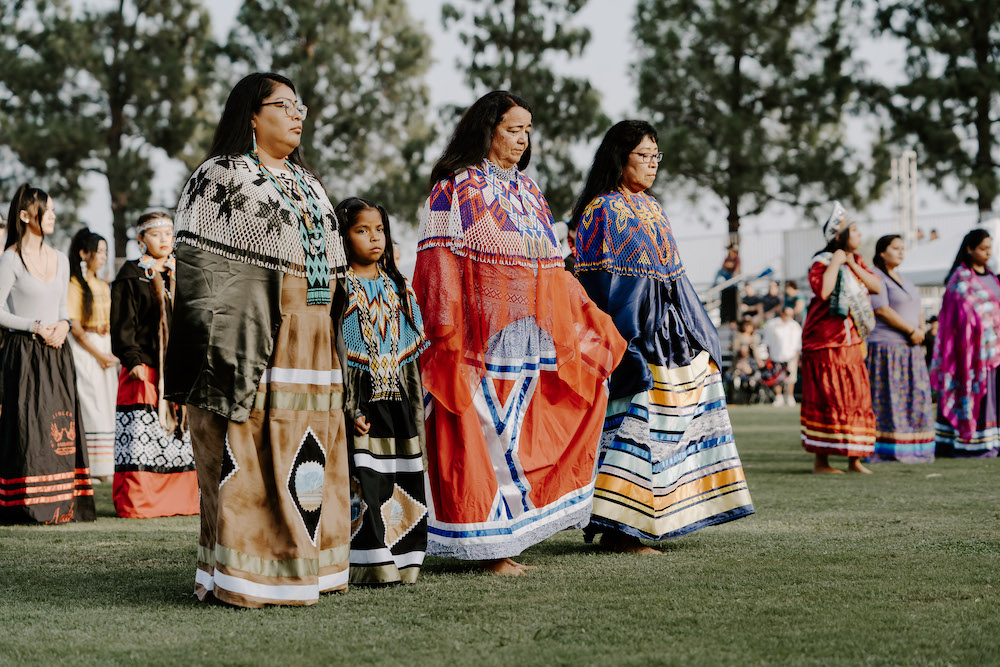 Details

Arts and Culture
Growing up in the '80s, Tom Ramos remembers going to pow wows with his relatives to set up vending booths in hopes of making it through tough holiday seasons. Between the upfront charges for booths and other event costs, Ramos' family would have to clear $125 in sales before they saw a dollar's worth of profit.
Years later, when planning his tribe's first pow wow, Ramos, now senior vice president of Tribal community services for the San Manuel Band of Mission Indians, and his cousin and co-founder Cruz Chacon, decided the pow wow — the biggest in Southern California — wouldn't charge vendors at all.
"My tüüt (grandmother) asked we never forget how much we and other vendors had to go through to make a profit at these events," Ramos said. "We went to different fairs and we decided that, if we could afford it, we were going to invite vendors in (with no charge), so that they could make money and keep it in their pocket from the get go."
That's been popular with vendors, to the point where San Manuel Band's yearly event has a waiting list. The tribe also pre-pays taxes on prize money for competition entrants, meaning that if a drum team wins $20,000, they take the whole amount home.
This year, that philosophy gave over 130 participating vendors access to 20,000 spectators and 1,000 competitive dancing entrants — the event's largest ever turnout, according to San Manuel Public Information Officer Ken Shoji.
"There was a hiatus for two years, so resuming the pow wow in 2022 was interesting because we didn't know what the turnout would be. Our CalState University partners took it on faith it would come back stronger than ever, and it did," Shoji said. "It's a marquee event. People come out to San Bernandino just for this."
Never miss the biggest stories and breaking news about the tribal economy. Sign up to get our reporting sent straight to your inbox every Monday morning.
The event makes a splash for surrounding businesses, too, including the tribe's two hotels in the area, Shoji said. Between the spectators coming from across the country and the dancing entrants, hotel rooms fill up and restaurants see a sharp surge in activity, keeping San Bernardino on the map even as larger businesses leave for areas like Los Angeles nearby.
That's a boon for both area businesses and the tribe itself, according to Ramos.
"Most of our visitors start to come in during the week, and some stay three or four days after the pow wow, and they look for places to stay, places to eat, places to visit," Ramos said. "It provides an economic benefit to the area."
The event makes such a marked impact on tourism in SoCal that the state promotes it on their website. Cultural tourism, driven by events like San Manuel Band's Pow Wow, has been a major source for tourism dollars across the country. A report from Business Research Insights notes that the cultural tourism market stands at roughly $5 billion as of early September 2023, with a predicted compound annual growth rate of 14.4 percent between now and 2029.
San Manuel's Pow Wow also spikes interest in other Native events in the area, which helps foster a spirit of community as that tourism interest radiates outward to other tribal events in SoCal, according to Shoji.
"It draws attention to other Native celebrations (and) it's really about promoting pow wow," Shoji said. "It's not a competition, it's about keeping pow wow alive."
The San Manuel Pow Wow also provides an opportunity to teach others about the tribe's culture and traditions. Drawing such a huge crowd allows the San Manuel Band to demonstrate the diversity of tribal traditions and pull people away from stereotypical depictions of Natives, Ramos said.
"There's an opportunity for all of us to share with non-Natives that's what the pow wow really was — a showcase for Native American heritage as a whole," Ramos said. "It's a way to teach the community about who we are. Not every tribe hunts buffalo. Sometimes it was bighorn sheep. Not every tribe had a tipi. It was an opportunity to share with everyone."
Sharing these joys with everyone is the whole point of the Band's pow wow, Ramos said. That's why they don't charge the vendors, and that's why they pay the dancers their full prizes: it lets the tribe showcase their core values without hampering the people supporting them.
"It's an opportunity to come out and sing with us," Ramos said. "I think it's the biggest event we have."