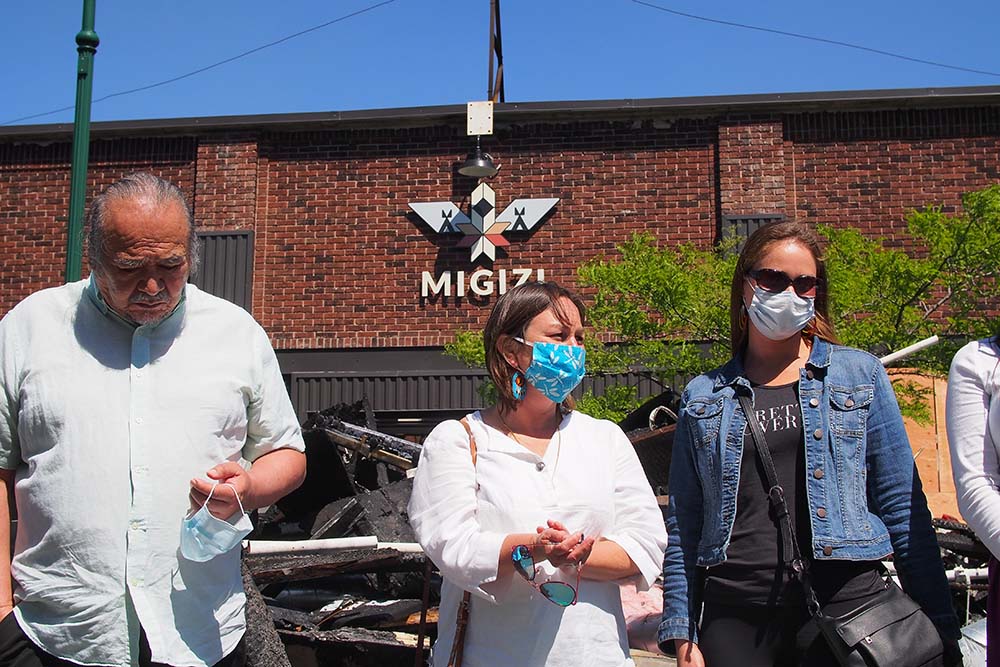 Details

By

JOSH SPANNINGA

Economic Development
MINNEAPOLIS, Minn. — When Kelly Drummer first joined MIGIZI in 2018, first as a consultant and a few months later as its president, her efforts focused in large part on raising funds to renovate the organization's new headquarters.
For the Minneapolis-based nonprofit, the facility played a key part in its work to empower Native American youth through job training and education programs.
Less than nine months after hosting a grand opening ceremony for the MIGIZI headquarters, Drummer (Lakota) watched as the facility went up in flames during the George Floyd protests in the city. She stayed at the building throughout the protests in efforts to protect it, but when flames from a nearby fire spread to the building, it was out of her hands.
"It was heartbreaking for me seeing it disappearing in a matter of minutes," Drummer told Tribal Business News.
The loss of MIGIZI's home only compounded the challenges the group was already facing in the middle of the COVID-19 pandemic.
"It's still affecting us today," Drummer said. "We had basically been in our new building from July until we had to shut down in the middle of March, so we had to rethink the delivery of all of our job training services, as well as our work in the schools since the schools were shut down."
Despite these mounting challenges, the organization was undeterred and hopeful for the future. MIGIZI teamed with the Minneapolis American Indian Center to hold in-person summer programming at its facilities and continued serving the youth in the community. The nonprofit also set up a GoFundMe to raise money to rebuild, with donations pouring in shortly afterward.
"It just so happened that the word got out and spread across the world," Drummer said. "We were able to raise over $2 million from about 30,000 people. The amazing part is that they weren't huge donations, but it was a lot of people giving."
While many of the donations were local, MIGIZI also received funds from as far away as Japan, and just had a donor from England set up a recurring donation.
Likewise, individuals provided the bulk of the support, but MIGIZI also received help from some local organizations. In addition to the Minneapolis American Indian Center offering up its space to hold MIGIZI programs, the Saint Paul & Minnesota Foundation facilitated several small grants from its donor advised funds for support.
Tiffany Kong, program officer for the Saint Paul & Minnesota Foundation, said her organization, the Mardag Foundation, and the F.R. Bigelow Foundation, all of which are based in St. Paul, have awarded a total of $175,000 to MIGIZI over the past two years.
"We've had a long relationship with Kelly Drummer, and she also serves as one of the members on our community impact grantmaking committee through the Saint Paul & Minnesota Minnesota Foundation," Kong said. "We know Kelly very well."
Kong foresees continuing the foundation's support for MIGIZI in the future.
"All three foundations are really focused on supporting organizations that are serving under-resourced populations and marginalized communities," Kong said. "We know that the Native American community is one of the communities, especially in Saint Paul, that we want to continue to support through our grantmaking and to provide more resources."
'WE CAN'T WAIT'
Drummer is thankful for the support of the individual donors and organizations who helped MIGIZI through this challenging year. With the $2 million raised, the nonprofit's board members are currently looking for a new space to purchase and renovate.
"The future of that block — it's going to be a long time, and the board feels that we can't wait," Drummer said. "This gets us where we need to be faster."
While the search for a new space is ongoing, MIGIZI continues to serve youth in the area through their various programs, with a special focus on helping students excel at school despite COVID-19.
"The COVID challenges, I think it's scarier now than it was before," Drummer said. "We know the disengagement of these kids from our experience over March, April, May, June, and now here we are again. They've been in school for almost two months and they're not engaging, they're not attending, they're not doing their work."
MIGIZI is currently working closely with five school districts in the Twin Cities area to help Native youth excel at school. With local public schools remaining open, executives felt it was important to provide direct support to students who need it, whether it's virtual or in-person.
"Our interactions and being at the schools, being present is critical to meet those kids that are struggling," Drummer said.
In addition to its work in schools, MIGIZI continues to host its Green Jobs Pathway program, which teaches Native youth skills that can be used to secure a career in renewable energy. It also runs First Person Productions, which teaches Native students videography, photography, digital marketing and interpersonal skills to successfully create media that gives them a voice.
SIGNS OF STRENGTH
The trials MIGIZI has faced this year would be enough to cause the collapse of some organizations, but Drummer said the team has taken it as an opportunity to build the organization even stronger than before. It's an organization that Drummer knows well, having been a long-time mentee.
When former MIGIZI President Elaine Salinas was retiring, she asked Drummer — who was leaving the St. Paul-based Tiwahe Foundation at the time, seven years after she helped found it — to help fundraise for the headquarters renovation. MIGIZI then brought Drummer on as president in November 2018.
During a year in which so many organizations have been forced to close their doors, MIGIZI remains committed to focusing on the positive and is striving for an even more successful future.
While the fire in June destroyed MIGIZI's physical building, it also strengthened the organization as a whole and put a spotlight on the work it does in the community, she added.
"From June, from the time of the fire until the beginning of August, I've probably had two to three interviews per day with newspapers and media and radio and television, kind of everything, so that's also helped," Drummer said. "A lot of people didn't know who we were. We've been around for 40 years and nobody knew us."