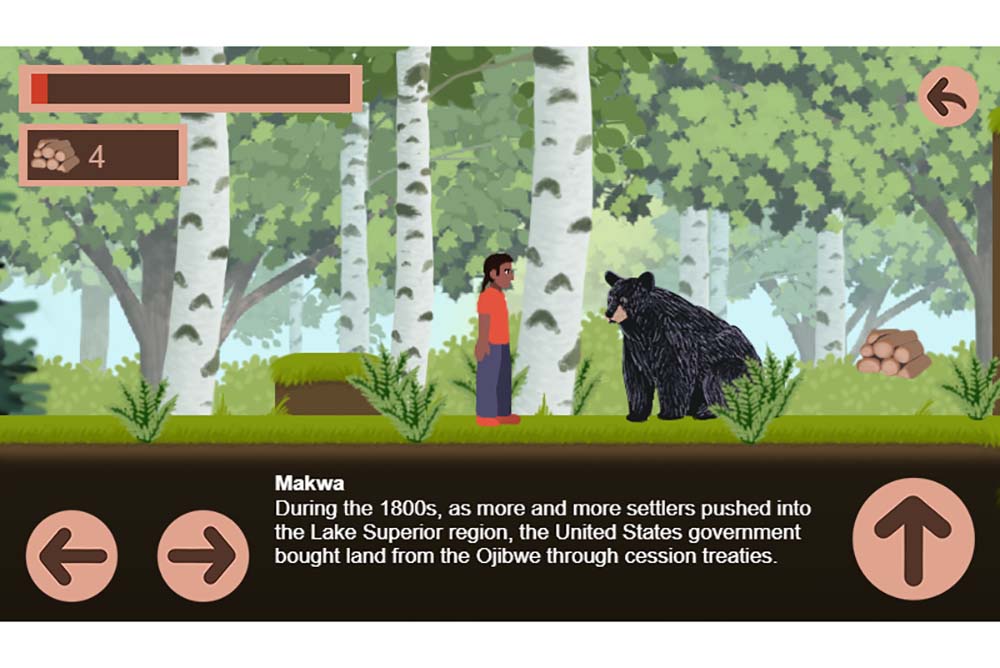 Details

Economic Development
University of Wisconsin-Stout junior Eleanor Falck has set her sights on the booming video game industry following her graduation from college.
Falck hopes to bring not only her talent as an artist and world builder to bear, but also her heritage, made evident in her first publicly available game, a platforming title called Growing Up Ojibwe.
The free title was developed by Falck during a summer internship with the Great Lakes Indian Fish and Wildlife Commission, and chronicles the journey of Ojibwe youth as they learn about the history of conservation in the Great Lakes region.
Eleanor Falck. Courtesy photo.Growing Up Ojibwe and other Native-centric titles represent a miniscule portion of the wider video game industry. Games featuring Native protagonists don't register even a partial percent of the top 50 games sold in the United States, according to sales listings provided by PC gaming market Steam.
Native employment in the industry is even smaller. A 2016 report by the International Game Development Association showed that Native employees represented just 2 percent of the industry's workforce.
Despite that lack of representation, Falck is moving ahead with her career plans.
"The lack of Native representation in the game industry does not discourage me," Falck said. "I will continue to improve my artistic skills and pursue a career I am passionate about regardless of the demographics of the industry."
In fact, Falck hopes to push the industry to be more diverse.
"When developing a game, it is important to have people from many backgrounds with many skill sets working as a team," she said. "A wider diversity of experiences and ideas will create better games and also improve the industry as a whole."
Gaming as an industry is growing rapidly. A market analysis by Grand View Research found that the $151 billion industry as of 2019 stands to expand at a compound annual growth rate of 12.9 percent by 2027.
The report cited growing innovation in software and hardware development, as well as improved access to the internet contributing to increased digital sales, as primary growth drivers.
Outside of the economic opportunities, Natives need to become more involved in creating video games that better represent their cultures, Falck said.
"When developing a game that includes Native characters, having input from Native people is crucial in correctly representing their narratives and not furthering harmful stereotypes or misinformation," Falck said.
Growing Up Ojibwe frames the game's mechanics as a learning opportunity. Players move through an environment modeled after northern Wisconsin, speaking with animal spirits and offering aasema (tobacco) in exchange for knowledge of Ojibwe history, particularly concerning conservation efforts following land-ceding treaties. Later levels in the game see the player character harvesting maple syrup and creating maple sugar, spearfishing and harvesting wild rice.
Falck called the game an opportunity to teach Ojibwe history via interactivity, which in turn would help the viewer retain the lessons taught.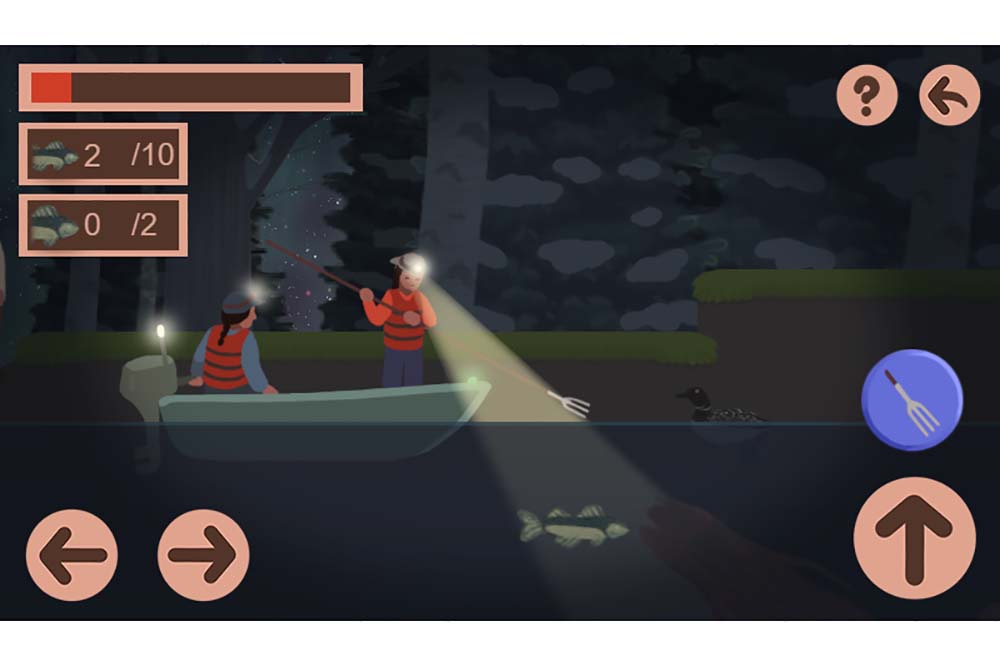 "Games are a great medium for learning," Falck said. "They can help players understand and connect with the material better since they are experiencing a simulated version of it themselves."
Growing Up Ojibwe was based on a children's book series published by Falck's partners in the game's development, the Great Lakes Indian Fish and Wildlife Commission.
Falck drew on her own memories of spending time with her family and working outside when putting the game together.
"During the development process, I was able to draw on my own experience of harvesting wild rice and making maple syrup with my family," Falck said. "This experience helped inform me of how to translate these activities into game mechanics."
The free Growing Up Ojibwe can be played in a web browser or on Android devices.
With Growing Up Ojibwe added to her portfolio, Falck looks ahead to the summer, where she hopes to get an internship that will help develop her 3-D environment building skills.
In her senior year, she and a team of game design students plan to develop their own game. After graduation, Falck hopes to break into the industry as a 3-D environment artist.
Falck encourages other Native students with similar aspirations to get involved in the industry and share Native perspectives that are desperately needed.
"A wider diversity of experiences and ideas will create better games and also improve the industry as a whole," Falck said, "I encourage anyone who is passionate about game development to pursue it."
Want more news about the $130 billion tribal economy?
Tribal Business News publishes thoroughly reported and well-crafted stories about Native businesses and entrepreneurs, growth and expansion strategies, best practices, economic data, government policy and other relevant business news. Tribal Business News is required reading for tribal council members and leaders of Native businesses, as well as state and federal legislators, policymakers, economic developers, entrepreneurs, bankers, lawyers and anyone interested in doing business in Indian Country.
Sign up for our free newsletter to track Native business and the tribal economy. Or sign up for a premium digital subscription ($99/year or $10/month— cancel anytime) to gain full 24/7/365 access to our business news reporting. Megwetch.