Here is a round up of business news briefs from around Indian Country.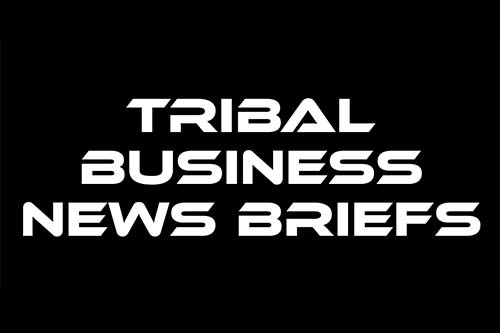 Real estate
• The Yurok Tribe has purchased a two-story, 8,500-square-foot commercial property in Eureka, Calif. to accommodate a growing base of employees working for tribal services, according to a statement. Staff from the Yurok Tribal Court and Yurok Health and Human Services will move into the new building, which the tribe purchased with CARES Act funding. The tribe said it needed to find a new facility after outgrowing its existing offices in Eureka. "The centrally located building will enable us to maintain a COVID-safe environment for our fast growing workforce," Lana McCovey, the South District Representative on the Yurok Tribal Council, said in a statement. "The COVID-19 pandemic has increased the need for tribal services. To keep up with the demand, we have hired many new tribal staff to administer our assistance programs. Also, many of our service providers collaborate with Humboldt County agencies and the downtown location of the new office will make coordination that much easier." An existing tenant — a state agency — will remain in ground-floor space at the facility.
• The Monacan Indian Nation received unanimous local approval to rezone a 4-acre parcel of land near its headquarters in Amherst County, Virginia to allow the tribe to develop it for business uses, according to a report in the Amherst New Era-Progress. "It will bring jobs to Amherst County. It will bring tax revenue," Kenneth Branham, the tribe's chief, said in the report. "It's a win-win situation for everybody." The tribe plans to build a health clinic on the site to serve the needs of members.
• The Seminole Tribe of Florida has purchased a 124-unit luxury apartment complex in Dallas from Miramar Equity Partners, marking the tribe's second property transaction in the city in the last seven months, according to a report in the Dallas Morning News. The Hudson Apartments, which is located near the Knox Street retail corridor, have rents starting at $2,000. The Seminole Tribe of Florida's other ventures also include Hard Rock International, which owns, licenses and manages branded hotels, casinos, restaurants and concert venues.
Health care
• The Skokomish Indian Tribe of Washington has tapped San Diego, Calif.-based WithHealth Inc. to provide virtual care to members as part of the tribe's response to the COVID-19 pandemic. The tribe is funding the effort via a Rural Tribal COVID-19 Response Grant intended to improve access to care by implementing telehealth services. The Skokomish Tribe also is deploying mobile COVID-19 clinics as well as offering temporary housing to members who need to quarantine. The tribe has been working with WithHealth for about three months to have its system integrate with electronic medical records. Deb Dunithan, the grants and contracts specialist for the Skokomish Tribe, said the relationship between the tribe and WithHealth is "a true partnership."
Finance
• Four Directions Development Corporation, a Native community development financial institution (CDFI) based in Orono, Maine, awarded $68,000 in funding to the Houlton Band of Maliseets to fund an engineering plan for a tribal housing development, according to a report in the Bangor Daily News. The tribe aims to build 13 affordable homes for members to complement a pair of model homes that it expects to complete this summer. Four Directions Development Corporation is focused on serving the four federally recognized tribes located in Maine.
Gaming
• The Fort Hall Business Council of the Shoshone-Bannock Tribes has appointed Ray Barlow as CEO of the Shoshone-Bannock Casino Hotel. Barlow is a member of the Shoshone-Bannock Tribes and first joined the gaming enterprise in 2016 on the cashier team before moving into the roles with greater responsibility. He is a graduate of Idaho State University with degrees in business administration management and accounting. The 85,000-square-foot Shoshone-Bannock Casino Hotel is located on the Fort Hall Reservation in eastern Idaho and features 156 hotel rooms, a ballroom, various food amenities and a bingo hall. The Shoshone-Bannock Tribes also operate gaming at Sage Hill Casino and Travel Center and Bannock Peak Casino and Truck Stop.
Since you're here.
Doing business anywhere is a challenge, but it's even more challenging in Indian Country. Tribes and their citizens face unique obstacles as they try to build Native-owned enterprises: the patchwork of federal laws, bureaucratic red tape, limited access to capital and the fact that most people are unfamiliar with what's involved in operating a business in Indian Country.
We believe Tribal Business News can help remove some of those hurdles by highlighting what tribes and Indigenous business owners are doing to build the tribal economy. We're committed to bringing you thoroughly reported and well-crafted stories about Native entrepreneurs, M&A, expansions, best practices, economic data, government policy and other relevant business news. Our goal is to make Tribal Business News required reading for tribal council members and leaders of Native businesses, as well as state and federal legislators, policymakers, economic developers, entrepreneurs, bankers, lawyers and anyone interested in doing business in Indian Country.
Hopefully, you'll consider supporting Tribal Business News through a discounted subscription ($99/year — use coupon code "TBN21") or a donation to help fund our reporting. Sign up for our free weekly newsletter that comes out each Monday morning.
Megwetch for your continued support.