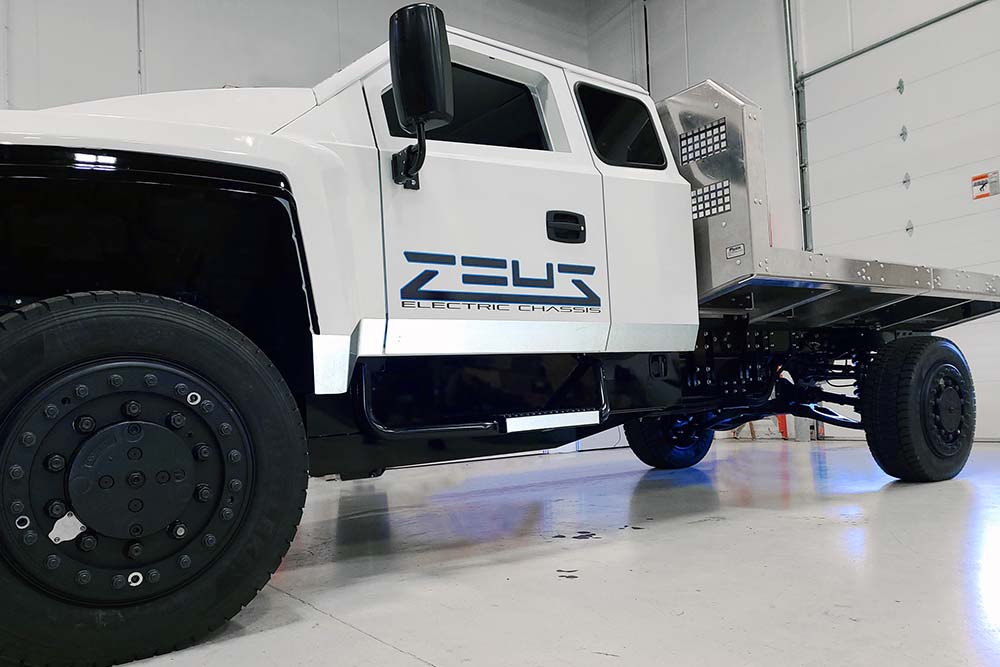 Details

Economic Development
MCALESTER, Okla. — Choctaw Defense Manufacturing LLC will soon begin building assembly kits and chassis for startup electric truck maker Zeus Electric Chassis Inc.
Owned by the Choctaw Nation of Oklahoma, the McAlester, Okla.-based Choctaw Defense will help build electric work vehicles intended for a range of uses, from garbage pickup to repair work. The first units, which have already been purchased by the Sacramento Municipal Utility District, are planned to enter production in August.
Those units will be used to train Choctaw Defense Manufacturing on their production, and the tribal enterprise will join in the operation from there.
Sarah Curtis, CEO of parent company Choctaw Global, said the partnership and memorandum of understanding between the two firms represented an opportunity to diversify Choctaw Defense's portfolio without a "significant" capital investment.
"To start off our assembly work for Zeus, we might add a piece of a crane lift or extend our crane line, but nothing significant," Curtis told Tribal Business News. "I'll count myself very fortunate if production gets to where we need more equipment."
Wayne Kugel, CEO of White Bear Lake, Minn.-based Zeus Electric Chassis, said Choctaw Defense's readiness to produce the work vehicles made the tribally owned firm an ideal partner.
"Choctaw Defense Manufacturing had a skilled workforce, they had the tools available, they had the processes, so it just made a significant amount of sense," Kugel said.
While details have yet to be finalized, Choctaw Defense would receive a portion of profits from each vehicle manufactured at their plant, Kugel said. The idea is that Zeus will receive orders and Choctaw Defense will produce those orders at scale.
Zeus Electric's truck chassis are reconfigurable, with each constructed from a common chassis that can be arranged for specific uses.
"Boom trucks, bucket trucks, dump trucks — these are all trucks that do work in your neighborhoods," Kugel said. "What we do is we configure our solution to exactly what is needed. What power do they need? How far do they need to go? How much weight are they putting on them?"
An untapped and growing market
Electric vehicles are a growing market poised for a meteoric rise in usage according to an outlook report by low-carbon economy research outlet BloombergNEF. A combination of incentivizing policies — such as the Biden administration's push to transition to electric work vehicles — alongside improvements in batteries and charging infrastructures could lead to a spike in the number of active commercial electric vehicles, from 1 million in 2020 to roughly 5 million by 2025.
The research outlet attributes the 500 percent increase to factors such as decreasing battery costs and increasing battery efficiency, as well as the increased efficiency of vehicles that can start and stop without reducing fuel economy, unlike diesel vehicles.
"Electrification is also making inroads into heavier vehicles. In urban duty cycles, battery electric trucks of any size become the cheapest option for several use cases in the 2020s," according to the outlook report.
EV startups like Zeus are positioned to enter into a rapidly growing but mostly untapped market, which made the company an attractive partner for Choctaw Defense Manufacturing, Curtis said.
"I think it's a good niche to be in. I don't think there is a ton of competition in that particular area," Curtis said. "I've sat in one of their vehicles and I've seen the wheels spin. … It's a very cool truck."
Building and rebuilding
For Choctaw Defense Manufacturing, producing assembly kits and chassis represented a new line of business. The diversification came at an important time for the company, which is experiencing a softening in its federal contracting business in the wake of the COVID-19 pandemic.
While the company has a long history of producing everything from military-grade space heaters to ammunition crates, the pandemic caused a dip in government spending that affected the manufacturing division, Curtis said. Choctaw Defense's workforce dipped to around 55 employees from past highs of "well over 100" people.
"There is always an ebb and flow to business, but COVID certainly exacerbated the ebb this past year," Curtis said.
As well, by broadening the customer base beyond federal work, Choctaw Defense aims to boost its offerings and find new growth opportunities.
"It's running really lean right now. We're very much in the stabilizing and looking to grow phase and building back up," Curtis said. "This gives us a little protection against that ebb and flow of government contracting and government procurement."
Curtis called the partnership an opportunity for the Choctaw Nation to "lead the charge" in promoting environmental preservation, alongside the chances for financial success.
"I think this is a great story, really, for both parties, but I think particularly for the Nation. It's not typical that tribal entities, whether it's tribes or Alaska Native Corporations, are on the forefront of things like this," Curtis said. "It has the possibility to bring significant reward financially and educationally."
Zeus Electric reached out to Choctaw Defense because founder Robert Grinstead had a prior relationship with the manufacturer. A spring 2020 meeting just prior to the pandemic proved both parties shared a lot of "chemistry," Curtis said.
"It was a really good connection and there was a lot of excitement about the relationship and what it could do for the Nation and for Zeus," Curtis said. "I think normally there would be some nervousness, but our team is so excited and there seems to be such a strong connection with the Zeus team, the nervousness hasn't come. When you look at the folks involved with Zeus and their passion and commitment, I don't think there is a need to be nervous."
Curtis wasn't sure if Choctaw Defense would continue broadening its non-federal work beyond the relationship with Zeus. For the time being, the manufacturer will focus on making the most of its newest partnership.
"I'm hoping this relationship continues for sometime. We've certainly talked about joint-venturing projects to the federal government," Curtis said. "Everybody's really excited about seeing this come to fruition."