GRAND RAPIDS, Mich. — Tribal Business News continues to grow its newsroom with the addition of a new reporter.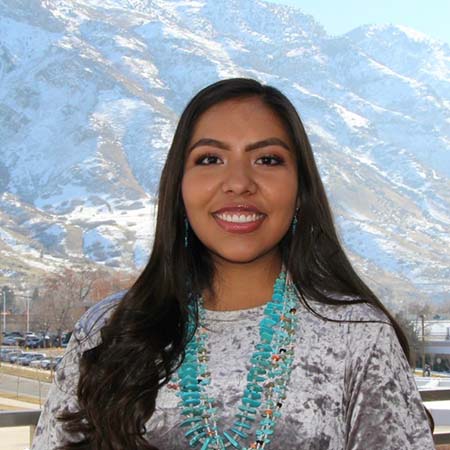 Erin Tapahe, who hails from Window Rock, Ariz. and is an enrolled member of the Navajo Nation, joined the team this week. Based in Provo, Utah, Tapahe will cover breaking news and handle general assignment reporting duties for Tribal Business News, which launched in October 2020 to cover the $130 billion tribal economy.
Tapahe graduated from Brigham Young University in 2019 with a bachelor's degree in communications with an emphasis in news media and a minor in American Indian studies.
"I am so excited because it just felt right — the right timing, the right organization," she said.
While new to the business beat, Tapahe said she was excited to learn the field.
"I always love writing about Native American people and communities because that's where my heart is," Tapahe said. "Native people don't always make mainstream media, but we have stories. I want to write truthful and heartfelt stories about my people. I think the word 'business' can be a bit intimidating but I want to make it more accessible and tangible."
That passion for Native stories carries over to Tapahe's social media, where she shares video stories with her more than 75,000 followers on TikTok.
"I started my TikTok account to spread the word about our project called, 'Art Heals: The Jingle Dress Project,'" Tapahe said. "My followers are really supportive and genuinely want to learn about Native American people."
Previously, Tapahe's byline has appeared in Osage News, Indian Country Today and Navajo Times.
Tapahe credited Mark Fogarty, her mentor and a Native American Journalism Association fellowship adviser, for the recommendation to consider the "exciting" new position at Tribal Business News. Fogarty also recently started contributing to the publication.
"I have so much respect for (Fogarty)," Tapahe said. "I felt really confident and I really liked the organization and the people, but also how open communication was there."
Tapahe joins editor and publisher Levi Rickert (Prairie Band Potawatomi), senior editor Rob Capriccioso (Sault Ste. Marie Tribe of Chippewa Indians), reporter Chez Oxendine (Lumbee-Cheraw) and managing editor Joe Boomgaard in the publication's virtual newsroom.
"We are excited to bring Erin onto the Tribal Business News editorial team," Rickert said. "Combined with the deep-rooted cultural values she learned from her family and Diné tribal community, Erin brings a passion for excellence in her reporting and writing to help share what is important to Indian Country."
Tribal Business News is currently seeking to add additional freelance and contract writers to its reporting staff. Contact [email protected] for more details.
Want more news about the $130 billion tribal economy?
Tribal Business News publishes thoroughly reported and well-crafted stories about Native businesses and entrepreneurs, growth and expansion strategies, best practices, economic data, government policy and other relevant business news. Tribal Business News is required reading for tribal council members and leaders of Native businesses, as well as state and federal legislators, policymakers, economic developers, entrepreneurs, bankers, lawyers and anyone interested in doing business in Indian Country.
Sign up for our free newsletter to track Native business and the tribal economy. Or sign up for a discounted subscription ($99/year — use coupon code "TBN21") to gain full 24/7/365 access to our business news reporting. Megwetch.