Here is a round up of business news briefs from around Indian Country.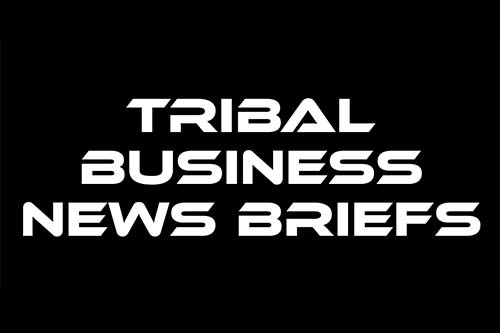 Entrepreneurship
• A pair of Native-owned businesses were selected by Apple as part of its initial cohort of 15 BIPOC-owned companies involved in green technology and clean energy to join the tech giant's Impact Accelerator. The three-month program aims to "support equity and opportunity in the environmental sector" and will offer customized training and access to Apple's team of experts with a goal of positioning the companies to become suppliers of Apple. The companies included the Oceti Sakowin Power Authority, an independent, nonprofit governmental entity formed by six Sioux tribes to jointly develop tribal renewable energy resources in the Dakotas, and L2S Engineering LLC, a Native American-, woman-owned mechanical, electrical, and plumbing engineering design firm that provides services in multiple states and helps clients minimize their carbon footprint.
Health care
• Bryan Warner, deputy chief of the Cherokee Nation, was elected to a one-year term to serve as chair of the Tribal Advisory Committee for the Centers for Disease Control and Prevention, according to a statement. Warner has served as a representative on the committee since 2017. The Tribal Advisory Committee, which was established in 2005, provides tribal input to the CDC on policies that promote health in Indian Country. The 16-member board also advises the Agency for Toxic Substances and Disease Registry. "The work that the CDC has been doing is so crucial during the ongoing pandemic," Warner said in a statement. "That's why I'm proud to be a part of the Tribal Advisory Committee where I can continue to share the concerns that we have here at the Cherokee Nation and work with other tribes to help secure the health and well-being of everyone across Indian County."
Government
• Alaska Republican U.S. Sen. Lisa Murkowski recently named two Native people to her Anchorage office team. Cordelia Kellie (Iñupiaq) was named special assistant for rural affairs. She comes to the position having spent her career in communications and external affairs, tribal education, rural community development, legislative affairs on the state and federal levels, language and cultural instruction, and building regional and statewide rural and Alaska Native relationships via community organizing. As well, Leann Sommer, who is Athabascan and of the Louden Tribe, will serve as Alaska State Scheduler. She has been working in the Alaska tourism industry for the last decade and in 2020 was honored by the National Center for American Indian Enterprise Development in its Native American 40 Under 40.
• The Biden administration said last week that it intends to nominate Charles "Chuck" Sams III as director of the National Park Service. Sams is an enrolled member of the Cayuse and Walla Walla, part of the Confederated Tribes of the Umatilla Indian Reservation in Oregon, where he most recently served as executive director. He currently serves as a council member to the Northwest Power and Conservation Council, where he was appointed by Oregon Gov. Kate Brown. Throughout his career, Sams has held executive and director roles with the Indian Country Conservancy, the Umatilla Tribal Community Foundation, the Tribal & Native Lands Program for the Trust for Public Land, the Columbia Slough Watershed Council, the Community Energy Project, and the Earth Conservation Corps. A U.S. Navy veteran, Sams has a bachelor's degree in business administration from Concordia University-Portland and a master's of legal studies in Indigenous Peoples Law from the University of Oklahoma. His nomination will now be considered by the U.S. Senate.
• The Bureau of Indian Affairs finalized updates to regulations that modernize how it maintains titles to federal Indian trusts and restricted fee lands. Under the changes, the BIA's Land Title and Records Office (LTRO) will maintain title documents electronically for land the United States holds in trust or restricted fee status for American Indian and Alaska Native tribes. The new regulations also outline a framework for the system's continued operations and future electronic maintenance. According to the agency, the LTRO will be able to more efficiently address title-related actions that support Indian land transactions. The move also supports tribal self-governance by removing the need for secretarial approval of certain title documents, according to a statement.
Higher education
• Amber Garrison (Choctaw Nation of Oklahoma) has joined the board of directors for the Albuquerque, N.M.-based American Indian Graduate Center. Garrison serves as senior vice president and global general manager for Bumble and bumble, a hair care brand that's part of The Estée Lauder Companies, where she previously worked in strategy, growth and business development. Garrison has a bachelor's degree from Rice University and a master's degree from London School of Economics and Political Science. "Coming from a family of educators, American Indian Graduate Center's mission resonates deeply with me," Garrison said in a statement. "I am especially passionate about the transformational power of education for Native students, their families and communities." Since its formation, the American Indian Graduate Center has awarded more than $350 million in scholarships to more than 16,000 Native scholars.
Gaming
• Gross gaming revenues for tribal casinos plummeted 19.5 percent for the COVID-marked 2020 fiscal year, according to the latest numbers released last week by the National Indian Gaming Commission. Revenues fell in each of the NIGC's eight regions. For example, the 42 casino operations in the Rapid City region spanning Montana, Wyoming, North Dakota and South Dakota had revenue of $200 million in FY 2020, compared with $400 million in the previous fiscal year, according to NIGC data. The NIGC expects the results to mark only a "temporary setback for Indian gaming," according to NIGC Chairman E. Sequoyah Simermeyer (Coharie). "This Gross Gaming Revenue decrease was expected; the unknown was just how much of an impact COVID-19 had on Indian gaming," Simermeyer said in a statement. "Every year, the annual GGR figure tells a story about Indian gaming's successes, contributions to Indian communities, and economic impacts. This was highlighted even more during the pandemic."
• The Tule River Gaming Authority has selected Hill International Inc., a Philadelphia-based construction management company, to serve as owner's representative for the first phase of a project to relocate the Tule River Tribe of California's Eagle Mountain Casino near Porterville, Calif. In the $200 million project, the tribe plans to move the casino operations to a new facility 17 miles away from the current Eagle Mountain Casino location, according to a statement. As part of the agreement, Hill will provide construction management, scheduling, estimating and cost management, quality control, planning and coordination with third-party providers, and contract administration. "This project shows the strength of the Eagle Mountain Casino experience specifically and the return of tourism in general as we emerge from the pandemic," Henry Corken, vice president of Native American program services at Hill, said in a statement. "Our team has a demonstrated history managing projects for Native American gaming clients across the U.S., and we'll bring our best practices to Eagle Mountain to make certain the project is a success."
Hospitality
• The Saginaw Chippewa Indian Tribe of Michigan is partnering with Winter Park, Fla.-based Ruth's Hospitality Group Inc. to open a Ruth's Chris Steak House at the tribe's Soaring Eagle Resort and Casino in Mount Pleasant, Mich. The fine dining steakhouse location will be the brand's fourth in the state. "We are pleased to partner with Ruth's Chris to bring this outstanding brand to Soaring Eagle. We look forward to offering the great Ruth's Chris experience to our valued guests," Saginaw Chippewa Gaming Enterprises CEO Mike Bean said in a statement.
Want more news about the $130 billion tribal economy?
Tribal Business News publishes thoroughly reported and well-crafted stories about Native businesses and entrepreneurs, growth and expansion strategies, best practices, economic data, government policy and other relevant business news. Tribal Business News is required reading for tribal council members and leaders of Native businesses, as well as state and federal legislators, policymakers, economic developers, entrepreneurs, bankers, lawyers and anyone interested in doing business in Indian Country.
Sign up for our free newsletter to track Native business and the tribal economy. Or sign up for a discounted subscription ($99/year — use coupon code "TBN21") to gain full 24/7/365 access to our business news reporting. Megwetch.