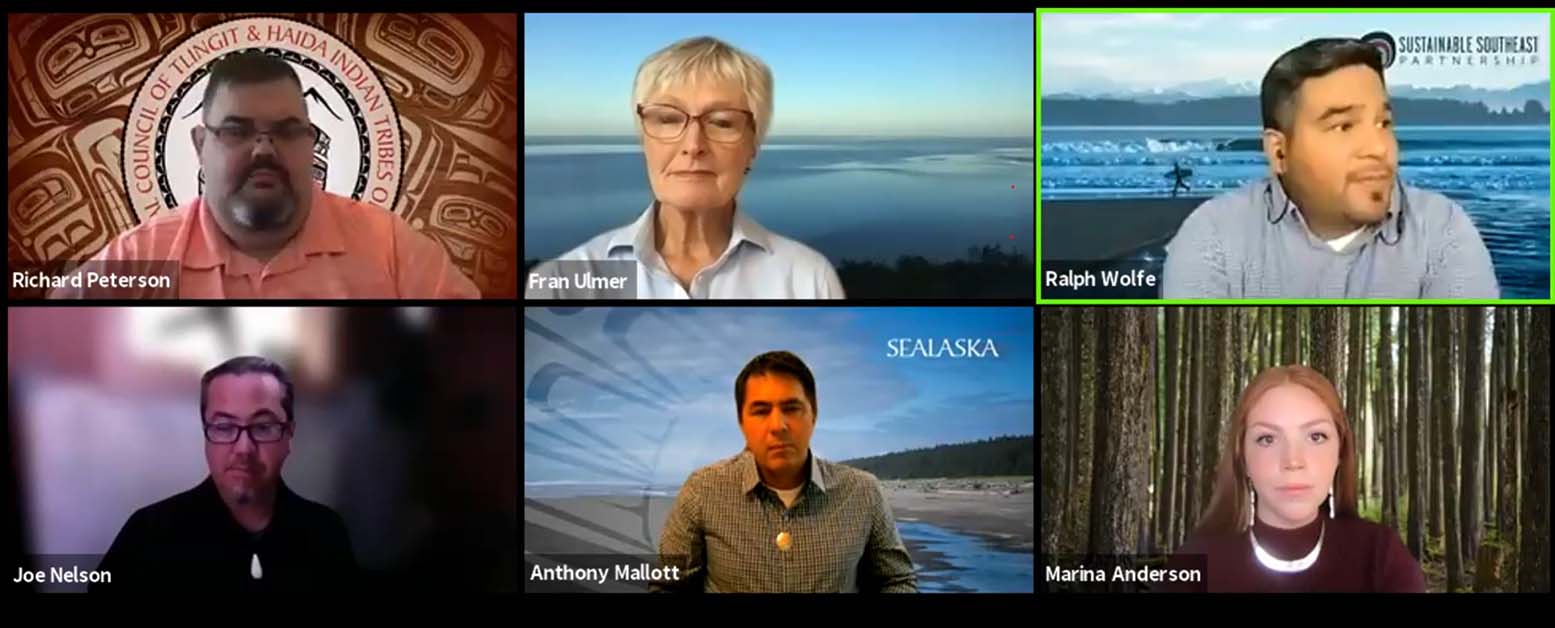 Details

Economic Development
JUNEAU, Alaska — Two organizations have pledged a total of $17 million to establish a trust fund that will support Native-led community programs and conservation in southeast Alaska.
The Sustainable Southeast Partnership on Thursday announced the establishment of the Seacoast Trust, backed by a $10 million pledge from Sealaska Inc. — an Alaska Native corporation owned by more than 23,000 Tlingit, Haida, and Tsimshian shareholders — and a $7 million contribution from conservation group The Nature Conservancy.
The Nature Conservancy also is working to fully match Sealaska's commitment through continued fundraising.
The Sustainable Southeast Partnership is a collective of tribal governments, Alaska Native corporations, local businesses, government agencies and community members with a goal of strengthening Indigenous leadership and prosperity in the region. Group projects range from conservation efforts surrounding the Tongass National Forest to workforce development and training initiatives.
The Seacoast Trust will help continue to fund these efforts, which often manifest as unrestricted funds given directly to community "catalysts," or the organizers and groups behind each project, said Ralph Wolfe (Tlingit & Haida), program director at the Sustainable Southeast Partnership.
Juneau-based Spruce Root Inc., a Native community development financial institution (CDFI) that serves as the partnership's steering organization, will manage the trust fund alongside a board of trustees. The group seeks another $3 million in funding by the end of 2022 to cement the trust fund, which they eventually hope to grow to $100 million, Wolfe said.
"We're perpetually looking for funding, and I think that's the important thing behind the trust and this announcement," Wolfe told Tribal Business News. "It's continuing on with this work."
Richard Peterson, president of the Central Council of the Tlingit & Haida Indian Tribes of Alaska, called the Seacoast Trust a "lifelong professional dream" come true.
"This is a monumental occasion," Peterson said during a live-streamed event to announce the trust. "This is what we've wanted to bring to the table for years. It took bringing the Nature Conservancy to the table, and if Sealaska hadn't stepped up and said, 'We're going to commit these funds,' it wouldn't have happened. We'll be able to keep moving forward and use these funds to help our communities."
Peterson praised the Sustainable Southeast Partnership's use of unrestricted funds to support community projects, describing it as an act of trust in the tribe.
"This is going to be Indigenous led and at the local level," Peterson said. "That's where that $20 million is from: to maintain the network and continue growing how we're able to do this work. It's about giving that ambiguity to tribes to do what they want with these funds."
Nature Conservancy Regional Program Director Christine Woll said her organization believed that supporting "the land's original stewardship" was the best way to preserve and protect the Tongass National Forest.
Woll said the forest's biodiversity and carbon sequestration marked it as an important barrier against climate change and a crucial target for conservation. According to a fact sheet from Seacoast Trust, the Sustainable Southeast Partnership and its tribal partners have played a significant role in reinstating Roadless Rule protections on the Tongass National Forest, preventing road construction and large-scale timber harvesting in the region.
"To be honest, the history of the place hasn't been kind to the original stewards of the Tongass, and so we think by supporting Indigenous-led stewardship, that's the only way to get long-term conservation solutions," Woll said.
Woll added that the tribes who have long lived in the area know the Tongass National Forest better than anyone who came after, making them the best candidates for leading its ongoing conservation.
"By putting the power back in the hands of people who took care of it for 10,000 years, we'll see much better results than we have over the other years that others have been here on the Tongass," Woll said.
Sealaska Inc. Board Chair Joe Nelson said during the presentation that the trust fund was "long overdue." By contributing to the Sustainable Southeast Partnership, Sealaska could support local efforts led by people in those communities, Nelson said.
"Indigenous people, we are natural stewards of the land. We're going to be here through the various administrations, and it's time to go ahead and step forward and lead," Nelson said. "It's the folks on the ground in our communities doing that good work. We're here to help support that work."
Through the Seacoast Trust, Wolfe and his colleagues hope to continue that work as well.
"This has helped us tremendously," Wolfe said. "I'm super excited."
Want more news about the $130 billion tribal economy?
Tribal Business News publishes thoroughly reported and well-crafted stories about Native businesses and entrepreneurs, growth and expansion strategies, best practices, economic data, government policy and other relevant business news. Tribal Business News is required reading for tribal council members and leaders of Native businesses, as well as state and federal legislators, policymakers, economic developers, entrepreneurs, bankers, lawyers and anyone interested in doing business in Indian Country.
Sign up for our free newsletter to track Native business and the tribal economy. Or sign up for a discounted subscription ($99/year — use coupon code "TBN21") to gain full 24/7/365 access to our business news reporting. Megwetch.