Here is a round up of business news from around Indian Country.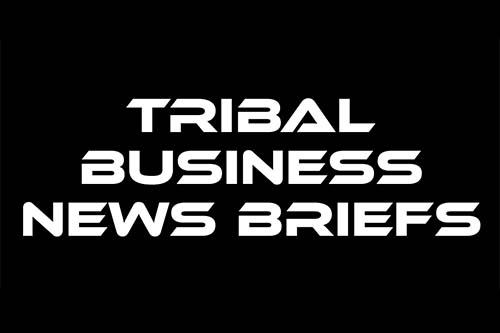 Government
• Charles "Chuck" Sams III was ceremonially sworn in last Thursday to serve as director of the National Park Service. Sams, an enrolled member, Cayuse and Walla Walla, of the Confederated Tribes of the Umatilla Indian Reservation, is the first tribal citizen to lead the agency. Previously, Sams worked in state and tribal governments and the nonprofit natural resource and conservation management fields for more than 25 years. He's also a Navy veteran. "I am honored to serve as Director of the National Park Service and thank President Biden and Secretary Haaland for entrusting in me the care of one of America's greatest gifts: our National Park System," Sams said in a statement. "I am also incredibly proud to work with the dedicated employees of the National Park Service. I have no doubt that together, we'll be able to expand access to the outdoors, protect America's public lands, and upgrade our nation's infrastructure system through the Bipartisan Infrastructure Law."
• The Biden administration intends to nominate Sunshine Suzanne Sykes (Navajo Nation) to serve as a federal judge in the U.S. District Court for the Central District of California. If confirmed by the U.S. Senate, Sykes would be the first American Indian or Alaska Native to serve as a federal judge in California and the sixth to actively serve as a federal district court judge, according to a joint statement from National Congress of American Indians and the Native American Rights Fund. Sykes has served as a superior court judge on the Superior Court of Riverside County since 2013.
• Scott Satermo, CEO of the Mandan, Hidatsa and Arikara Nation, was appointed to the advisory board of the North Dakota Local Technical Assistance Program. The board, which was recently expanded to include tribal representation, is part of North Dakota State University's Upper Great Plains Transportation Institute. Satermo has more than 20 years of experience in civil design and construction prior to working in tribal government, and is a graduate of NDSU with a bachelor's degree in civil engineering. His current work also focuses on building a tribal transportation system. "Adding Scott to our advisory board will help us better understand the unique needs of tribes in providing a road network and mobility to their residents," NDLTAP Director Dale Heglund said in a statement. "At the same time, it helps us better address the emphasis at the NDDOT (North Dakota Department of Transportation) that there is one road network that connects seamlessly across townships, counties, municipalities and tribal lands."
Real estate
• The Hoonah Indian Association has acquired the Gustavus, Alaska-based Gustavus Inn from the Lesh family, who owned the property since 1965, according to a Facebook post from the former owners. The property offers one of the only accommodations for travelers to the Glacier Bay National Park. According to a report from KTOO, the Hoonah Indian Association first considered buying Gustavus Inn in 2019, but negotiations were delayed because of the COVID-19 pandemic. The tribe plans to focus on cultural tourism at the inn, tribal administrator and CEO Robert Stabard told KTOO. The property also gives the Hoonah Lingít a land holding in their homelands. "We've never actually had a claim for a sustained physical presence there since the little ice age. And this is part of correcting that," Starbard said in the KTOO report. The tribe hopes to reopen the inn for the 2023 season.
Higher education
• Denver, Colo.-based American Indian College Fund received a $1 million grant from the Chan Zuckerberg Initiative to help improve access to higher education for Indigenous students. The Initiative chose the College Fund based on its long-standing commitment to tribal communities by providing students with scholarships and academic and career programs, as well as the organization's support for the 35 accredited tribal colleges and universities across the country. "Native students give back to their communities through their deep commitment to improving their well-being and that of their families; through their entrepreneurship and work ethic; and through their creative and transformative vision," American Indian College Fund President and CEO Cheryl Crazy Bull said in a statement. "CZI's support of equity through this grant helps us support our students as they build better lives." CZI recently refocused its operations to "more consistently and systematically" apply a racial equity lens to its work.
Advocacy
• The Alaska Federation of Natives board unanimously reelected Ana Hoffman (Yup'ik) to serve as co-chair for a two-year term ending in 2023, according to a report on KYUK. She has served as co-chair since 2013. Hoffman also serves as president and CEO of the Bethel Native Corporation.
Federal 8(a) contracting
• Alaska Native-owned Lynxnet, a subsidiary of NANA Regional Corporation Inc.'s Akima LLC, was awarded five pools on the General Services Administration's ASTRO contract, a multiple-award, indefinite delivery/indefinite quantity contract that could span up to 10 years, according to a statement. The ASTRO contract includes services to research, develop, maintain and operate manned, optionally manned and unmanned platforms and robotics systems sponsored by the Department of Defense. Lynxnet was awarded prime positions for mission operations, systems integration and development, aviation, ground, and maritime. "The five competitive awards we earned on the ASTRO contract will ensure that Akima continues our leading position providing key mission support services for the DoD," Duncan Greene, president of Akima's Mission Systems, Engineering & Technology Group, said in a statement. "Akima is proud to provide critical mission support for all of our military customers, and we look forward to the opportunity to further expand our support in the areas of mission operations, systems integration and development, maintenance, repair, and overhaul of aviation, ground, and maritime programs and products." Akima is a division of NANA Regional Corporation Inc., which is owned by 14,300 Iñupiat shareholders with roots in a 38,000-square-mile section of northwest Alaska, much of which is located above the Arctic Circle. In addition to federal contracting, NANA also maintains a diversified portfolio of commercial businesses in mining, oil and gas, health care, education, construction and exploration.
Finance
• Brentwood, Tenn.-based Relevance Ventures, a Native American-owned and -operated venture capital firm, has named entrepreneur and philanthropist Consuelo Vanderbilt Costin to its board of directors. Vanderbilt Costin is a seventh generation descendant of shipping and railroad tycoon Cornelius Vanderbilt and is the founder of SohoMuse, a member-driven networking platform for creative professionals. "Consuelo shares our philosophy of investing in social health and wellness, as well as our love of Nashville, its heritage, and investing in its future," Relevance Ventures Managing Partner Cameron Newton (Patawomeck Indian Tribe of Virginia) said in a statement. "The Vanderbilt name is well known in Nashville and throughout the family wealth and investing circles, however Consuelo is far more than her family history. Her entrepreneurial instincts, philanthropic efforts, and network that shares our values and approach to impacting the well being of society, will greatly benefit our entire ecosystem."
Energy
• Sempra Foundation, the philanthropic arm of energy infrastructure company Sempra (NYSE: SRE), made a $350,000 donation to Oakland, Calif.-based GRID Alternatives to further the organization's efforts to improve energy access in California tribal communities. GRID's Tribal Solar Accelerator Fund (TSAF) will deploy the funds to install 200 kilowatts of solar capacity at single-family residences and apartment buildings at four reservations in San Diego County and Bishop, Calif. "With this support, TSAF is catalyzing the leadership of our tribal partners in reaching their renewable energy goals," Adam Bad Wound, founder of the Tribal Solar Accelerator Fund, said in a statement.
Want more news about the $130 billion tribal economy?
Tribal Business News publishes thoroughly reported and well-crafted stories about Native businesses and entrepreneurs, growth and expansion strategies, best practices, economic data, government policy and other relevant business news. Tribal Business News is required reading for tribal council members and leaders of Native businesses, as well as state and federal legislators, policymakers, economic developers, entrepreneurs, bankers, lawyers and anyone interested in doing business in Indian Country.
Sign up for our free newsletter to track Native business and the tribal economy. Or sign up for a discounted subscription ($99/year — use coupon code "TBN21") to gain full 24/7/365 access to our business news reporting. Megwetch.