Here is a round up of business news from around Indian Country.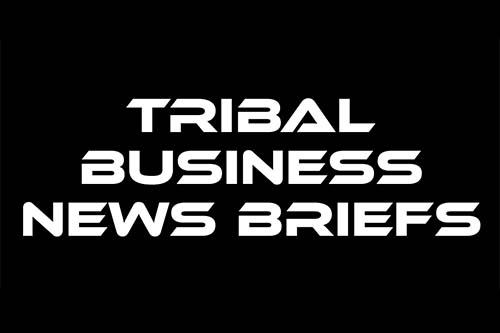 Tourism
• American Indian Alaska Native Tourism Association CEO Sherry Rupert (Paiute/Washoe) was appointed to the board of directors of the U.S. Travel Association for a two-year term ending in 2024. The U.S. Travel Association is a national, nonprofit trade group serving the travel and tourism industry. "I'm thrilled to join the board of directors for the esteemed U.S. Travel Association," Rupert said in a statement. "So much of our nation's tourism story begins with our Indigenous people and their vibrant cultures, languages and stories. I look forward to working with U.S. Travel to help elevate these voices as a part of our national tourism story."
Agriculture
The Native American Agriculture Fund is partnering with the Farmer Veteran Coalition on a survey of Native American veteran farmers. According to NAAF CEO Toni Stanger-McLaughlin, the survey aims to gather data about Native veteran farmers to allow the organization to better assist them in future programming and resources. NAAF bills the survey as its "first step to incorporating Native veterans into the Re-imagining Native Food Economies vision. It serves as a starting point to engage our Native American veterans with the agriculture sector and it will help determine what is needed to lift up both experienced and beginning Native veterans on their agricultural journey."
Economic Development
• The Central Council of the Tlingit & Haida Indian Tribes of Alaska opened a new office at 670 I Street in Anchorage. The new location is in Cook Inlet Housing Authority's newly renovated Elizabeth Place building, named in honor of Alaska Native civil rights leader Elizabeth Peratrovich. With the Anchorage office, the tribe aims to better serve the more than 2,500 tribal citizens who live in the areas. "If you're Tlingit or if you're Haida, that doesn't change with the ground that's under you. We want to truly serve all of our people," President Richard Chalyee Éesh Peterson said in a statement. "We're going to build partnerships that will continue to make transformative change." The new office will include an Indian Child Welfare Act (ICWA) specialist to assist area families, as well as tribal child support, grants and resources, tribal enrollment and finance functions. The Office of the President and Tribal Operations division also expect to place staff at the office.
Philanthropy
• The Conrad N. Hilton Foundation has awarded $1 million from its Equity Fund to Longmont, Colo.-based First Nations Development Institute to support the California Tribal Fund. The Native American-controlled grantmaking initiative funds California-based nonprofits and tribal programs. The foundation was launched in 1944 by international hotelier Conrad Hilton. The award to First Nations came as part of a $120 million round of funding approved in the fourth quarter of 2021 and $339 million in grants issued overall last year. The round included $6 million from the Foundation's Equity Fund, which it established in 2020 to address racism and gender, disability and LGBTQ bias. The Equity Fund issued a total of $10 million in grants last year.
Gaming
• FireKeepers Casino Hotel, an enterprise of the Nottawaseppi Huron Band of Potawatomi in Michigan, inked a deal to serve as the sportsbook and iGaming partner for the Kalamazoo Wings of the ECHL, a mid-level professional ice hockey league. Under the deal, FireKeepers will offer mobile access to in-game betting at the team's Wings Event Center, which will feature various high-definition television displays with game and betting odds for bettors. "The K-Wings are proud to partner with FireKeepers Casino Hotel for the first official and exclusive iCasino & Sportsbook partnership in the ECHL," Kalamazoo Wings General Manager and Governor Toni Will said in a statement. "While our partnership with FireKeepers is longstanding, expanding into the iCasino & Sportsbook business is new, forward-thinking and cutting edge." The K-Wings are the AA affiliate of the National Hockey League's Columbus Blue Jackets and American Hockey League's Cleveland Monsters. "The K-Wings bring the heat every game, creating crowd-pleasing performances for our region's hockey fans," Jim Wise, vice president of marketing and iGaming for FireKeepers, said in a statement. "This unique partnership allows fans to experience FireKeepers iGaming from their seats in the arena without missing a minute of the action."
• The Kalispel Tribal Economic Authority, an enterprise of the Kalispel Tribe of Indians that operates the Kalispel Casino in Cusick, Wash., is partnering with London-based International Game Technology PLC (NYSE: IGT) to offer sports betting in the state of Washington. The multi-year deal will allow Kalispel Casino to use IGT's PlaySports technology and trading advisory services to power its retail sportsbook, which it expects to open in the coming weeks. The two previously partnered to offer similar services at the tribe's Turf Club Sportsbook within the Northern Quest Resort & Casino in Airway Heights, Wash. "We're excited to roll out sports betting for our guests at Kalispel Casino," Kalispel Executive Director of Casino Operations Kevin Zenishek said in a statement. "It has already proven to be a fantastic new amenity at Northern Quest and we know it will be popular at our Kalispel Casino as well."
Finance
• Longmont, Colo.-based Oweesta Corp., a Native-run intermediary for Native community development financial institutions (CDFIs) hired three new staff members to support its existing work and help expand capabilities in our development, programs and finance. The new hires were: Mary Deiter (Peepeekisis Cree Nation) as Development and Capitalization Officer, Sayre Savage as Programs Officer, and Daniel Lee Sharp as Director of Finance.
Federal 8(a) contracting
• Alaska Native-owned Intelligent Technology LLC, based in San Antonio, Texas, has been awarded a General Services Administration 8(a) STARS III contract to provide service-based I.T. solutions to the federal government and Department of Defense customers. The governmentwide acquisition contract has a maximum value of $50 billion. As well, the company was awarded STARS III focused scope sub-areas in emerging technologies and I.T. services outside the continental United States. Given its ownership by Choggiung Limited, an Alaska Native Village Corporation, Intelligent Technology can receive sole-source task order awards up to $25 million for federal civilian agencies and $100 million for Department of Defense customers through the STARS III contract. Intelligent Technology is part of the Wood River Federal Group of companies that provide I.T., professional, and technical services to various federal customers. "Wood River Federal companies focus on integrating client-site IT support teams with our government customers," Intelligent Technology General Manager Will Emerson said in a statement. "STARS III is a perfect contract for our business model and expanding our IT services with current and new Federal Government customers." Based in the Bristol Bay region of Alaska, Choggiung Limited serves more than 2,100 Yup'ik and Aleut shareholders.