Here is a round-up of business news from around Indian Country.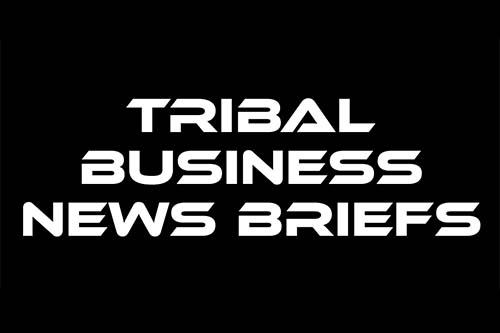 Grant opportunity
• The U.S. Department of Labor has $71 million available to American Indian, Alaska Native and Native Hawaiian communities to provide training and employment assistance to combat traditionally higher unemployment and lower workforce participation rates in those communities. The program, administered by the Employment Training Administration, expects to fund approximately 167 grants ranging from $20,000 to $6 million under the Workforce Innovation and Opportunity Act's Indian and Native American programs. Of the pot of funding, $57 million will go to support job and employment training for adults, while $14 million will serve Native youth on or near reservations in Alaska, Hawaii and Oklahoma, according to the department. The ETA will determine the awards using a funding formula for all U.S. geographic areas. According to a statement, the department intends the grants to support services that equip people in these communities with education, job search assistance and occupational skills training to improve their access to better jobs and increased wages. "Once awarded, the grants funded by the Department of Labor's Indian and Native American programs will deliver resources straight to the organizations – tribal organizations and the tribes themselves – who can best serve their communities," U.S. Secretary of Labor Marty Walsh said in a statement. "These grants will empower American Indians, Alaska Natives and Native Hawaiians as they enter or return to the workforce by ensuring these communities have access to the education, job search assistance and skills training they need [to] get on their way to providing a secure future for their families." More information on the grant program is available at this link.
Philanthropy
• The nonprofit National Indian Council on Aging, based in Albuquerque, N.M., has received a $4 million gift from philanthropist MacKenzie Scott as part of a $3.8 billion donation to 465 organizations she announced this month. NICOA will use the funding to advocate for improved comprehensive health, social services and economic well-being for Native elders, according to a statement. With an aim to improve health equity among Native elders, NICOA helps support policies that establish health education, awareness and prevention programs for Native elders; fund ongoing research of health disparities in aging; improve health care access and quality for elders; and promote inclusion of American Indians and Alaska Natives in gerontology and geriatric research. "The gift is a recognition of the work NICOA does in addressing the health, social and economic disparities experienced by American Indian and Alaskan Native elders," NICOA Executive Director Larry Curley said in a statement.
Federal 8(a) contracting
• Herndon Va.-based Sunik, a subsidiary of Alaska Native-owned Akima LLC, received a five-year, up to $85 million logistics readiness contract to provide services at the Army Field Support Battalion at Fort Carson, Colorado. Under the Enhanced Army Global Logistics Enterprise (EAGLE) Program contract, Sunik will provide maintenance, supply and transportation services for the 4th Infantry Division and others at Fort Carson, which builds combat-ready expeditionary forces. Sunik expects to hire approximately 350 full-time employees to support the contract. "This award demonstrates the Army's confidence in the Akima portfolio of companies to deliver world-class logistics," Scott Rauer, President of Akima's Facilities Solutions Group, said in a statement. "We are proud of our work providing logistics support across multiple Department of Defense facilities, including our support at Fort Carson." An SBA-certified 8(a) contractor, Sunik is a wholly owned subsidiary of Akima, an enterprise of NANA Regional Corporation created for the benefit of more than 14,000 Iñupiat shareholders.
Entrepreneurship
• The Indian Affairs Office of Indian Economic Development within the Department of the Interior is soliciting proposals in its Native American Business Incubators Program through June 17, 2022. The agency expects to fund 10 to 15 grants from $100,000 to $300,000 annually for a three-year term to support the creation and operation of business incubators serving Native communities. View this link for more information.
Gaming
• Milwaukee, Wis.-based Potawatomi Hotel & Casino, the gaming enterprise of the Forest County Potawatomi, has partnered in a multi-year sponsorship agreement with the Milwaukee Brewers of the National Baseball League. Under the deal, Potawatomi Casino will serve as the exclusive casino partner of the club and will have its branding featured at one entrance of American Friendly Field. The partners expect to announce additional details later in the season. As well, Potawatomi Casino joined the 2022 Brewers Community Foundation Leadership Council, which supports several of the organization's largest charitable and nonprofit initiatives. "Renewing our partnership with a championship-caliber team like the Milwaukee Brewers has been a top priority and will once again serve as a key component in our brand identity," Potawatomi Hotel & Casino CEO and General Manager Dominic Ortiz said in a statement. "Our respective organizations have been part of Milwaukee's fabric for many years and poised to remain key drivers in our city's entertainment and tourism landscape for decades to come."
• The 24 tribally owned and operated Class III casinos in Arizona collectively contributed more than $23 million to the Arizona Benefits Fund in the most recent third quarter of the 2022 fiscal year. The contribution marked a 30.6 percent increase from the same quarter a year ago. The Arizona Benefits Fund receives 88 percent of tribal gaming contributions, providing significant dollars to help support instructional improvement in schools, trauma and emergency care, tourism and wildlife conservation throughout the state. "It's exciting to see another strong quarter of tribal contributions, highlighting a robust tribal gaming market in Arizona," Arizona Department of Gaming Director Ted Vogt said in a statement.
Law
• Hugh Theut, a citizen of the Mackinac Bands of Chippewa and Ottawa Indians, a tribe recognized by the state of Michigan, was elected as the new editor in chief of Michigan State Law Review, according to a statement. The Law Review is the flagship journal of the Michigan State University College of Law. "Getting on Law Review is such a big accomplishment to me, and then to go through the elections process and make it to EIC, I think it's very humbling," Theut stated.
Want more news about the $130 billion tribal economy?
Tribal Business News publishes thoroughly reported and well-crafted stories about Native businesses and entrepreneurs, growth and expansion strategies, best practices, economic data, government policy and other relevant business news. Tribal Business News is required reading for tribal council members and leaders of Native businesses, as well as state and federal legislators, policymakers, economic developers, entrepreneurs, bankers, lawyers and anyone interested in doing business in Indian Country.
Sign up for our free newsletter to track Native business and the tribal economy. Or sign up for a premium digital subscription ($99/year or $10/month— cancel anytime) to gain full 24/7/365 access to our business news reporting. Megwetch.