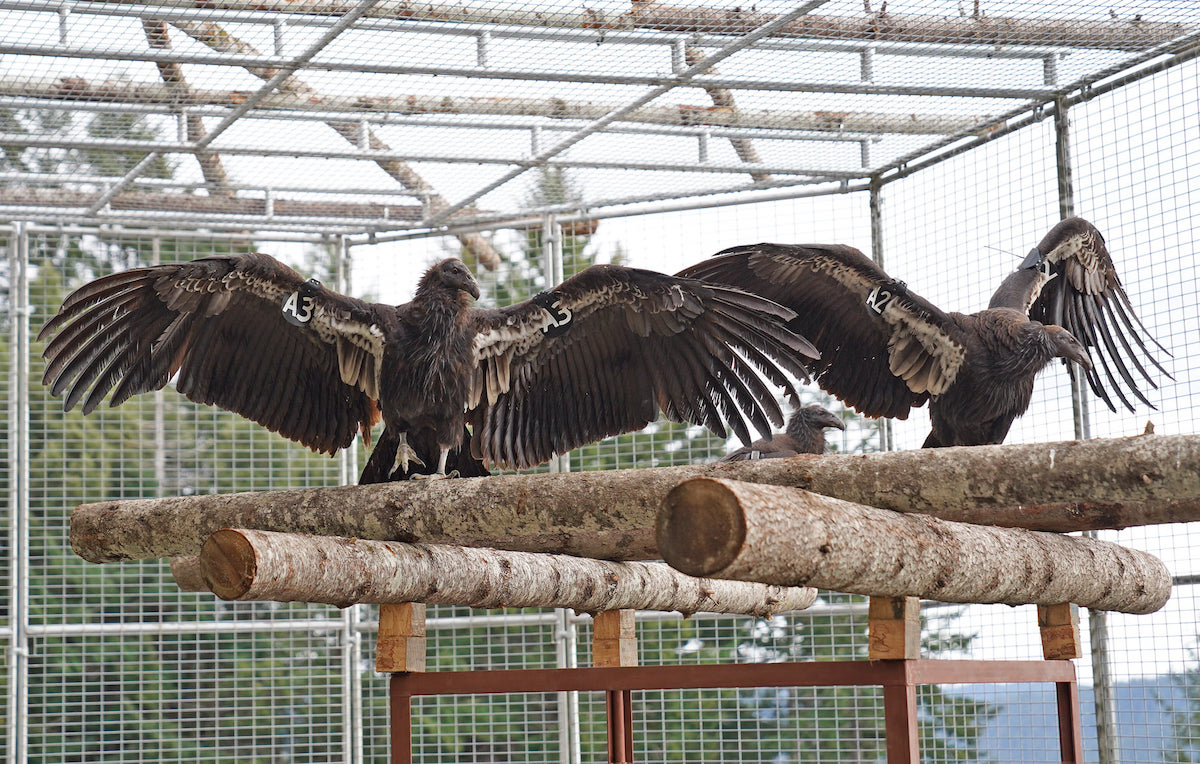 Details

Economic Development
KLAMATH, Calif. — In Yurok culture, condors are important birds, which has made their absence from northern California a painful reminder of intrusion and loss suffered by Native people.
The Yurok see themselves and the ecosystems they steward as part of a greater balance, said Yurok Wildlife Department Director Tiana Williams. That balance includes condors, which help scavenge and clean forests and valleys.
"Every action, every word, contributes to a delicate balance — this balance that we co-evolved with, but which suffered drastically post-contact," Williams told Tribal Business News. "These days, our beliefs very much focus on restoring balance."
Never miss the biggest stories and breaking news about the tribal economy. Sign up to get our reporting sent straight to your inbox every Monday morning.
A partnership with Redwood National and State Parks and more than a decade of work has led to a major step in restoring that balance. In late April and early May, the tribe will reintroduce condors to a portion of their historical area.
"We've been working on this since we've had a wildlife department, and that's been 14 years," Williams said. "We're excited to see this happen."
Long-term project
The plan to bring back the condor began in 2008, after the Yurok tribal council resolved in 2003 to revitalize the birds' population. First up was a feasibility and environmental study to determine what steps were necessary to make the area safe for the returning birds.
"Condors were locally extricated well over a hundred years ago," Williams said. "They were driven out by the huge influx of new humans coming into the space as a result of the gold rush and the other extractive industries."
The chief culprits in the birds' high mortality rate, however, were the presence of the pesticide DDT and lead, primarily from discarded or spent ammunition.
At the time of the feasibility study, DDT had been out of use for so long that levels had approached acceptable tolerances, Williams said. The lead ammunition, still in use by local hunters, was another matter entirely.
Condors are extremely susceptible to lead poisoning. At least 50 percent of mortalities in the region were attributed to lead contamination, according to the Yurok Wildlife Department.
"One in four turkey vultures we studied had a lead level that would be a problem for a condor," Williams said. "The bad news was that there were one in four. The good news was that one in four was still better than anywhere else condors were persisting."
The tribe felt its changes were strong that speaking with hunters in the region could reduce the total amount of lead in the environment, in turn reducing potential condor mortality rates.
Williams and the wildlife team set out to have those in-person conversations, asking hunters to switch from lead ammunition to other alternatives.
"A lot of us have this really intense conservation ethic because we want to be out there in the beauty of nature when we hunt, and we want to preserve that," Williams said. "Anywhere from 85 to 95 percent of hunters said I had no idea this was a problem and of course I'll make the switch.
"It does seem to be a one-on-one conversation that needs to happen, but I think we'll get there. That was kind of the approach we took regionwide."
The feasibility study helped the Yurok Tribe and Redwood National and State Parks identify a release area, and the partners began seeking funding. That eventually led to a memorandum of understanding between 16 partners, including federal, state, nonprofit and private business entities, Williams said.
"We told them that based on our regional analysis, it would be good for the region," Williams said. "There were just a bunch of really incredible partnerships."
That regional analysis showed a potential return of the condor to be good for both the ecosystem and the economy. Williams pointed to condors' size, which allowed them to "break open" larger animal carcasses that smaller scavengers couldn't eat or move.
Moreover, the presence of the rare birds would serve as a draw attention to a region that sorely needed a boost to its tourism economy, Williams said.
"People love condors. This is not why we did it, but we expect that a lot of people are going to come to our region to see condors," Williams said. "We are a relatively economically depressed area in California. We rely on our tourist industry, and we think it will bring a flush of economic benefits to our region."
Throughout the years, the Yurok Wildlife Department trained staff on how to handle the birds and planned and constructed a facility for their care. The tribe finished up the facility in late March of this year.
Now all the tribe's work can come to fruition, Williams said.
"We've brought in our first bird on March 25, and we brought in four juveniles too," Williams said. "This is just an exciting opportunity."
Dual celebrations
The Yurok paired the celebration of the impending condor release with the grand opening of the Chah-pekw O'Ket'-toh "Stone Lagoon" Visitor Center, which the tribe began operating as a result of a co-management agreement with the California Parks and Recreation Department.
The first-of-its-kind agreement gives the tribe greater control over telling their own story to tourists and visitors.
The renovated visitor's center contains digital and more conventional displays reflecting the tribe's connection to the area. Both the Yurok Tribe and California State Parks hired Yurok interpreters to share the tribe's story directly with visitors.
The venue also provides a place to display and sell work from Native artists. As well, part of the center's revenues will flow back into tribal coffers, said Nicole Peters, a tribal citizen who helped lead renovation efforts.
"When people talk about us, they always use the past tense — 'existed,'" Peters said. "This gives us the opportunity to talk about our community and show people that we are still here."
According to a statement from the Yurok Tribe, the co-management arrangement is the first of its kind in California, and will hopefully open a door for other tribes to build similar agreements.
"The restoration of our role as the steward of Chah-pekw O' Ket'-toh represents a significant step toward the healing of our people," Yurok Chairman Joseph James said in a statement. "We are extremely proud to be the first tribe in California to operate a visitor center within the state park system. It is humbling to know this precedent sets the stage for many other tribes to follow suit."
For Williams, the birds and the visitor center together represent a chance for a conversation about people that don't often have the chance to introduce themselves.
"This is an Indigenous story. We're telling the Yurok story from the Yurok perspective," Williams said. "When you're used to people talking about you, instead of with you, that's important."