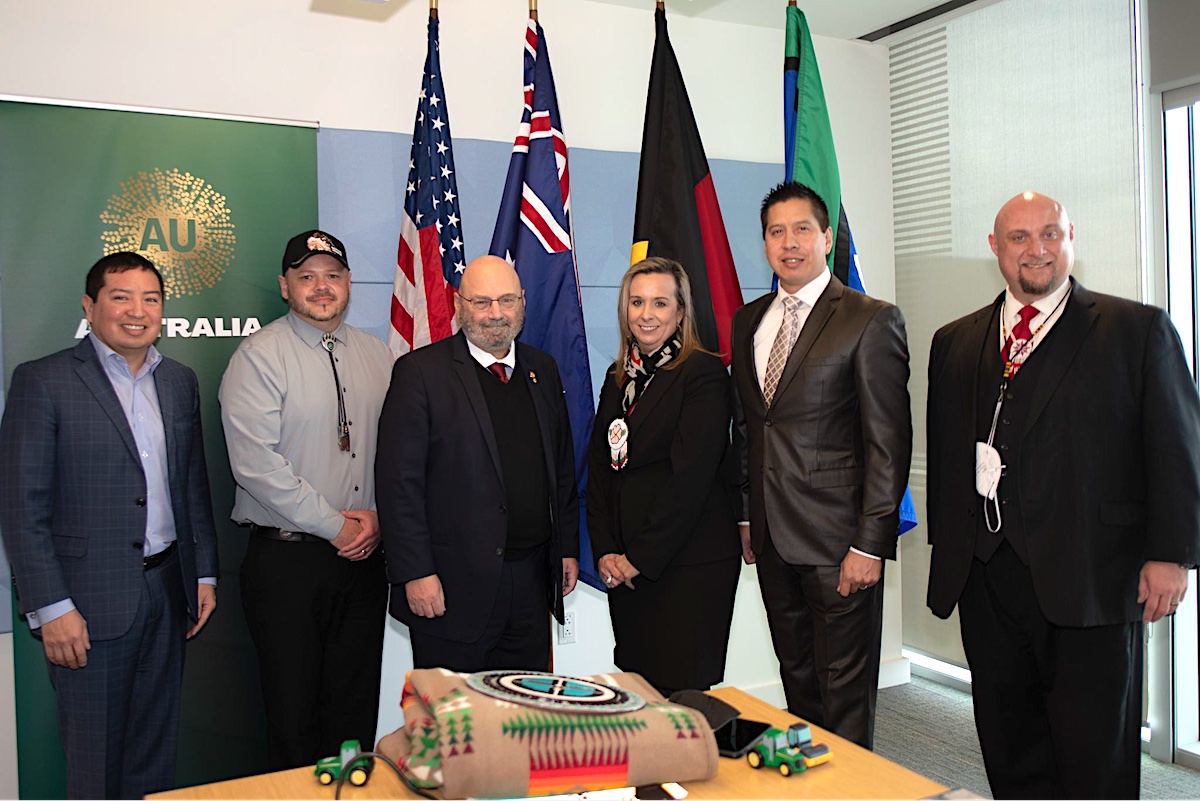 Details

Economic Development
A group of Native entrepreneurs, organizers and representatives from tribal enterprises will join the First Nations Trade Mission trip to visit with Indigenous Australians to open talks about trade opportunities and information exchange.
The Trade Mission will send 10 delegates from a cross-section of Native-led nonprofits, businesses and tribal enterprises to meet with Indigenous Australians in three cities across the country in hopes of establishing new trade relationships and investment opportunities.
In each city, delegates will meet with industry leaders, businesses executives, and cultural representatives.
The visit also coincides with Connect 2022, the largest Indigenous business conference in Australia, according to a statement from the Australian Consulate General's office. That conference will enable tribal delegates to meet with Australian government officials.
Proposed delegate Chad Johnson, founder of The Akana Group Inc., a Houston, Texas-based agricultural equipment contractor for government, private, tribal and military clients, called the meeting a chance to build new relationships with people who share a history of trading and bartering.
"We've been traders since the beginning of time," Johnson told Tribal Business News. "This is a great chance to explore that."
Never miss the biggest stories and breaking news about the tribal economy. Sign up to get our reporting sent straight to your inbox every Monday morning.
After the initial visit in late May, the partners have planned a trip to Australia later in the year to work with the Northern Territory Indigenous Business Network, and expect to host a U.S. visit from Australian Indigenous business aggregator Supply Nation.
From dialogue to delegates
The idea for the First Nations Trade Mission stemmed from a roundtable discussion between Native entrepreneurs and tribal officials held at the Australian Consulate General's office in Houston in late January.
The discussion included Australian Ambassador Arthur Sinodinos and Consul-General Benson Saulo, the first Indigenous Australian to hold that position.
Iowa Tribe of Kansas and Nebraska Chairman Timothy Rhodd, a roundtable participant and one of the delegates on the First Trade Mission, said the discussion highlighted common ground between Indigenous Australians and Native Americans. Rodd described the roundtable as "historic."
"From what I've learned about their cultures, we share many similarities, and our ancestors endured similar hardships," Rhodd said in a statement. "We are looking forward to building long-term business and trading relationships to mutually benefit our people for many generations to come."
Amanda Smith, another prospective delegate for the First Nations Trade Mission and president of the Native American Business Association, said the similarities between Native Americans and Indigenous Australians provided an opportunity for cultural and economic collaboration.
"With collaborative efforts on both sides, we can help each other grow and overcome weaknesses by sharing economic successes and lessons learned," Smith said in a statement. "I am excited to see what the future holds for both Native and Indigenous communities from a cultural and economic perspective."
'We need data'
While the initial meetings certainly presented opportunities for the Native American delegation, they also exposed some challenges, Johnson said. He cited as one of his chief concerns the lack of a Native American analogue for Australia's Supply Nation, which catalogs Aboriginal businesses and suppliers in a searchable online database.
Johnson said that having a central database makes it easier to understand what businesses are out there and their capabilities. The lack of such a repository of information presents a challenge when talking out issues such as a tribe's ability to export goods, or to do business across international borders.
"There's not a central process to prepare people for that," Johnson said. "I can answer that question from a very small microcosm for the Akana Group, but we can't lump all the businesses in the country together like that because we don't know what's out there."
Some operators, like Akana Group, already work with overseas partners, but smaller tribes, for example, may run into problems trying to expand their markets beyond national borders, Johnson said.
A central repository like Supply Nation would make it easier for buyers to locate goods and services from Native suppliers, which would not only make sense from a marketing perspective but also from a logistics perspective, he said.
"If I'm looking for assistance in export documentation, or I'm looking for assistance in logistics or cost analysis or financing, I need to know who's out there, what they've done, where I can go," Johnson said. "There are pockets of information out there and groups interested in doing that, but we don't have that central repository yet."
Johnson said the First Nations Trade Mission's final scheduled meeting is a Supply Nation visit to the United States in December for a meeting in Louisiana.
"That's one of the things we want to show: why (a central database) is a big deal," Johnson said. "We want to have a really big showing at this event."
Challenges aside, Johnson said he was "excited" by the wealth of opportunities available to partners willing to work overseas, and what lay ahead for participating tribes and businesses.
"We think it's a really big deal. You've got 10 businesses from the U.S. trying to facilitate trade. Everybody's got their own niche of what they're looking to do," Johnson said. "This is really exciting."