Here is a round-up of business news briefs from around Indian Country.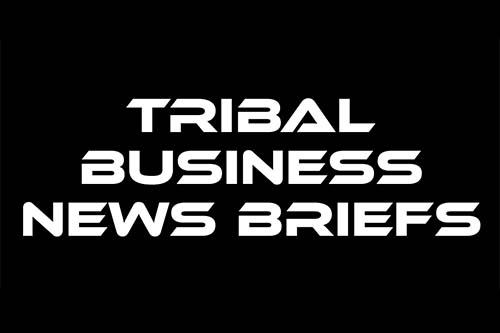 Hospitality
• Hard Rock Hotel & Casino Sacramento at Fire Mountain, which is owned by the Enterprise Rancheria of Maidu Indians of California, officially opened its new Hard Rock Live music and entertainment venue on June 3. The venue is part of the facility's second phase of expansion in the last three years. It can seat up to 2,500 people or 3,000 for general admission, and includes a second-level mezzanine with skyboxes and balcony seating. The facility also doubles as an emergency shelter for up to 1,000 people. Las Vegas, Nev.-based Friedmutter Design Group served as the architect of record for the new venue project. ​​Montréal, Quebec-based Scéno Plus Inc. designed the venue's theater and interior, the company's the sixth such project with the Seminole Tribe of Florida-owned Hard Rock brand. Santa Ana, Calif.-based Moorefield Construction Inc. provided construction management for the project. Live Nation serves as the partner to book national touring talent at the venue. "We have created an amazing destination property coupled with an unparalleled partnership with Hard Rock International," Estom Yumeka Maidu Tribal Chairwoman Glenda Nelson said in a statement. "Our Tribal Council and Enterprise membership are committed to the long-term vision of growth and prosperity for all those involved.
• The Pala Casino Spa Resort in Southern California, the gaming enterprise of the Pala Band Of Mission Indians, transitioned its hotel property to be an entirely non-smoking facility. The 507 rooms and suites became non-smoking as of June 1. The rule also applies to the hallways, elevators and common areas in the hotel. Hotel officials cited health concerns stemming from the pandemic as a contributor to the decision. "We have found that even those who smoke request smoke-free rooms at our hotel," Nelly Decena-Martin, director of hotel operations, said in a statement. The new rules will not apply to the casino, which will continue to allow smoking.
Agriculture
• The Native Agriculture Education Fellowship Program has appointed Nicole DeVon, a member of the Mescalero Apache Tribe, as executive director of the organization's Tribal Agriculture Fellowship for Native American, Alaska Native, and Native Hawaiian students. The program serves Native students studying agriculture and related fields. DeVon most recently served as Diversity, Equity and Inclusion and Tribal Affairs Manager for the Family Support Division of Louisiana Department of Children and Family Services. Previously, she worked at Eastern Washington University as a coordinator for American Indian student programs and later as the inaugural Director of Native American Affairs and Tribal Liaison to the university's president. "Nicole's passion for working with Native students and experience building programs that help Native people thrive through education will make her an exceptional leader to advance opportunities in agriculture through the development of a robust network of Indigenous agriculture professionals," NAEFP Board President Karli Moore said in a statement. The Tribal Agriculture Fellowship soon expects to announce its first cohort of fellows for the fall 2022 semester. Native agriculture industry groups including Native American Agriculture Fund, Foundation for Food and Agriculture Research, Farmer Mac, John Deere and Farm Credit are among the supporters of the fellowship. "As the Tribal Agriculture Fellowship develops, it is essential that it be embedded into our Indigenous communities," DeVon said in a statement. "We are working to create sustainable networks and build pathways to pursue further education for diverse areas of study such as agribusiness, science, research, and land stewardship. We start by engaging with students to connect their educational endeavors to community, culture, and identity."
Federal 8(a) contracting
• Herndon, Va.-based Compass Point LLC, a subsidiary of Alaska Native-owned Akima LLC, was one of four companies to receive a U.S. Army contract award to support its Cyber Capability Development Integration Directorate (CDID) at Fort Gordon, Ga. The five-year contract is valued at up to $201.8 million to be split among the four awardees. The CDID serves as the Army's force modernization proponent for cyberspace operations, signal communications and electromagnetic warfare, according to a statement. Compass Point will support the whole operation, including the cyber battle lab, concepts & analysis, requirements integration, information advantage and program management. The 8(a)-certified skilled I.T. services contractor expects to hire additional personnel at Fort Gordon, with a preference for veterans with relevant experience. "The work of the Capability Development Integration Directorate is critical to ensuring and improving the U.S. Army's combat effectiveness and readiness in Large Scale Combat Operations and Multi-Domain Operations," Akima Emerging Markets Group President Barry Smallwood said in a statement. "We are pleased to support this work by providing our expertise in helping military and civilian government customers continuously improve Army capabilities and increase the combat effectiveness and readiness of the future force." Compass Point is a wholly owned subsidiary of Akima, an enterprise of NANA Regional Corporation created for the benefit of more than 14,000 Iñupiat shareholders.
Energy
• In a deal announced last week, the Mandan, Hidatsa and Arikara (MHA) Nation will supply hydroelectric power to data center operator Bitzero via the tribe's Western Area Power Administration allocation. As part of the project, Bitzero will supply waste heat generated by its 200-megawatt bitcoin mining data centers to MHA Nation to warm the large-scale greenhouse facility the tribe is building on the Fort Berthold Reservation and help the facility grow crops year-round. The British Columbia-based company announced a $400 million to $500 million investment to base its North American headquarters in North Dakota, the exact location of which remains undisclosed. "Bitzero is working with us to use our Western Area Power Administration hydroelectric power to reflect the company's zero carbon mandate," MHA Chairman Mark Fox said in a statement. "The additional heat produced from the data center facility will be used for our MHA Nation's Greenhouse Project currently under construction."
Higher education
• The Arizona Department of Education has provided a $1.2 million grant to the University of Arizona College of Education to expand its Native Student Outreach, Access and Resiliency (SOAR) program, which provides mentorship and educational resources to the state's Indigenous communities. Under the Native SOAR program, University of Arizona students in any major spend three to four hours per week mentoring Indigenous middle and high school students about attending college, cultural resiliency, leadership skills and identity exploration, according to a statement. The program also offers a for-credit class in which students host workshops for local K-12 educators about Indigenous knowledge and best practices for instructing Indigenous students. "Historically, Indigenous students have lower enrollment, retention, and graduation rates in higher education compared to other student populations," Native SOAR Director Amanda Cheromiah said in a statement. "Native SOAR closes educational gaps by providing culturally responsive programming and mentorship that increases the number of Indigenous students who enter and graduate from college."
Want more news about the $130 billion tribal economy?
Tribal Business News publishes thoroughly reported and well-crafted stories about Native businesses and entrepreneurs, growth and expansion strategies, best practices, economic data, government policy and other relevant business news. Tribal Business News is required reading for tribal council members and leaders of Native businesses, as well as state and federal legislators, policymakers, economic developers, entrepreneurs, bankers, lawyers and anyone interested in doing business in Indian Country.
Sign up for our free newsletter to track Native business and the tribal economy. Or sign up for a premium digital subscription ($99/year or $10/month— cancel anytime) to gain full 24/7/365 access to our business news reporting. Megwetch.