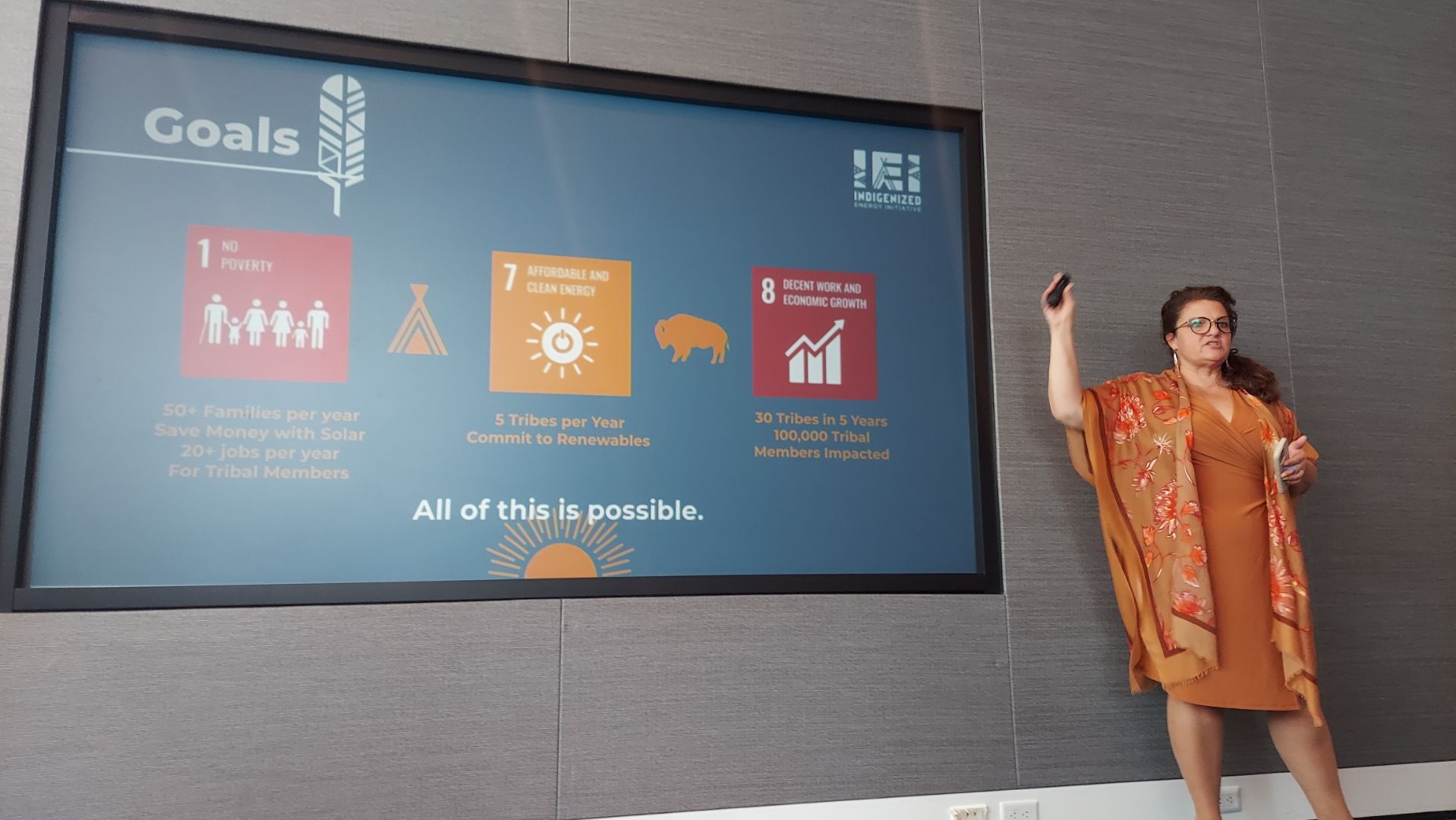 Details

Economic Development
State and federal regulations surrounding farm operations are arcane to begin with, a problem only exacerbated by adding tribal land and sovereignty issues into the mix.
Those complexities present a significant barrier to Indigenous farmers when it comes to accessing information on agricultural policies, especially since most regulations were not crafted with Native producers in mind, or their feedback.
However, Dr. Valerisa Gaddy, a post-doctoral research associate at the University of Arizona, has developed a potential solution to that communication breakdown. Gaddy formed a nonprofit multimedia group she calls IRRIGaTE: Irrigation Resources Reaching Indigenous Growers and Tribal Entities to disseminate information on agriculture policies to Indigenous farmers.
"What IRRIGaTE is really trying to do is start building connections and translating science and policy and really take all the state and federal regulations and make it into tangible pieces that people can understand," Gaddy told Tribal Business News. "As Natives, a lot of our learning comes from songs and speaking, and stories. So that's kind of the approach we're taking — having many different forms of the same information, but having everyone able to understand it."
IRRIGaTE is one of eight proposals selected by the Massachusetts Institute for Technology for itsIndigenous Communities Fellowship, which invites Native entrepreneurs to propose technology or science-based solutions for community issues.
The fellowship is part of the MIT Solve program, which provides financial, networking and technical support for proposed solutions for societal issues rooted in technology and science. Solve bills itself as a venue for innovation, building cohorts centered on solving community problems and then scaling those solutions up.
Never miss the biggest stories and breaking news about the tribal economy. Sign up to get our reporting sent straight to your inbox every Monday morning.
This year, the fellowship brings together eight Indigenous women's proposed solutions to tackle culture and language preservation, information accessibility, renewable energy projects, and health crises.
Gaddy said her selection for MIT Solve's fellowship validated her idea and told her it was worth pursuing.
"I'm really excited, really happy," Gaddy said. "It kind of solidifies and reassures me that the solution I submitted was a good solution. This is great."
In addition to IRRIGaTE, this year's fellows included:
Indigenized Energy Initiative, led by Cheri Smith, which plans to establish tribal energy utilities through solar projects and workforce development
Public Awareness Campaign, led by Sheri Doxtator, which aims to improve an Indigenous women-focused social media app called "Rematriation"
Office of Navajo Nation Scholarship and Financial Assistance app, led by Brittany Gene, which will build an application for smoothing over interactions between the office and students applying for college funding
Mana Mama/Anax Angil, led by Jacquelyn Ingram, which offers telehealth visits and live chats with health professionals, as well as a mobile clinic van on Oahu, Hawaii
kwu cnxi: All of Us Coming Together Project, led by Cree Whelshula, which will establish a First Language Speaker Committee focused on building language revitalization curricula for partner organizations, akin to "educational service districts to support schools and teachers"
Reclaim!, led by Dr. Mary Hermes, which will build an adventure game centered on Ojibwe culture, using exclusively Ojibwe language.
Indigenous Ecological Knowledge and First Foods, which will leverage multimedia to deliver classes, social media content and podcasts focused on preserving and spreading Native foodways.
First Foods Co-founder and program director Brooke Rodriguez said she was initially "shocked" by the warm reception to the First Foods solution, especially given MIT Solve's focus on technology.
"We're over here recording our teachers and going to class, and it's not really what Eurocentrics would call science and tech-based," Rodriguez said. "But they really encouraged us that our information and Indigenous way of teaching is just as scientific and knowledgeable. I was really surprised and humbled, but I was encouraged at the same time."
Rodriguez also serves as the founder and director of New York City-based Grinding Stone Collective Inc., which develops digital spaces for Native communities to showcase knowledge and skills. The group's projects run from online classes to a metaverse map and classroom using virtual office software Gather Town.
The group has distributed more than 60 virtual classes and podcasts, connecting aspiring students with traditional food experts across the country. In addition, during the COVID pandemic, Grinding Stone set up intertribal food pantries in communities throughout the Northeast and the Midwest, distributing more than 8,500 pounds of food.
With MIT's support, Rodriguez wants to triple that.
"We really want to increase the amount of classes we have stored," Rodriguez said. "With so much food sovereignty knowledge being last, we think it's really important to capture that data. We want to expand how much food we can get, and our reach with how many people we can help with rapid response."
Scaling solutions
Building that kind of support for Solve's fellows is the point of the program, said Indigenous Community Fellowship Senior Officer Aaron Slater.
"Solve is to help scale these solutions," Slater said. "This fellowship asks how can I make a deep, sustained impact in my community, and how can I help other Indigenous innovators impact their communities as well? We want to support these social impact entrepreneurs."
Now in its fourth cohort since its founding in 2019, the Indigenous Communities Fellowship begins with an intake application discussing each fellow's needs and hopes for the program. From there, Slater said that MIT meets with each fellow to discuss their "pain points" and what their next steps look like.
Throughout the year-long fellowship, MIT connects fellows with global partners while building a cohort experience focused on monthly meetings and networking opportunities. The fellowship also provides monetary support, with each fellow receiving a $10,000 grant.
The group distributed a further $2 million in prize grants during its celebration event Sunday. Indigenized Energy Initiative's Smith received $150,000 through a donation from General Motors.
"I'm very excited, my whole team is very excited," Smith said. "It's just sinking in that we're on the right track, and our concept is being validated by institutions and big organizations that are technical in nature. It just means that the people we serve will have the benefit of all this support and resources."
For her part, Gaddy looks forward to networking with teachers and potential contributors, as well as producers who can benefit from IRRIGaTE.
"A lot of the support I'm hoping for — other than monetary support — is really just getting a lot more networking and meeting with people that have the same ideas, meeting with people that have struggled or even Tribal producers that have struggled in the same area," Gaddy said. "I also want to get some coaching and connect with people who may have ideas on how to take the information I have, which is scientific information and dense policy and help me streamline. Right now, we have an idea, and we know our plan, but there are always ways to make things better and more accessible. We're hoping to gain a wider network."