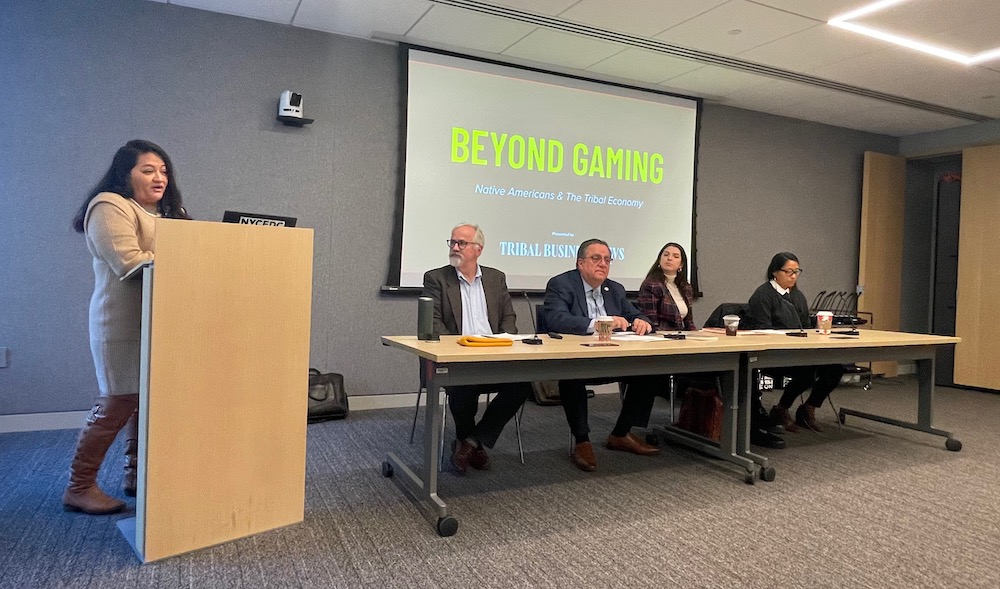 Details

By

Tribal Business News Staff

Economic Development
NEW YORK – In honor of Native American Heritage Month, the New York City Economic Development Corporation (NYCEDC) hosted staff from Indian Country Media, LLC to lead a panel discussion about the Tribal economy and Indigenous culture.
Indian Country Media is the owner and operator of Tribal Business News and Native News Online. Both publications have a national footprint.
The 90-minute panel at NYCEDC's Manhattan office—co-hosted by Epicenter-NYC, an organization that connects New Yorkers to news, information and each other—drew roughly 50 employees from the organization's staff. The panel was part of a series of discussions led by the Diversity Equity and Social Responsibility office within NYCEDC.
Panelists included Levi Rickert (Potawatomi), editor and publisher of Tribal Business News and Native News Online; Indian Country Media Partner Brian Edwards; Native News Online senior reporter Jenna Kunze; and Brooklyn-based performance artist and educator, Gya Watson (San Carlos Apache Nation).
Additionally, Kurt Trevan (Gun Lake Tribe) of the National Minority Supplier Development Council and Jackson Brossy (Diné), an assistant administrator to the U.S. Dept. of Commerce Small Business Administration presented virtually on the challenges and opportunities of working and lending within Indian Country.
New York City is home to nearly 200,000 Native American and Alaska Natives, making it one of the largest hubs in the country. Edwards and Rickert impressed that, while many non-Native residents may expect tribal economics to look one way—with casinos and tax-free cigarettes sold on tribal land— Native-owned business ventures stretch far beyond gaming. For example, Mohawk Networks delivers advanced internet throughout northern New York not only for the benefit of Mohawk Nation citizens, but also to non-Natives in the surrounding area.
Event co-host and publisher of Epicenter-NYC, S. Mitra Kalita, told Native News Online that she's never seen such a desire to include Indigenous people like she does now.
"I think a lot of organizations like NYCEDC want to do the right thing and partner, but in a place like New York, it can feel daunting to start," Kalita said. "What I loved about the discussion was the unpacking of many layers of history and current events that got us here. And also a reminder that doing business with a community comes in many ways — government contracting, supporting small business, who your vendors are, who you hire or partner with."
She added that actionable goals that may result from Monday's panel might be setting up a daylong summit including tribal communities across the region, as well as asking New York City's nearly 200,000 Indigenous people what they need.