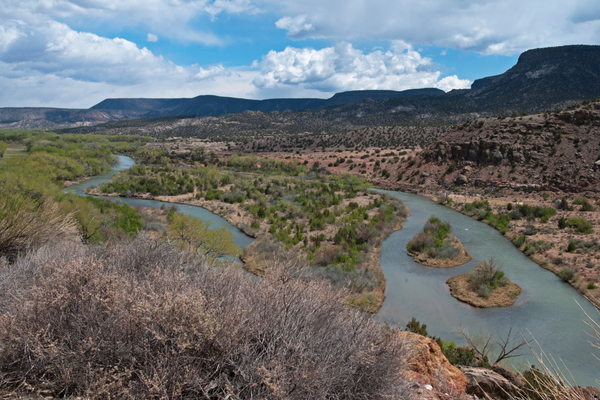 Details

By

Elyse Wild

Economic Development
A new collaborative wants to restore natural fire patterns and improve watershed resilience in the Rio Chama region of northern New Mexico and southern Colorado.
The Rio Chama Collaborative Forest Landscape Restoration Program (CFLRP) is bringing together various local stakeholders, including tribal nations, state agencies, place-based collaboratives, private landowners, and forest industry representatives. Their goal is to lessen the risk of uncharacteristic wildfires by decreasing tree densities and restoring fire regimes to fire-adapted landscapes where low-intensity and mixed-severity fires were prevalent before current fire suppression policies.
The collaborative is headed by Durango, Colo.-based Mountain Studies Institute, a nonprofit research and education center. The effort falls under the management of the institute's 2-3-2 cohesive strategy partnership, a regional collaborative launched in 2016 made up of local collaboratives working to conserve habitats in the San Juan, Chama, and Rio Grande watersheds.
The CFLRP is funded through the USDA and will receive a total of $30 million over a 10-year period and covers 3.77 million acres of the region.
Dana Guinn, director of forest programs at the Mountain Studies Institute, said that bringing in various partners to manage the landscape at a local level while working toward a collective goal eliminates jurisdictional barriers to conservation.
"We're trying to think about where our resources exist and where our values exist, as opposed to where artificial, political and social boundaries exist," Guinn told Tribal Business News.
The River Chama is a 135-mile tributary of the Rio Grande, originating in southern Colorado at the base of the San Juan Mountains and intersecting with the Rio Grande in Ohkay Owingeh, N.M. As a result of anti-fire measures dating back to the 1880s, the region's forest has become unnaturally dense, causing uncharacteristically catastrophic wildfires or fires that don't serve a normal ecological function.
These fires negatively affect the ecosystem by degrading plants and wildlife and contaminating watersheds and soil. The fires also make it difficult for many tribal and rural residents of the Rio Chama, who rely on harvesting firewood from the area to heat their homes, according to the CFLRP grant proposal.
Boots-on-the-ground measures to decrease the density of the region will reintroduce passive burns to these fire-adapted ecosystems and restore ecological functions that have been lost under recent policy. The breadth of the project ranges from federal to tribal efforts, with roughly 75partners — approximately 15 of which are tribal — including the U.S. Forest Service, Colorado State Forestry Service, New Mexico State Forestry Division, Pueblo of Tesuque Department of Environment and Natural Resource and the Santa Clara Pueblo Forestry Department.
Tribes in the area have been using prescribed burns as means of natural resource management for generations. Guinn says that tribal inclusion is critical in landscape conservation efforts such as the CFLRP.
"We are considering making decisions about ancestral land," Guinn said. "If we don't have those perspectives and, in fact, actually lead with those perspectives, I think we're missing the mark."
Never miss the biggest stories and breaking news about the tribal economy. Sign up to get our reporting sent straight to your inbox every Monday morning.
The Pueblo of Tesuque Reservation spans 26 square miles of northern New Mexico, just 9 miles south of Sante Fe, near the eastern portion of the Española Ranger District of the Sante Fe National Forest.
The Pueblo's northern boundary is roughly 20 miles from where the River Chama meets the Rio Grande, on the southern end of the area encompassing the CFLRP. According to the latest Census Data, 448 people live on the reservation.
The traditional Tesuque form of farming, which includes acequia infrastructure, has long been considered a benchmark for sustainable agriculture in arid environments, per research from Northern Arizona University.
"We are trying to bring the view that we don't have to kill everything," said Michael Martinez, reserved treaty rights lands coordinator for the Pueblo of Tesuque Department of Environment and Natural Resources and a CFLRP partner. "A lot of times, other agencies will give a prescription to treating a landscape. We go out and review every acre, and we see what we can save and what to take."
This intimate process may be more tedious, Martinez explains, but the result is a more diverse ecology where wildlife can sustain itself and where fire can be used as a tool to manage the ecosystem.
"Then, when we get a lightning strike and a fire starts, Mother Nature can do her work and we don't have to respond," Martinez said.
A 2016 Department of the Interior study found that the number of wildfires in the United States doubled from 1985 to 2015. While this surge in wildfires poses a serious environmental threat, it also threatens to consume years of tribal history that rests on vulnerable landscapes.
In 2011, New Mexico's Las Conchas Fire — now the fourth-largest in the state's history — burned more than 150,000 in just two days, including 16,000 acres of the Santa Clara Pueblo and 45 percent of its watershed. The fire was just 25 miles from the Pueblo of Tesuque Reservation.
In 2020, the Sante Fe Reporter reported that the Medio Fire burned right up against Tesuque land. Last year, the Calf Canyon/Hermits Peak Fire, the most destructive wildfire in New Mexico's recorded history, tore through 341,471 acres of the Sante Fe National Forest.
Guinn emphasized that the CFLRP is focused on building relationships without the burdens of jurisdiction to restore a resilient landscape in the face of the looming threat of wildfires.
"Our landscape and our watersheds and the people in these communities deserve attention," Guinn said. "We want to make sure that when these areas light on fire naturally or through a prescribed fire ignition, the fire is ecosystem appropriate and that we have options and opportunities to protect our communities and the assets that matter to them."