It's a different world out there for broadband advocate Matthew Rantanen. Pre-COVID, work on getting Indian Country online moved slowly — one $100,000 tower a time, he told Tribal Business News.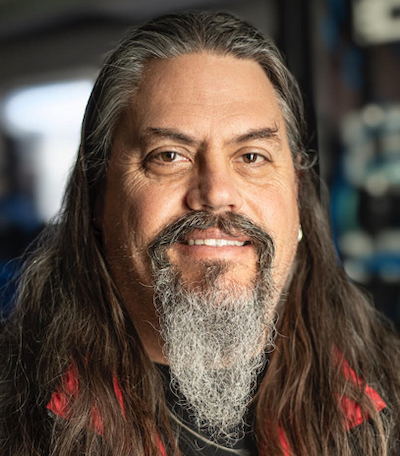 Now, amid a "once in a career, potentially once in a lifetime" flow of federal funding into the tribal broadband sector, Rantanen sees tribes suddenly contending with million-dollar awards, trying to sort out how to effectively and quickly get entire communities connected at once.
Never miss the biggest stories and breaking news about the tribal economy. Sign up to get our reporting sent straight to your inbox every Monday morning.
"We have money flowing, we have tribal capacity-building in the technical space, we have states and the federal government trying to make sure there's deployment everywhere. There's activity and lots of opportunity," Rantanen said.. "Now, it's how are we going to harness a fast moving effort to build out, and how are we going to most effectively employ that dollar to be able to build foundational infrastructure that can stand the test of time?"
Rantanen wears a lot of hats in Indian Country's emerging broadband sector. He's the director of technology for the Southern Tribal Chairman's Association, manages the Tribal Digital Village Network, and serves as the chair of technology for the National Congress of American Indians.
He also assists the Corporation for Education Network Initiatives in California's Golden State Network project, which aims to establish a new internet service provider in California and ensure that the state's 109 federally recognized tribes have their say in the network's rollout.
It's a lot of work, Rantanen says, but it also means he's had a front-row seat as Indian Country connectivity receives an unprecedented infusion of funding. Rantanen spoke with Tribal Business News to discuss what's ahead for broadband, and what challenges remain for tribes and tribal citizens trying to get online.
Just how many missing miles of fiber are there in Indian Country?
There's an 8,000-mile deficit. It's a massive deficit, and it's in the billions-of-dollars range for missing miles of fiber for tribes to connect. I was on a team that crunched some numbers in 2016 under the Obama administration, and we were confident that it would cost between $7 and $8 billion to get Indian Country connected. Now thanks to inflation and construction costs that number is closer to $10 or $11 billion.
How did it get so bad?
There was a big build out around 23 years ago, and the big telecommunications companies simply went around anything that slowed them down. Grand Canyon? Go around it. Rocky Mountains? Go around it. (When it came to) Indian tribes, they didn't understand sovereignty, they didn't know how to get rights of way or work with tribes, (so they went around them). There's no way for the tribe at the time to understand the value of what was crossing their land, because broadband wasn't really a thing 23 years ago.
Can you speak to concerns about some of the federal funding, such as a matching requirement and letter of credit requirement in the new Broadband Equity, Access, and Deployment (BEAD) program?
That's a problem because tribes can't come up with 25% out-of-pocket in most cases, so tribes who do have economic development are going to take advantage of that. Meanwhile, if you look at some tribes like Fort Bidwell in northwest California, they're 25 miles from the nearest California-maintained highway - how are they going to come up with 25% percent (match)? It's highly unlikely they can do that.
Federal support doesn't help?
Federal money typically, in my experience, cannot be matched by federal money. They may be more lenient on that now because we've been fighting for decades to get the federal government's siloed funding opportunities, like funding from the Rural Utility Service and the NTIA, to work together rather than work independently where they can't effect as much change.
For example, tribes could get a grant through the Rural Utility Service, but it's unclear if that could be used to fund the matching requirement for BEAD.
Even with those issues, amid the rush of support, how are you seeing tribes meet these challenges?
Indian Country as a whole is learning this market very well. We're expanding networks everywhere and we're sharing knowledge throughout Indian Country and collaborating on different things. I think it's a special time in the history of my career.
One of the coolest things about it (is that) there's been a lot of reach out from tribes for technical training and exposure to broadband management in general. We've also seen a huge acceleration of capacity within tribal governments and operations, (including) some homegrown experts trained and hired on by their own tribes.
So workforce development has been a key part of it?
You see tribes that have put their energy into broadband pre-money. They just pay to get the people trained and (build) capacity. Nobody told them to do that, they're really accelerating their ability to build businesses around this opportunity.
Can you point to an example of a tribe pulling that off?
Mohawk Networks has been going for a while now … I think they might be 12 years old. They put energy into building that network for their community early on. They're a shovel-ready company and they're actively building a network, so they're very strategically placed for state and federal opportunities.
You also have tribal telecommunications companies that started doing traditional telephone services, and now they've converted to broadband. That's a great training opportunity — how these companies evolved, how they had to change their business model, how they ripped out and replaced equipment, how foundational was their existing infrastructure. All kinds of really cool lessons to be learned there.
What kind of changes would you like to see, going forward?
You have tribes — like the Hoopa Valley Tribe — they got a substantial grant, they are implementing that grant, they have a solid team, they're ramping up their expertise, they're doing deployment wirelessly. They're really leading the charge. I would love to see the Hoopa Valley Public Utilities Department spin off or extend their tribal broadband services to be a roadshow, to go out and help other tribes.
I'd really like to see tried-and-true ISP businesses run by tribes expanding to the point where, on request, other tribes can access their expertise and their building power, and maybe learn as they build.
And as tribes build more workforce, that filters out into the general public, too.
It's great to see all the activity, and I think what we're going to get from this is some real innovative solutions that may not need as much money going forward. We're going to have more tribal folks in spaces that will build networks that may go to other communities.
We're going to have teams of tribal experts in broadband that are going to get hired away from vendors. And the more Native folks in those spaces, there is a change of perspective. As tribal members start to get into this field, they're going to change the perspectives and traditions that are out there, and open up doors.