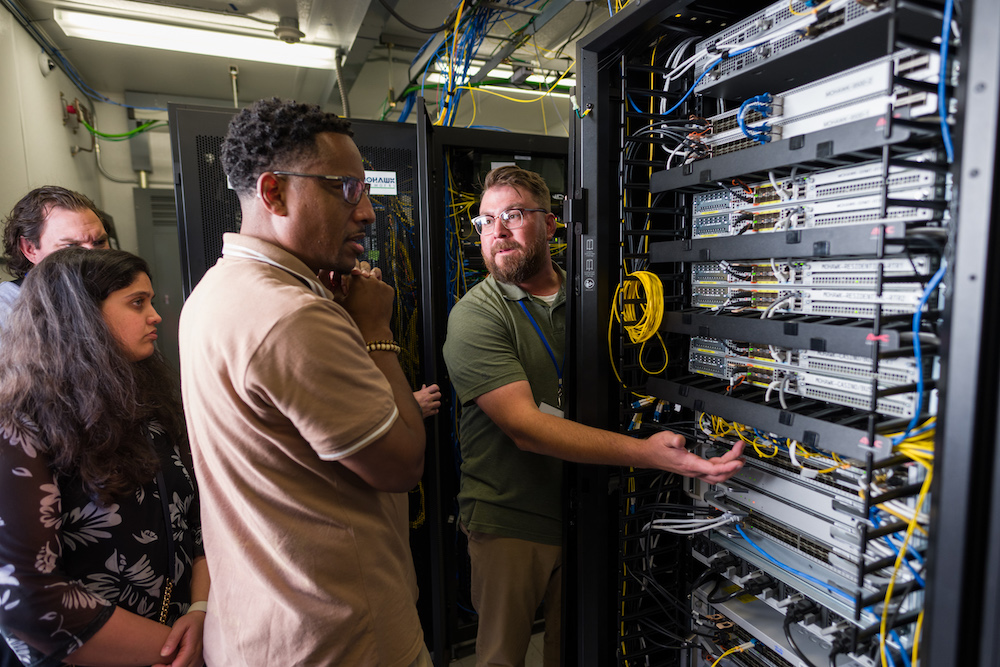 Details

Economic Development
Allyson Mitchell tried to make time for each of the four-dozen attendees at the most recent Tribal Broadband Bootcamp (TBB) earlier this month on the Saint Regis Mohawk reservation in upstate New York and southern Canada.
While every person had different questions, needs, and concerns regarding upcoming plans for broadband buildouts, there was a common refrain: casual access to the information provided by Mitchell and other experts at the bootcamp was better than any formal training session they had attended so far.
Never miss the biggest stories and breaking news about the tribal economy. Sign up to get our reporting sent straight to your inbox every Monday morning.
"The TBB gave beginners access to experts in an informal, casual setting, fostering participation from everyone," Mitchell, general manager of Mohawk Networks, told Tribal Business News. "This is an important differentiator — TBB is not a conference, it's an experience."
It was an experience shared by about 50 tribal leaders, technicians, and aspiring network managers from a dozen tribal nations. Over three days, the attendees met with a range of experts and insiders to discuss plans for burgeoning broadband projects in the wake of historic federal support — and COVID-19.
Breakout sessions included sessions on hardware used to create connections, learning how to crimp cables, the basics of fiber optics, wireless radio equipment and working in the 2.5 GHz spectrum. Policy experts touched on the importance of digital equity and inclusion, business operations, grant funding, challenges and the importance of a sustainability plan.
"The quality of the instructors of the TBB is unbelievable," Mitchell said. "PhD level instructors, engineers and technical experts delivered knowledge in an easy to follow experiential learning environment that simultaneously created a network of students that turned into friends and colleagues."
The most recent Tribal Broadband Bootcamp was one of several such events held since the beginning in 2021, meant to provide informal and conversational information on the slew of questions facing newly minted network managers, founded by Minneapolis-based community building nonprofit Institute for Local Self Reliance.
Since the event was hosted by the Akwesasne Mohawk tribe, tribally-owned service provider Mohawk Networks presented case studies and a tour of their network operations center. Guests were invited to talk with employees about their jobs, what it was like working in a technology field, what responsibilities they held in keeping people connected.
"I couldn't be any more proud of the capacity that our team has built over the years," Mitchell said. "It was impressive to watch our team teaching, sharing and learning from everyone in attendance."
Ellen Sharpe is the Tribal Employment Rights Ordinance officer and Broadband Project Manager for the Mashpee Wampanoag Tribe from Cape Cod, Mass., which secured a $9.1 million grant under the Tribal Broadband Connectivity Program late last year.
Sharpe attended the bootcamp to learn what was ahead for her and the other Mashpee Wampanoag attendees as they embarked on their project.
"Here we are definitely getting more knowledge than we had and we were looking for this kind of training," she said.
Right now, the Mashpee are sorting through a set of bids for consultancies ahead of putting together a management and design plan, the release states. Currently, the tribe is considering a hybrid model, deploying hard lines to tribal businesses and administrative centers while broadcasting a fixed wireless signal to tribal residents - a topic covered extensively during day three discussions on effectively utilizing 2.5 GHz spectrum to reach last-mile customers.
"We are excited about it but I'll be even more excited when we build the network," Sharpe said.
As the year winds on, Christopher Mitchell, director of community broadband networks for the Institute for Local Self Reliance, told Tribal Business News the next Tribal Broadband Bootcamp was planned for October 24-27 in Eagle Butte, hosted by the Cheyenne River Sioux Tribe Telephone Authority.
If all goes according to plan, the group will have hosted five such projects this year, with six planned for next year. Having the projects in different areas, and making them accessible to different tribes, will be crucial for making sure the right information reaches the right people, Mitchell said.
"One solution does not fit all, and it's imperative to assess community needs before the build begins," she said. "That's the best way to approach making sure people have the information they need going forward."