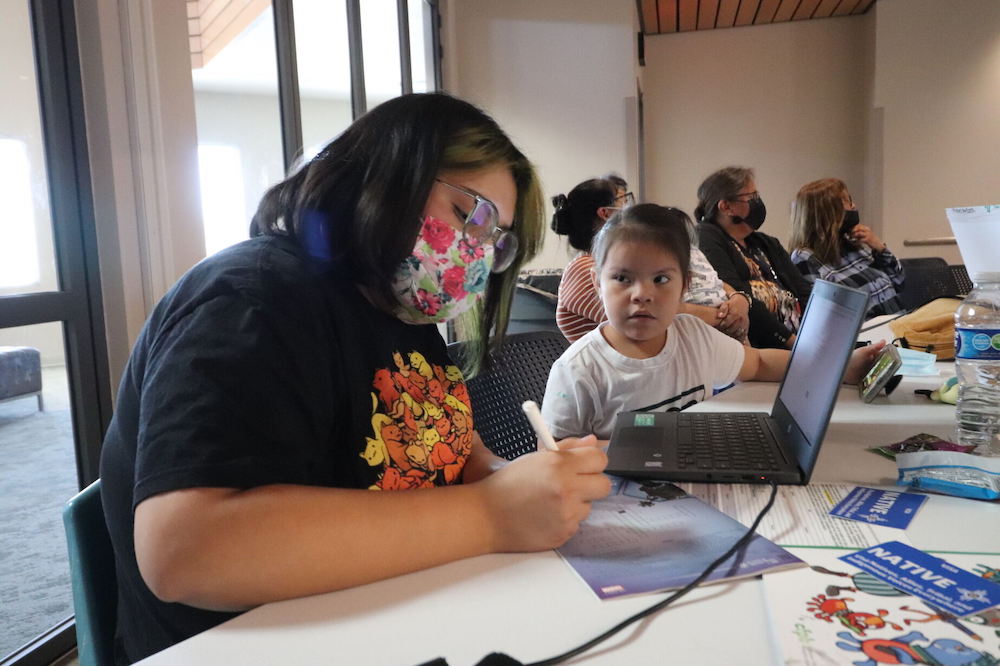 Details

Economic Development
Late last month, global non-profit CHOICE Humanitarian joined a nationwide flood of support and funding for improving broadband infrastructure and connectivity in Indian Country. But instead of putting wires in the ground, the group chose to focus on improving digital literacy and accessibility on the Navajo Nation.
During a digital literacy event, the group distributed 130 refurbished laptops and provided digital literacy classes and workshops through a partner nonprofit called Human-I-T. In addition to their broadband literacy education, the group shared materials on financial literacy provided by payment company Visa's Digital Empowerment Program.
CHOICE worked with its local Navajo Nation team, led by Country Director for the Navajo Nation Robert Black, to teach participants from Navajo chapters in Leupp, Copper Mine, Tolani Lake, Cameron, and Tuba City. Participants included pre-K and kindergarten students, as well as teenagers from local high school systems. There were also workshops and equipment provided to entrepreneurs participating in CHOICE's hoop house program, which helps start up greenhouses in the area.
All told, the group distributed the 130 laptops, many of which went to households that did not otherwise have computers. For students, that meant improved access to classes and distance learning. For entrepreneurs, that meant easier communication and information sharing.
The event was a significant step up from prior distribution efforts in the area, according to Idallis Riggs, who heads CHOICE Humanitarian's Iina Pathways Program for high school students.
"When I brought this project to the high school counselors, they questioned it at first, but once I explained that this would benefit the students now and in their future, they were all for it," Riggs said. "One counselor mentioned that a few years back, they were given one laptop for a student through the ACT/SAT programs, but they had difficulty selecting just one student. This time we were able to help 78 students from ninth to twelfth grade. The students and parents felt very fortunate to be involved."
So did the teachers. Cow Springs Head Start teacher Lucille Begay said she was "grateful" for the nonprofits' efforts towards getting the students she worked with online.
"I have parents who still don't have running water in their home – no restroom, cooking stove, refrigerator," Begay said. "...This is a positive experience that our children will learn and grow through with these laptops."
In an increasingly online post-pandemic world, access and literacy become ever more crucial – even for preschoolers and kindergarteners.
"Almost everything is digital these days and the age that kids are being exposed to technology is getting younger and younger," Riggs said. "It is important that they understand and learn about digital literacy because sooner or later, the reservations will be more up to date with technology."
Black, the Navajo Nation director, told Tribal Business News the efforts would help improve everything from economic to health outcomes on the reservation.
"By providing access to technology and training with Visa and Human-I-T, we are not just bridging the digital gap to aid in CHOICE's mission to reduce poverty, but also opening doors to educational opportunities, job prospects, and improved financial well-being together with Navajo communities," Black said. "We're grateful for our partners in this work."
Sheri Brown Swanson, Executive Sponsor of Visa's NATIVE (Natives, Allies, Tribal, and Indigenous Voices Everywhere) Employee Resource Group, said Visa was glad to support CHOICE Humanitarian and Human-I-T's efforts, which "dovetailed" with their own financial literacy work in the region.
Swanson highlighted instances that stood out as "eureka" moments for her and her team, such as hearing from parents grateful for their children's new equipment, or from teenagers suddenly clicking with new financial concepts. The biggest eureka moment, however, was for Swanson's team, when they realized how much of an impact closing the digital divide could have.
"It had everything to do with the digital divide: it was clear by the end of the trip that finding ways to support the community with not only hardware, but…access is paramount," Swanson said. "If each household had a device plus high speed internet, communities could thrive in a new way."