Native Americans are underrepresented in all aspects of the tech sector, from K-12 education to venture capital funding.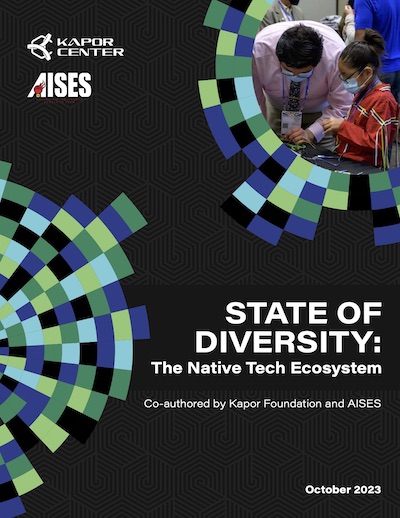 That's according to a new report by the Kapor Foundation, a nonprofit centered on expanding access and equity in tech, and the Native-led nonprofit AISES, which promotes Indigenous representation in the fields of science, technology, engineering and math (STEM).
The findings of the report, titled "The State of Tech Diversity: the Native Tech Ecosystem," underscore the need to address the foundational barriers that hinder Native communities from accessing computer science (CS) education and entry into careers in technology.
Roughly 20% of high schools on Native American reservations offer computer science classes, a prime contributor to poor Native representation in technology-oriented careers, according to the report. In total, only 59% of Native students attend schools offering computer science classes.
The trend continues into higher education: while there has been an overall rise in computer science degrees since 2020, Native student enrollment has shown little to no growth. Per the report, roughly 1% of American Indian/Alaskan Native (AI/AN) students receive associate's degrees in computer science, alongside 0.4% of Native Hawaiian or other Pacific Islander (NH/PI) students.
Once they're out into the working world, Natives represent vanishingly small portions of large tech workforces. Among the five largest tech companies in America -— Apple, Microsoft, Cisco, Intel, and Google's parent company Alphabet -— only one (Intel) reports more than 1% of their workforce as Native.
"The data underscores what Native people have been saying for generations," Frieda McAlear, director of seeding innovation at the Kapor Foundation, said in a statement. "Not only are Native and Indigenous communities excluded from working in tech — they're not even given the chance to learn about computing and the possibilities of working in computing fields as a way to support their families and people. The first step into the tech industry is education, and it's clear there are still huge inequities in that step alone."
AISES and Kapor attribute the gap in educational opportunities to a number of factors, including a disconnect between the goals of many technology startups and Indigenous priorities, and underfunding for Native institutions, even in schools where computer science classes are available.
Never miss the biggest stories and breaking news about the tribal economy. Sign up to get our reporting sent straight to your inbox every Monday morning.
The discrepancy holds back Native participation in an otherwise rapidly growing, increasingly central part of the global economy. According to the report, the United States currently employs roughly 9.15 million tech workers, a number that has grown by over 280,000 jobs annually in recent years. Emerging occupations, such as data scientists, cybersecurity specialists, and software developers, are projected to grow by more than 200% in the next decade.
In total, the tech industry represents more than $7 trillion in value, with much of that accounted for by $200 billion annually invested in startup tech companies, opening the way for massive entrepreneurial opportunities.
But those are opportunities that Natives won't be able to secure without reorganizing and reworking their relationship with the technology industry, the report says. Of $156 billion invested into U.S.-based startups in 2022, AI/AN and NH/PI founders received 9 investments towards their ventures, receiving only 0.02% of the total capital invested, the report notes.
Proposed reforms include increasing access to computer science classes in K-12 schools while retooling those classes to include Indigenous perspectives and principles, actively recruiting Native students into computer science programs in higher education, partnerships with tribes, and investments in Native entrepreneurs.
"The findings of this report underscore the pressing need to eliminate these disparities through continued awareness and advocacy, educational resources, and professional development tailored to our communities," Dr. Kathy Deer In Water, vice president of programs and research at AISES, said in a statement. "We're excited to partner with the Kapor Foundation to amplify our work to increase the representation of Indigenous communities in STEM fields and dismantle entry barriers that have historically left these populations out of the tech industry."