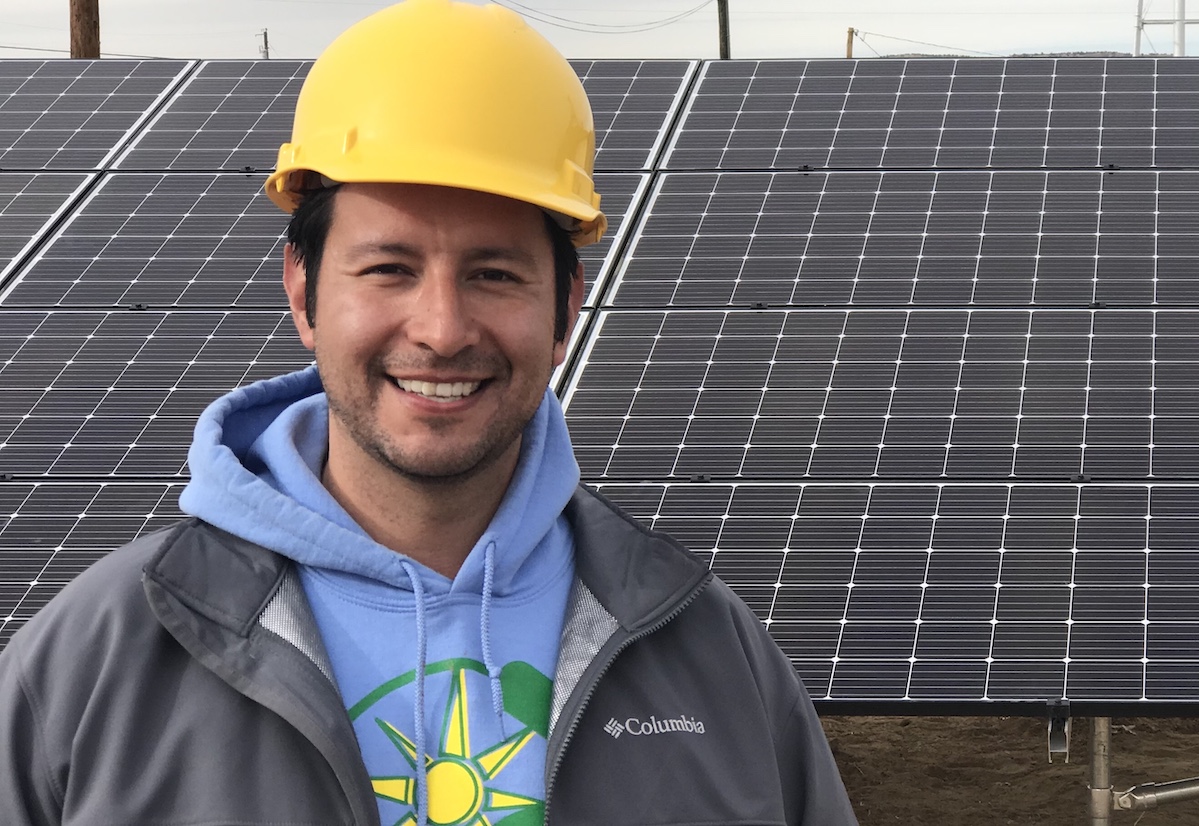 Details

Energy
Thanks to a new infusion of capital, the Tribal Solar Accelerator Fund is itself poised for acceleration.
The solar project development organization under the umbrella of Oakland, Calif.-based GRID Alternatives received $12 million in funding from Bezos Earth Fund, a philanthropic venture led by Amazon.com Inc. CEO Jeff Bezos that invested $38 million in five Native nonprofits.
"This was actually a bit of a surprise to us as an organization. The Bezos Earth Fund doesn't take applications, they reach out to you, so a lot of organizations have been wondering if they'd ever hear from the Earth Fund," said Adam Bad Wound, founder and vice president of philanthropy at Tribal Solar Accelerator Fund. "It was really a thrill when the team reached out and started this conversation. It's not every day you get to tell the richest man on the planet about what you do."
The funding was provided as a way to acknowledge the "crucial role" Native Americans play in climate protection and environmental conservation, according to a statement from Bezos Earth Fund announcing the investments.
Much of the funding went toward providing an Indigenous perspective on President Joe Biden's "Justice 40" initiative, which promises to direct at least 40 percent of revenues from federal climate and clean energy investments to underserved communities.
The Alaska Venture Fund, which received $10 million, planned to develop "a framework driven by Indigenous peoples to achieve Justice40 in Alaska," according to a statement. Longmont, Colo.-based First Nations Development Institute, which received $5 million toward its "Racial Equity Justice40" project, has similar aspirations.
Native-led nonprofits Native Movement and NDN Collective received $3 and $8 million, respectively, toward their climate change efforts, which center on building infrastructure and grant programs for future efforts.
"We know that through the strengthening and sharing of Native practices, we can address the dire effects of climate change in not only Indian Country but for the planet overall," First Nations President and CEO Michael Roberts said.
'Huge opportunity' for tribal solar
Bad Wound said the organization's broad plans for the $12 million involved distributing the money to tribal solar projects and tribal participation in the burgeoning solar industry via grants, fellowships and scholarships.
Measures like the above could help address some of the barriers Native organizations and tribes face in hoping to break into the field. Those barriers include a lack of access to project capital and issues with existing infrastructure.
Bad Wound pointed to a report by Sandia National Laboratories that listed financing and funding to be the largest single barrier to entry. Access to capital is a persistent chronic issue for Native Americans regardless of industry.
"(The Bezos Earth Fund) gives us access to that capital to partner with tribes and help develop projects that didn't have up-front funding, didn't have funds for matching grants, or simply need the funds to get started," Bad Wound said. "Essentially, what we're trying to do is really meet a need in Indian Country around project development opportunities and financing."
By assisting tribes in pursuing federal dollars and working to provide funds for matching grants, Bad Wound said the grant was a chance to "unlock public dollars with philanthropy," for example.
"But in addition, we wanted to enhance the capability of tribes to pursue their own sovereignty goals and renewable energy plans," he said. "That's where the scholarships and fellowships come in."
That funding builds on what Bad Wound called a "major opportunity" for Indian Country: tribal control of renewable-ready land.
Native American-controlled land comprises approximately 2 percent of U.S. territory, but has 5 percent of all renewable energy sources and solar generation potential, according to a National Renewable Energy Laboratory report.
"If you include that 10 miles around the tribe, the number increases to something like 6-8 percent. For 2 percent of our population to have 8 percent of the renewable energy potential, that's a great opportunity," Bad Wound said. "We see tremendous potential there. We like to come to this work with a resource abundance narrative."
With the Bezos Earth Fund grant under its belt, Tribal Solar Accelerator Fund is better positioned to distribute those funds to other projects that will in turn help both tribal reiliency and the climate.
"Tribes have this really unique relationship with the land, and have to work to handle climate threats that threaten their fishing or their water or their forests," Bad Wound said. "Together, we have an opportunity to really innovate in ways that mainstream society can learn from. We're trying to help people, and by doing that, we're also helping the planet."