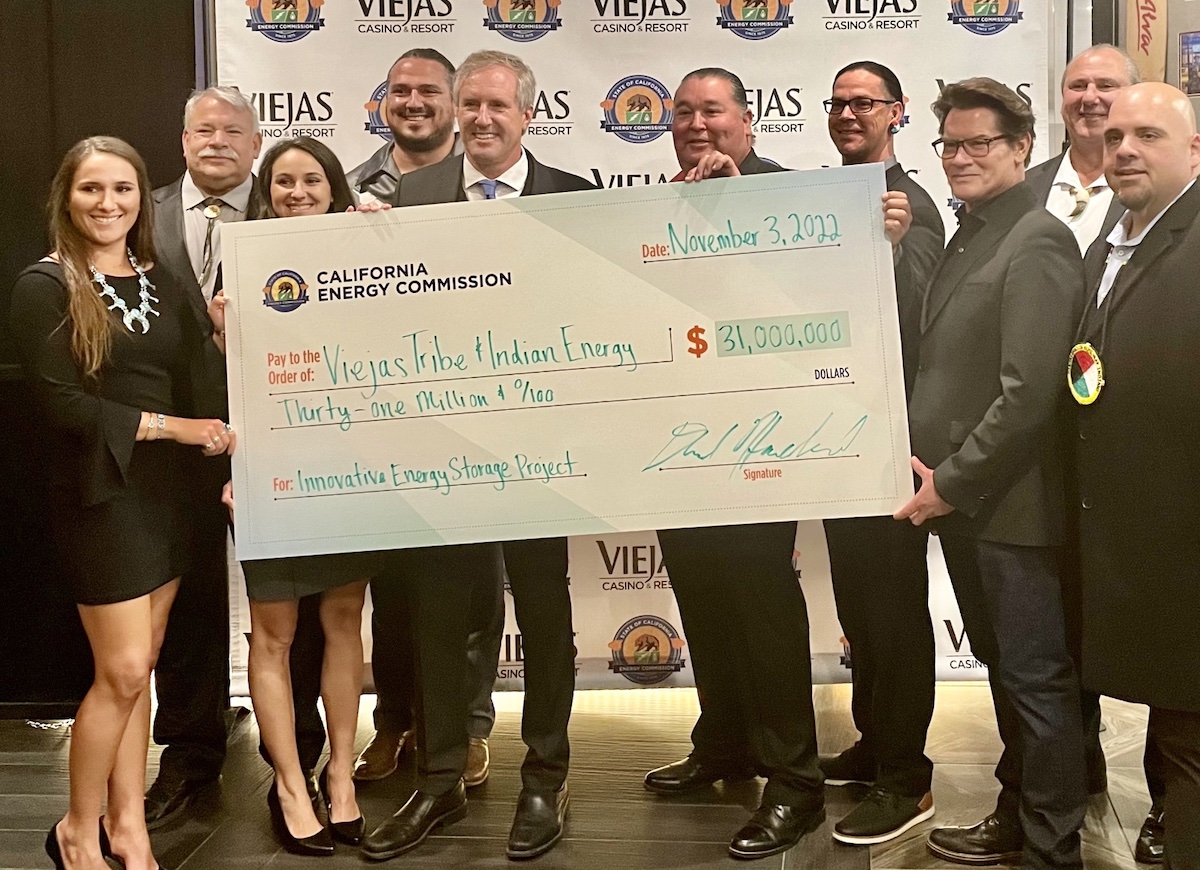 Details

By

Elyse Wild

Energy
A Native-owned energy company will leverage $31 million in state funding to create a long-duration energy storage system for a southern California tribe.
The California Energy Commission issued the grant to Anaheim Hills, Calif.-based Indian Energy LLC, which plans to deploy a state-of-the-art microgrid that will provide renewable backup power for the Viejas Tribe of Kumeyaay Indians.
The grant is one of the largest state awards to benefit a tribal government and the first under California's new $140 million Long-Duration Energy Storage Program.
The microgrid — a 60-megawatt-hour (MWh) long-duration system — will be one of the first of its kind in the United States. The project will provide renewable backup power to the tribal community during local outages and allow the tribe to shift electricity use away from the statewide electrical grid during calls for conservation.
Indian Energy has tapped Edison, N.J.-based EOS Energy Enterprises Inc. (Nasdaq: EOSE), a provider of zinc-powered long-duration energy storage systems, to supply a 35 MWh energy storage system for the project to the tune of $13.5 million.
Viejas Tribal Council Chairman John Christman says the system will provide long overdue relief for the tribe's commercial operations and tribal members living on the reservation.
"The tribe was really ready for this," Viejas Tribal Council Chairman John Christman said.
The 1,700-acre Viejas reservation is located in San Diego County in the Cuyamaca Mountains, where the Santa Ana Winds can get up to 70 mph. The tribe owns and operates several enterprises, including the Viejas Casino and the Viejas Outlet Center, a 57-store shopping center with a skating rink and bowling alley.
Like most tribal communities, the Viejas reservation is at the "end of the grid," making for a low-quality and unreliable power supply. In addition, inclement weather causes frequent safety shutoffs, such as to prevent wildfires caused by damaged lines, which chokes off the power supply to the tribe's commercial enterprises and 450 homes while the Viejas public works department deploys generators to the community.
Never miss the biggest stories and breaking news about the tribal economy. Sign up to get our reporting sent straight to your inbox every Monday morning.
"We are out here in the backcountry, and the shutdowns were causing a lot of issues, especially for our elders," Christman said.
According to reports available on the San Diego Gas and Electric website, 10 safety shutoffs were issued between October 2019 and October 2022, with one outage lasting nearly two weeks.
Allen Cadreau, founder and CEO of Indian Energy, says the Viejas microgrid system will operate "behind the meter" or directly connect to buildings and homes. In the event of an outage, the system will kick on and operate autonomously.
"That is the vision here, to help the enterprise and individual grid by electrifying behind the meter," Cadreau said.
With this approach, the Viejas project is being hailed as a benchmark as California aims to achieve 100 percent zero-carbon electricity by 2045.
"Shoring up the grid, shoring up 'behind the meter,' is really where the uniqueness comes in," Cadreau said. "That will help the state defer the cost for upgrading and increasing capabilities from power plants and transmission, all the way down to the distribution systems. It will be a huge aid in that."
'How sovereign are we?'
Cadreau launched Indian Energy in 2010 to help tribes diversify into the energy sector, which he views as a way to achieve true sovereignty, self-determination and stewardship of tribal lands.
"From a position of independence and true sovereignty, infrastructure on the water side and natural gas side and the electrical side is all a part of the key to having Indian Country truly in a standalone position and sovereign," Cadreau told Tribal Business News.
As more and more tribes look to establish their own utility authorities and move toward behind-the-meter clean power, the potential for solar power in Indian County is massive. According to a 2010 National Renewable Energy Laboratory Report, tribal lands in the Lower 48 states have a staggering 17.6 TWh of solar and wind energy potential, enough to power more than 1.7 billion American homes and four times the United State's total energy-generating capacity in 2019.
This massive energy potential stands in contrast to the current state of power in Indian Country, with rural communities at the mercy of utility authorities and 14 percent of all Native households in the U.S. without electricity entirely.
"If we depend on entities that could turn off our infrastructures, how sovereign are we?" Cadreau said.
Christman echoes those sentiments, saying that the future grid will allow the tribe to diversify and take steps toward establishing its own utility authority built around producing the cleanest energy possible.
"It's a form of diversification," Christman said. "We've been in this area for thousands of years, we are stewards of our environment, and this is an important part of that."
Want more news about the $130 billion tribal economy?
Tribal Business News publishes thoroughly reported and well-crafted stories about Native businesses and entrepreneurs, growth and expansion strategies, best practices, economic data, government policy and other relevant business news. Tribal Business News is required reading for tribal council members and leaders of Native businesses, as well as state and federal legislators, policymakers, economic developers, entrepreneurs, bankers, lawyers and anyone interested in doing business in Indian Country.
Sign up for our free newsletter to track Native business and the tribal economy. Or sign up for a premium digital subscription ($99/year or $10/month— cancel anytime) to gain full 24/7/365 access to our business news reporting. Megwetch.