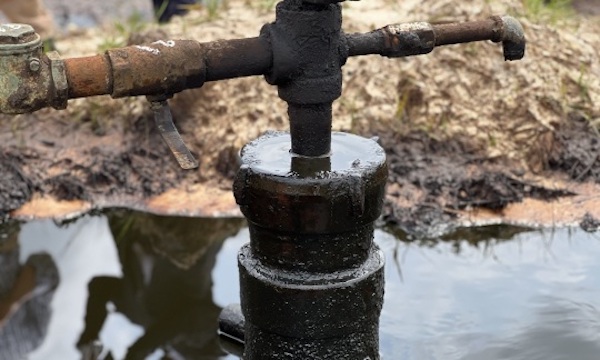 Details

Energy | Environment
Nearly $40 million in federal funding will help plug more than 400 orphaned oil and gas wells on tribal lands, per an announcement from the Department of the Interior last week.
Never miss the biggest stories and breaking news about the tribal economy. Sign up to get our reporting sent straight to your inbox every Monday morning.
The funding will be split into two types of grants: implementation grants, which will directly support plugging, remediation, and reclamation activities for orphaned wells on tribal lands; and program development grants, which will help build capacity and preparations for future plugging and remediation operations. Interior called the funding a "critical step in supporting tribal land rights and economic opportunities to address legacy pollution, reduce harmful methane leaks, and tackle environmental hazards that threaten tribal communities" in a statement.
In some cases, a focus on assessments laid preliminary groundwork for more direct efforts later on, Interior Senior Advisor Winnie Stachelberg said during a press call last Thursday.
"There's a lot of upfront work that has to be done before the plugging actually can take place – there's measuring the depth of the wells, there's assessing the type of cement that's going to be needed," Stachelberg said. "So, there's a lot of work that needs to be done before the actual plugging and sealing takes place."
The funding targets 10 tribes across the United States, with plans to assess an estimated 559 wells and plug 414 of those, per Department of Interior data published alongside the announcement. Grants ranged from as little as $86,000 to $19 million. Some of the awarded tribes, like the Chickasaw Nation, will solely support assessment and estimation for future plugging operations, while others, like the Osage Nation in Oklahoma, would have as many as 290 wells closed on tribal lands.
The money has been appropriated under the Bipartisan Infrastructure Law, as part of $150 million in funding leveraged toward building economic growth and improving public safety on tribal lands, per the Department of Interior announcement. The funding announced Thursday is in addition to $560 million in orphaned well grant funding that was provided to states in August 2022, and nearly $100 million in funding that is going towards addressing orphaned wells on public lands and waters.
"Indigenous communities have long been disproportionately burdened by environmental pollution," Secretary of the Interior Deb Haaland said in a statement. "Through President Biden's Investing in America agenda, we are investing in Indian Country. The Department is committed to improving safety and health conditions for Indian Country, honoring Tribal sovereignty, and supporting sustainable development and good-paying jobs."
The tribes, awards, and estimations are as follows:
Assiniboine and Sioux Tribes of the Fort Peck Indian Reservation: 117 wells assessed, 7 plugged, with an award of $2,344,014.
The Chickasaw Nation: 5 wells assessed with an award of $86,253.
The Chippewa Cree Indians of the Rocky Boy's Reservation: 155 wells assessed with an award of $1 million.
The Fort Belknap Indian Community of the Fort Belknap Reservation of Montana: 66 wells assessed with an award of $1 million.
The Kiowa Indian Tribe of Oklahoma: 48 wells plugged with an award of $4,735,765.
The Muscogee (Creek) Nation: 166 wells assessed with an award of $997,662.
The Navajo Nation: 21 wells plugged with an award of $4,976,586.
The Osage Nation: 290 wells plugged with an award of $19,100,414.
The Otoe-Missouria Tribe of Indians: 48 wells plugged with an award of $4,642,620.
Southern Ute Indian Tribe: 50 wells assessed with an award of $497,850.
Tribes can also apply for "in lieu of grant" funding through the Department of Interior thanks to an undisclosed amount of funding allocated in the Bipartisan Infrastructure Law. The department pointed to a request from the Crow Tribe of Montana to plug 11 orphaned wells on the tribe's land through a contract with the Indian Energy Service Center as an example.
Orphaned wells can lead to groundwater contamination, and discarded or abandoned equipment presents a danger to both wildlife and local populations, Interior writes. The wells also contribute heavily to methane buildup, proving to be both an immediate safety hazard and a long term concern as a contributor to climate change — where it is 25 times more potent than carbon dioxide, per the U.S. Methane Emissions Reduction Action Plan.)
More funding for plugging wells and building capacity will be coming down the proverbial pipe, Interior said. The DOI plans to announce the next phase of funding opportunities in the coming months, according to a statement.