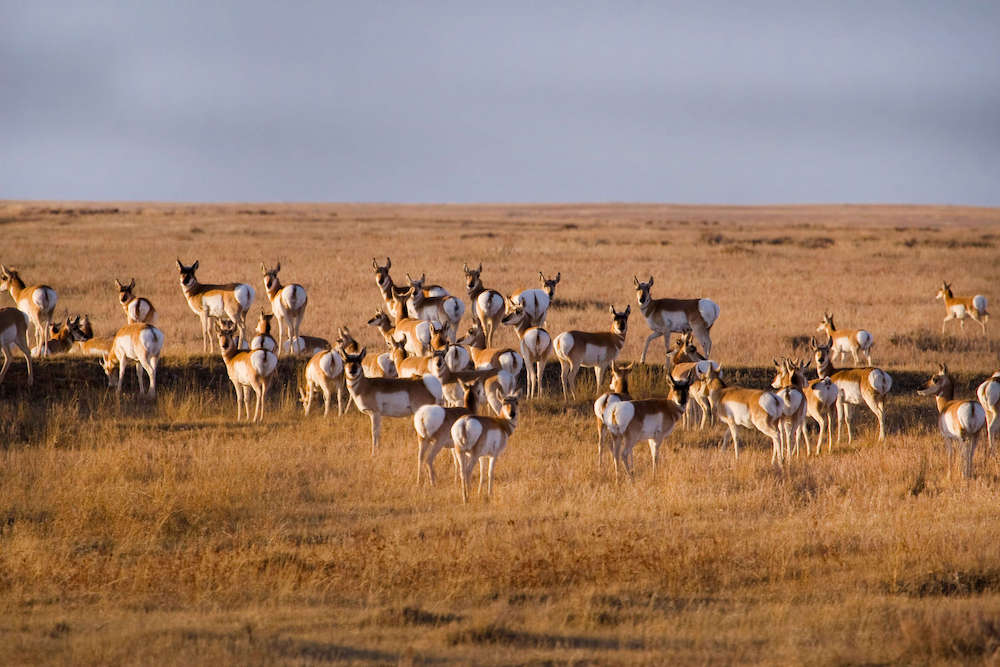 Details

Energy | Environment
Grasslands in Montana represent some of the last remaining large-scale prairies in the world. In an effort to safeguard these vital landscapes, a Montana-based conservation nonprofit is deepening its long-standing relationship with the Fort Belknap Indian Community.
The nonprofit, Bozeman-based American Prairie, recently secured three new parcels of land totalling roughly 2,000 acres. The acquisitions support American Prairie's organizational bid to fully connect 3.2 million acres of grassland they've targeted for preservation, according to an announcement last week.
American Prairie did not disclose how much was paid for two parcels of land, but said the property was gifted by its owner. That land expands a shared boundary with the Fort Belknap reservation, which is a frequent collaborator with American Prairie on conservation projects such as bison and fox reintroductions, according to Beth Saboe, the nonprofit's public relations director.
That's good news for American Prairie, but also good news for the tribes on the Fort Belknap reservation, whose tourism efforts depend in part on the nonprofit's conservation work, according to George Horse Capture, Jr., tourism director for the tribe's Aaniiih Nakoda Tours, which also utilizes land preserved by American Prairie for its work.
"They've helped us out a great deal with tourism," Horse Capture said. "They invite us to participate in sharing our knowledge with others. They engage us, we go down and give our presentation…it helps us make connections to their different things."
Horse Capture said those connections have resulted in projects with National Geographic, BBC and the World Wildlife Foundation.
Never miss the biggest stories and breaking news about the tribal economy. Sign up to get our reporting sent straight to your inbox every Monday morning.
American Prairie, which funds its land acquisitions through private investment and donations, is happy to help more people find out about Fort Belknap, Saboe said.
The nonprofit doesn't just point people up the road to the tribe, though. The collaboration also involves investment and active work on tribal projects, she added. Thanks to their partnership, the two groups have grown together in attracting more visitors and dollars to their cause.
"We're very involved in economic development opportunities for Fort Belknap, whether that's investing in efforts like [language revitalization center] The Language Nest or other projects," Saboe said. "As visitation increases and American Prairie grows, we can help provide Indigenous opportunities to lead tours of culturally significant sites, and so on."
In addition to the economic exchange the groups share knowledge, as well, Horse Capture said. American Prairie regularly conducts classes and workshops for Native students, covering a wide range of topics from preserving and restoring streambeds to explore the abundant prehistoric fossils and materials found in the region.
There's been the classes on the microinvertebrates, for example, which always shock new students when they realize they wade through the creatures when venturing into streams or rivers, Horse Capture said.
"A lot of our youth have never seen microinvertebrates; once you learn how to collect them and look at them under a microscope, (they realize) some of them are horrible looking little creatures," Horse Capture said.
The collaboration between the nonprofit and the tribe also extends to ongoing preservation and revitalization work, Saboe said. She pointed to the tribe's help with wildlife restoration and bison handling in support of American Prairie's bison herd, which frequently exchanges heads with Fort Belknap's herd.
"Part of preserving an entire prairie ecosystem is making sure the flora and fauna that once was in abundance return, and bison were a keystone species in this area," Saboe said. "We exchange animals and do training with them on handling practice. They really are leaders in wildlife restoration."
Horse Capture echoed the sentiment, pointing to American Prairie's care in ensuring the safety of cultural sites and graveyards that might have otherwise been destroyed by encroaching development. Conservation work also preserves grasses native to the area, crucial for the aforementioned wildlife restoration, he added.
The longstanding collaboration between Fort Belknap and American Prairie means that the recent expansion of the fence line between the two is a sign of good things to come, Horse Capture said.
"This has been really beneficial for us," Horse capture said. "I've been working with American Prairie almost from their infancy. It's been great, they always hold out the olive branch, not just to us, but the surrounding communities."