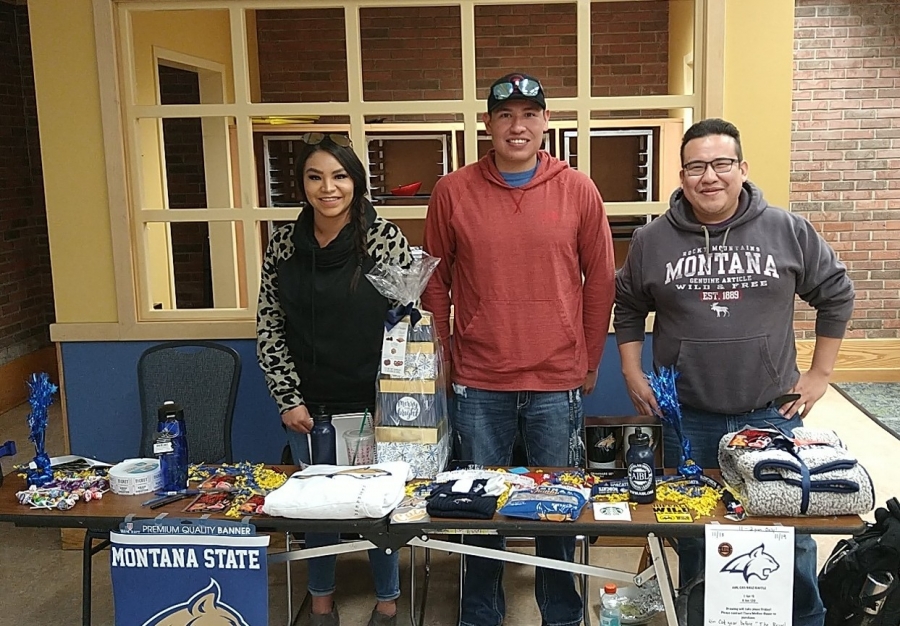 Details

By

Tribal Business News Staff

Entrepreneurism
BOZEMAN, Mont. — A team from the student chapter of the American Indigenous Business Leaders at Montana State University received top honors in a national business plan competition announced last month.
United National Indian Tribal Youth, National Center for American Indian Enterprise Development and AIBL partnered for the youth business plan competition, awarding first place to the team of Zach Fighter, Terrance Limpy and Tiara McGee-Bauer from Montana State.
The team worked to develop a business model for Turtle Island Tales, a venture created by Dr. Alexandra Adams, director of the Center for American Indian and Rural Health Equity at Montana State. Their efforts focused on creating a sustainable model for Turtle Island Tales, a subscription-based business aimed at encouraging healthy Native families through stories, recipes, games and parenting help.
Specifically, the students drafted a plan to help Turtle Island Tales' founders scale up the business, as well as further identify the company's market and develop a marketing plan, according to a statement.
Fighter, Limpy and McGee-Bauer were part of a newly revived student chapter of AIBL at Montana State.
"This was our first time with the chapter and this was all a learning experience for us," Fighter said in a statement.
The three-person team had been scheduled to present their business plan at AIBL's national conference in early April, which ended up being canceled to prevent the spread of the COVID-19 pandemic. Instead, the awards were announced as part of UNITY's virtual national conference in late July.
Eliza Webber, a research project manager at the Center for American Indian and Rural Health Equity and part of the academic team at Turtle Island Tales, praised the team's work on the business plan.
"The plan identified unmet needs and potential challenges that may have otherwise been overlooked," Webber said.
Turtle Island Tales plans to work with partners in Montana and North Dakota on a possible pilot program in a tribal community, according to Adams. The company also expressed interest in continuing to work with the AIBL student chapter throughout the upcoming academic year.
The company's home-based kits leverage scientific research to help teach young Native children valuable generational lessons and encourage them along a learning journey via items like stickers, books, trading cards, puppets and short folks, according to its website. The kits offer 12 wellness lessons throughout the year and seven "grandfather teachings" aimed at developing spiritual health.
Montana State's AIBL student chapter is open to all students regardless of race or major and is aimed at empowering students to gain educational experience outside of the traditional classroom setting. The chapter aims to continue recruiting new members and plan ahead for similar business plan competitions in the future, according to adviser Monti Pavatea Gilham, a program manager for the Caring For Our Own Program within the university's College of Nursing, which recently announced additional lucrative scholarships for Native students, as Native News Online recently reported.
Pavatea Gilham previously helped launch the first AIBL student chapter, went on to work for the organization during graduate school and later served as a student chapter adviser.
"AIBL has always been an interest of mine, with the combination of education, business and economic development for tribal communities," she said.
Want more news about the $130 billion tribal economy?
Tribal Business News publishes thoroughly reported and well-crafted stories about Native businesses and entrepreneurs, growth and expansion strategies, best practices, economic data, government policy and other relevant business news. Tribal Business News is required reading for tribal council members and leaders of Native businesses, as well as state and federal legislators, policymakers, economic developers, entrepreneurs, bankers, lawyers and anyone interested in doing business in Indian Country.
Sign up for our free newsletter to track Native business and the tribal economy. Or sign up for a premium digital subscription ($99/year or $10/month— cancel anytime) to gain full 24/7/365 access to our business news reporting. Megwetch.