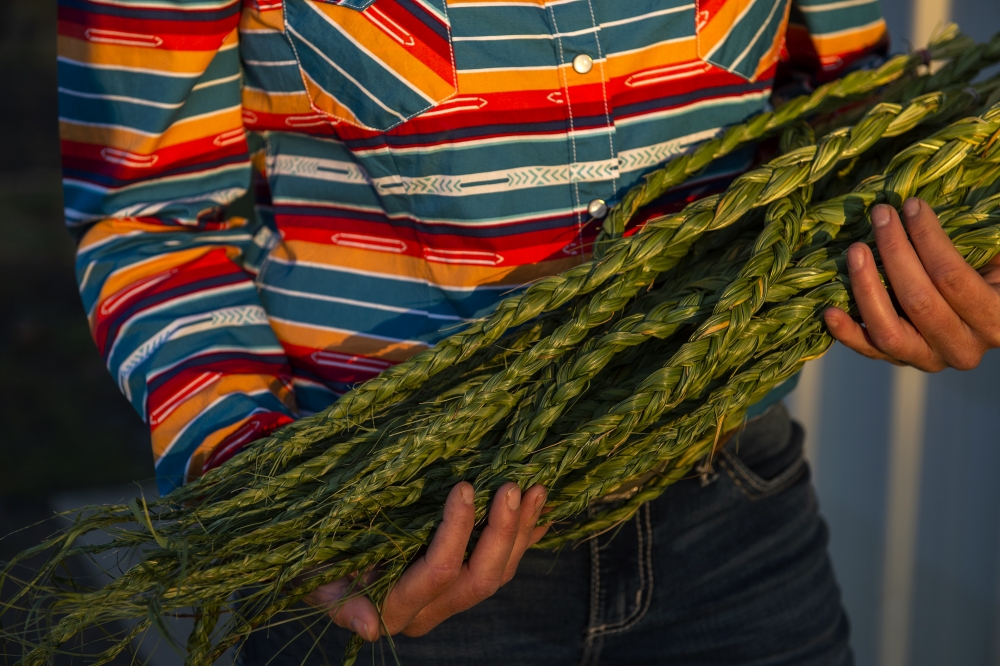 Details

Entrepreneurism
BEND, Ore. — Despite a year full of challenges, Sakari Farm and its sister business Sakari Botanicals has been thriving thanks to increased demand for traditional Native American foods.
The Oregon-based companies specialize in providing food products with as little interference as possible. They process the food on the same land where it grows, free of pesticides or chemicals. Most of the work is managed by two people.
As COVID-19 affected people's ability to shop for themselves, many tribal nations started distributing food boxes to their elders and immunocompromised people at higher risk of severe symptoms, which has translated into business opportunities for Sakari.
"There has been a huge demand because a lot of the communities have been shut down," said owner Spring Alaska Schreiner (Inupiaq). "Tribes are requesting volumes of our healing tea or some of our tribal foods. Where we sold a few teas in a day, now we're selling hundreds and they're going out nationally to these entities that are distributing them in food boxes.
"Something positive out of COVID is that we're getting more food out to our people."
Native farms across the country have taken a central role in combating food insecurity brought on by COVID-19, according to a May 2020 article in the journal Agriculture and Human Values. The report notes that deficiencies in both diet and overall supply have been accommodated through directly connecting farms like Sakari with Native feeding programs.
Rising sales represent the latest spike in what Schreiner called "tremendous" growth since Sakari Botanicals took out a loan and bought a farm in Bend, Ore. in 2018. The farm has since grown to producing 140 varieties of plants over its 6 acres, including food products such as yarrow flowers and medicinal plants like goldenrod.
While Schreiner invites customers to visit in-person to make purchases, many of her customers buy bulk orders of products by calling the farm directly. The companies also share an e-commerce website to sell directly to customers.
The farm continues to expand each year, adding greenhouses and more acreage to accommodate demand. Schreiner wants to preserve the field-to-table nature of Sakari products, meaning the overall operation intentionally needs to stay small.
Sakari's existing plot offers more than enough space to grow foods and medicines without needing chemical measures to expand production, Schreiner said. Focusing on products is intentionally "disruptive" in ag markets typically dominated by larger operations, she added.
"It's really nice to be able to have a small farm. I don't want to get to the point where we lose value in the product we're making," Schreiner said. "As much as we want to grow financially, it's not worth losing the street cred of having a disruptive product."
The products in question range from bath salts to healing teas to hot sauces, all made directly for Sakari Botanicals from crops grown on Sakari Farms.
"It's really cool to walk out and harvest 5 pounds of yarrow, dry it, clean it and package it into a tea and send it off in the mail," she said. "It's very healthy, direct food production."
EDUCATION AND PRESERVATION
Schreiner started Sakari Botanicals in 2012 as a way of distributing medicine and seeds to other people. At first, her goal was to make the most of each plant she grew.
For example, Schreiner was making yarrow tea from flowers and then using leaves and leftover plant materials to make medicinal oils.
"Using the whole plant is something Natives do, and I was trying to find different ways to put that to use," Schreiner said. "A lot of non-Natives that farm will only use part of the plant."
Schreiner didn't initially intend to start a business, but the operation began growing on its own. Eventually, she realized she had an enterprise on her hands and went through the process of getting her licenses and certifications.
Once Sakari Botanicals joined the Intertribal Agriculture Council, the operation really exploded, Schreiner said. Networking and educational opportunities at IAC conferences and training sessions gave her the contacts and mentorship she needed to grow.
Schreiner started out receiving advice and educational resources on how to grow her business, but soon enough she was being asked to teach the workshops.
Now Schreiner teaches classes on starting a farm, running a Native-owned business, and catering to niche markets through Intertribal Agriculture Council. The classes are part of a wider effort by the Council to expand agriculture education to a younger generation.
"It's kind of this big movement to reassociate with our medicines and foods," Schreiner said. "There's a few tribal producers that started before me, but now there's 50-plus, and what we're doing now is going around the country and focusing on youth to get them out of a generational slump and try to get them educated in traditional farming, processes, leadership, talking to their elders, and eating healthy nutritional foods."
Sakari Farms also hosts on-site cooking and farming classes. The farm additionally houses a seed bank that preserves and profligates traditional Native plant seed from around the country.
"It's kind of this rare educational farm," Schreiner said. "There's a lot of them in the Midwest but not many in the Pacific Northwest. It's lonely, but it's happening."
Schreiner said she wants people to think of what they experienced culturally while growing up. Preservation of those foods, activities and traditions could make for an excellent premise for a business, she said.
To that end, Native entrepreneurs should seek out federal and tribal resources while growing a business of their own, she added.
"I would encourage folks that are tribal members to think about what they enjoy eating, what they miss from grandma and grandpa and elders around the table. There's a demand within our nations to have people participating in these activities — storytelling, artwork, books, songs," Schreiner said. "We're a resilient people and very creative, and I don't think it should be very hard to be an entrepreneur as a Native."