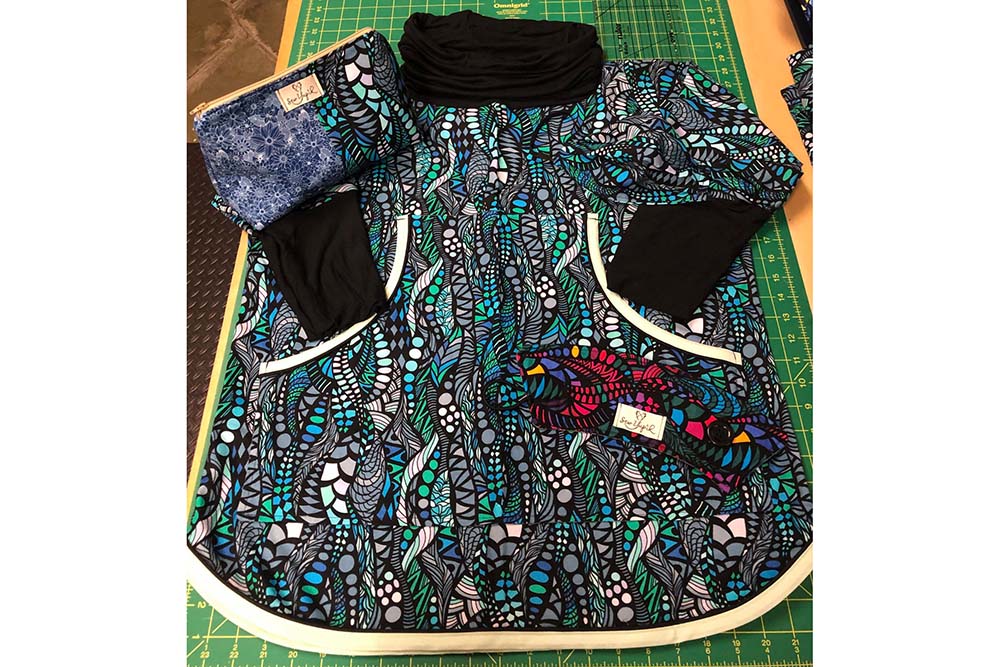 Details

By

TAMARA IKENBERG

Entrepreneurism
SOLDOTNA, Alaska — The overshirt known as a qaspeq, or kuspuk, is a traditional tunic in high demand among Natives and non-Natives in Alaska.
They're so popular that many Alaska lawmakers don them weekly on "Kuspuk Friday" during the state's legislative session in Juneau.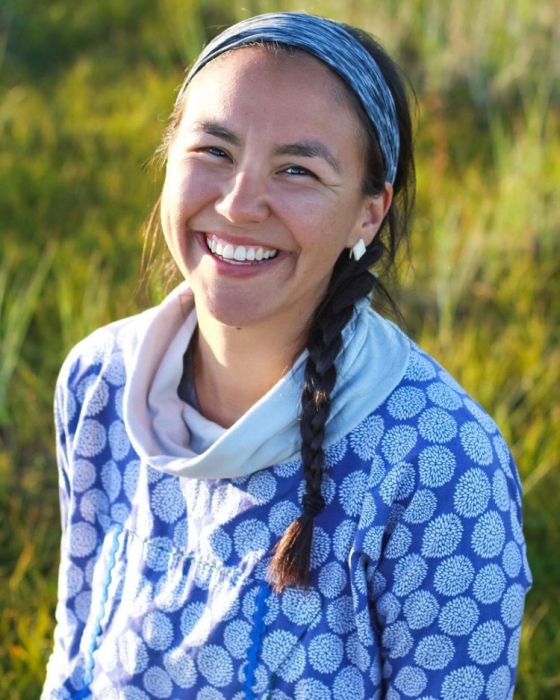 Nikki Corbett started Sew Yup'ik to make and sell Alaska Native traditional tunics called qaspeqs or kuspuks. (Courtesy photo)Practical, comfortable and often colorful, the hooded or cowl-necked tops with big front pockets are the specialty of award-winning Yup'ik businesswoman and seamstress Nikki Corbett, owner of Sew Yup'ik.
When it comes to Corbett's qaspeqs, what she sews is what you get. Taking orders isn't part of her business plan, and neither is crushing the competition.
"If folks would like to make orders, I just politely let them know that I don't take orders, and I refer them on to other qaspeq makers," Corbett said. "There are a lot of qaspeq makers out there, and it's really awesome. I don't think there can be enough — I cheer them on."
The no custom order policy stems from Corbett's early experiences with Sew Yup'ik.
"When I first started, I took orders and it was very stressful and it took the joy out of sewing, because sewing is also my stress reliever," said Corbett, who works full-time as a nurse and also teaches qaspeq-making all over Alaska. "If I have someone coming in and telling me how to sew it, which way to sew it, what colors they want, then I'm not as able to use my creativity."
Five years into the therapeutic side-pursuit, Corbett's take-no-orders strategy has formed into a solid plan for avoiding burnout, cultivating a sense of one-of-a-kind exclusivity, and building a customer base continually anticipating her next creations.
Sew Yup'ik customer Anny Cochrane calls Corbett a "compassionate community auntie."
"Nikki is so helpful when selecting a product. I am not an easy customer to please because quality is super important to me. I have purchased over a dozen items and she is a go-to for gifts for friends and family. I have items that I purchased when she started her business that I still wear on a regular basis," Cochrane said. "Perhaps what sets her company far apart from other small businesses is her willingness to give back to her community."
EARNING PRAISE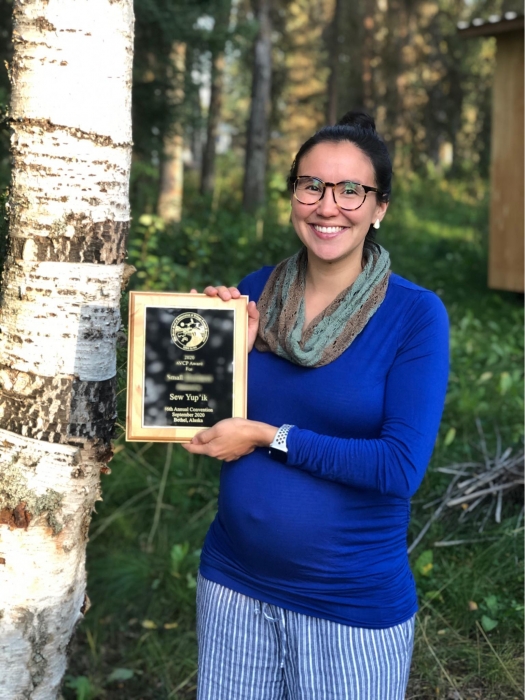 Nikki Corbett, owner of Sew Yup'ik, with her Association of Village Council Presidents Small Business Award. Corbett makes qaspeqs, or kuspuks, which are Alaska Native traditional tunics. (Courtesy photo)It was Corbett's zen approach, generosity and her concern for the community that led her to pivot to mask-making early in the pandemic. Those efforts to make facemasks earned her the Association of Village Council Presidents (AVCP) Small Business Award in September.
"I had made a bunch of masks, and I was donating them to health care workers around the state, and out in the YK (Yukon-Kuskokwim) Delta, and I made some YouTube videos," Corbett said. "I was just sharing a bunch of stuff about encouraging folks to make masks for health care workers."
AVCP then nominated Corbett for the Alaska Federation of Natives Small Business Award, which she also won in October. The characteristically modest Corbett was astonished to have received either honor.
"It was a surprise — I'm super thankful. It's nice, but it's also uncomfortable at the same time," she said. "As Yup'ik people, we're not very boastful. We're taught to be modest and humble. I was raised in that sort of sense. Yup'ik elders have always said, 'Don't praise yourself.'"
Corbett also learned the art of qaspeq making from wise and experienced elders, including her grandmothers in her home village of Bethel, Alaska.
"My grandmothers made them, and they were taught by their mothers," Corbett said.
'JUST TOOK OFF'
In 2015, Corbett initially fueled her business with a $5,000 Best in the West small business grant from the Bethel Community Services Foundation, funding which she used to purchase three new sewing machines and a laptop for bookkeeping.
"It was something that just started on my kitchen table and just took off from there," she said.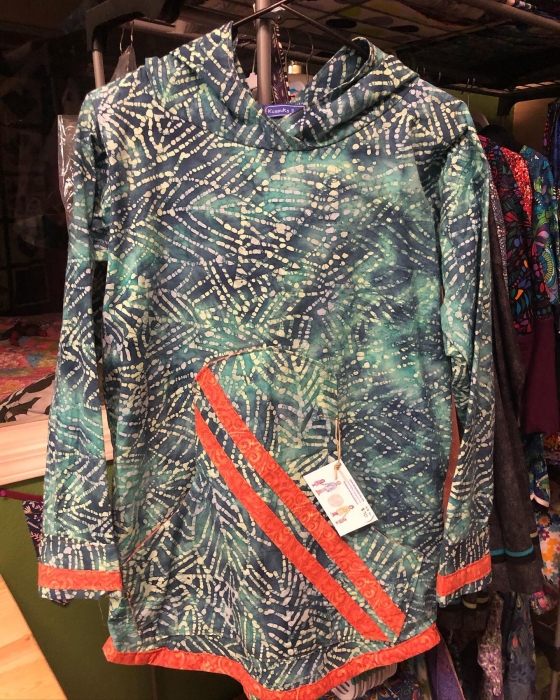 A qaspeq, or kuspuk, is an Alaska Native traditional tunic for everyday wear. This qaspeq was created by Yup'ik seamstress Nikki Corbett, owner of Sew Yup'ik. (Courtesy photo)To make the qaspeqs, Corbett sources vivid fabrics and prints from various sources, and adds trim, details and more personal touches. Including materials and labor, she estimates her cost is $40-$50 to produce a qaspeq. She sells them for $120 to $130, and uses her own sizing system, which she based on one of her grandmother's qaspeqs. Corbett's sizes range from XS to 2X for women, and S to XL for men.
Finding time to sew between taking care of her daughter and working a full-time nursing job remains Corbett's main challenge at Sew Yup'ik. Her husband helps out with the childcare, but he also has a demanding day job.
"Depending on how much my daughter will allow me to sew, I can finish one in under an hour, or it could take me a few days, because I'm sewing after work, in the evening, and if I'm lucky, an hour in the morning before she wakes up," Corbett said. "I like to do it as I please, and I'm not always in the mood to make qaspeqs, so I'll make makeup bags or cup koozies or other fun little projects that I want to do."
BUNDLING SUCCESS
Corbett has worked those accessories into a clever package promotion. Lately, she's been concentrating on producing bundles, with matching sets including a qaspeq, mask, cup koozie and makeup bag.
For a small donation, fans enter bingo-like raffles to win the fun bundles, and Corbett broadcasts the drawings live on the Sew Yup'ik Facebook page.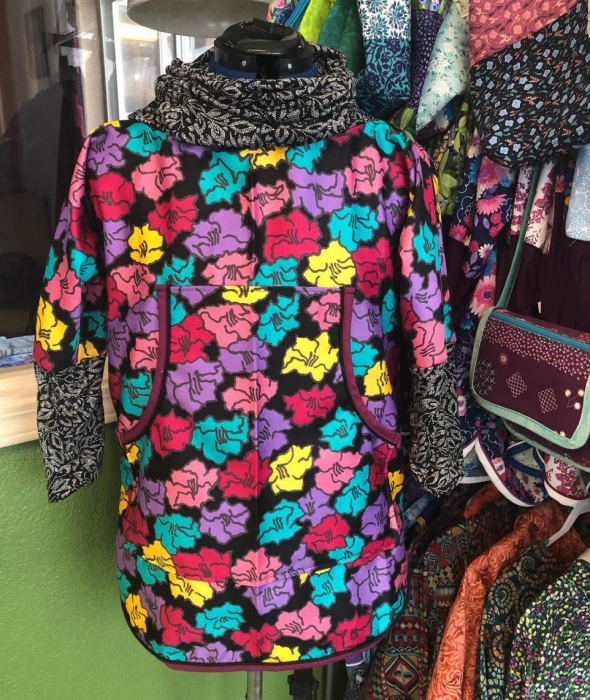 Nikki Corbett, owner of Sew Yup'ik, does not take custom orders for qaspeqs, opting instead to let her creativity flow in designing the traditional garments. (Courtesy photo)"Who wouldn't want to win a qaspeq with a matching mask, cup koozie and makeup bag?" Corbett said. "I figured the ladies would enjoy winning a bundle rather than just one item and I enjoyed making them as a set."
There's a serious reason behind the fun raffles: Corbett is pregnant and has some physical issues that make it necessary for her to be near the hospital in Anchorage a month before her due date. She's selling the bundles to help cover the expenses of her extended stay.
"I was kind of fundraising for myself, and it just turned out to be that the women loved the bundles so much that I just kept doing them," she said.
Corbett said a qaspeq is capable of revealing hints about both the wearer and the garment's origin.
"If you just look around the state, there are different variations, and you can kind of tell where the qaspeq is made," Corbett said. "Up north, like in Barrow, they're a lot fancier. They've got these really fancy trims called qupaks."
She also noted that the women of Mekoryuk on Nunavik Island off the southwestern Alaska coast have distinct qaspeq preferences.
"There are a lot of Hawaiian and floral prints that you notice in the coastal area," Corbett said. "It's interesting to see the different variations and guess what area they're from by looking at them."