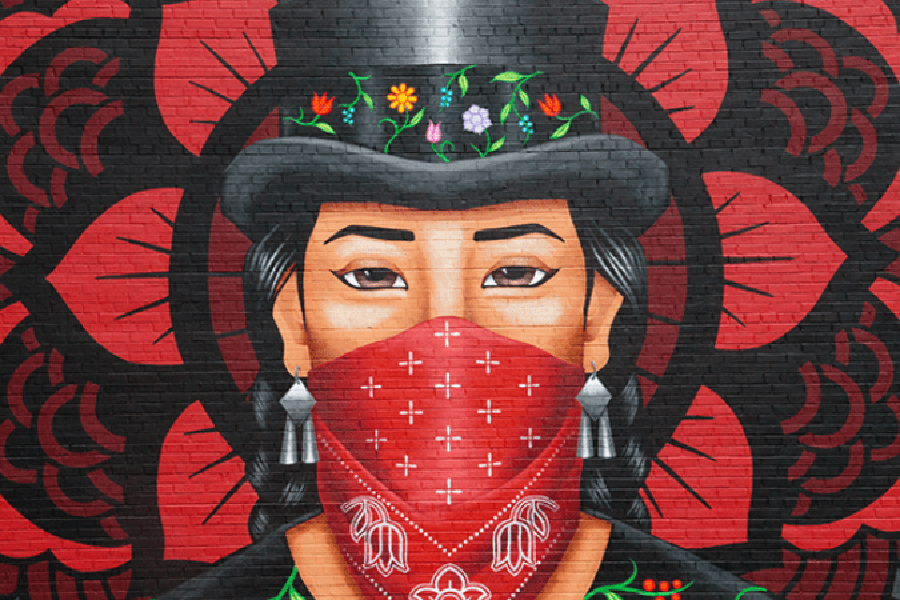 Details

Entrepreneurism
LOS ANGELES, Calif. — Votan Ik and his partner Leah "Povi" Marie wear their hearts on their sleeves, so to speak.
Their art collective and clothing brand NSRGNTS places Native culture and sovereignty at the forefront of their work.
One of NSRGNTS' clothing lines, dubbed the Decolonize Collection 2020, features the word "Decolonize" styled like a sports logo in reference to the use of Native mascots. One of their latest art projects is a mural of an Ojibwe jingle dress dancer looking out over the city of Duluth, Minn. Their snapback hats feature phrases such as "You are on Indian Land," and "Original Landlords."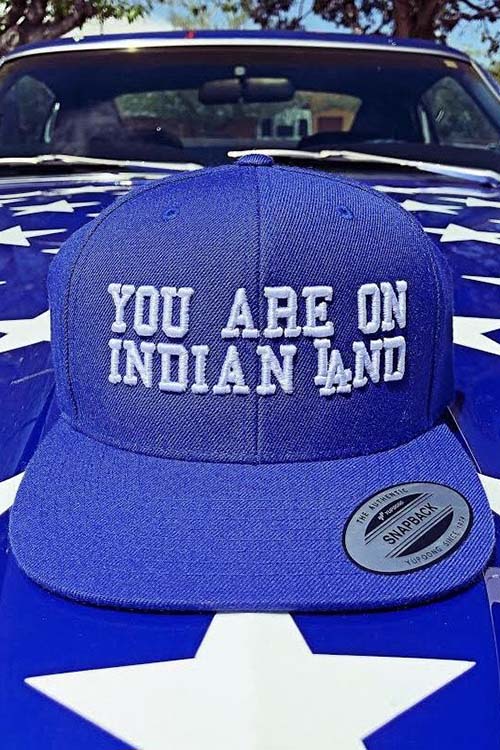 Courtesy photo.The message of revolution is even buried in the name NSRGNTS, Ik said. The company's moniker stems from a common word used to describe the Zapatista Army for National Liberation, an army of Mayan communities that revolted against the North American Free Trade Agreement in Mexico in 1994.
"The word and their Indigenous ideals resonated within our communities in the U.S. This is what birthed our brand and collective," Ik said.
The messaging resonates with lots of people, according to Marie. What started as sales at powwows, festivals and feasts graduated to a brick-and-mortar store in Los Angeles, Calif. As the business continued to grow NSRGNTS eventually moved online.
"With the rapid growth of the business, it was getting too complex to be able to juggle all the events, operating the store daily, and also maintaining our social media presence. We realized this was growing beyond the few employees we had and it was time to do some rearranging," Marie said.
Since then, NSRGNTS has turned its focus entirely online, building its brand through aggressive social media advertising and word of mouth. The company tailors its social media posts to fit specific ranges, aiming different posts at different demographics across a variety of platforms. There's even a planned expansion into podcasting and YouTube content.
"All of this helps out with the marketing aspect of the business, which brings forth sales organically," she said. "We also find that there is so much room to grow because we choose not to confine ourselves within a box of what a typical brand is."
One example of branding outside the box is the integration of mutual aid into NSRGNTS' business model, Marie said. The group has funneled profits and donations into the purchase of care packages, personal protective equipment, and sleeping bags for homeless people in Albuquerque, N.M.
"We feel it is essential as a brand that we give back to the community whether it be through mutual aid, art workshops, painting murals or helping mentor artists," Marie said. "Through establishing community in different states, we have been able to network and create long-lasting relationships with tribes, organizations — and people."
While the group still participates in events, most of NSRGNTS's in-person event scheduled has been canceled because of the COVID-19 pandemic, Ik said. The mass cancellations initially gave Ik and Marie some concern, but many venues offered refunds or set up online marketplaces.
Since NSRGNTS's store had primarily moved online by that point, the pandemic hasn't slowed business much, Ik said.
"We utilized the Native forums on Facebook, joined the Social Distance Powwow, and advertised on several other Native marketplaces to sell our products. Luckily, we didn't have to endure any detrimental effects to the business," he said. "Having a consistent social media presence was vital to letting our customers know what we were up to, what's new, and where they can find our products."
'WITHOUT ART, THERE IS NO CULTURE'
NSRGNTS began after Ik and Marie worked as freelance artists to create successful designs for other companies. The pair eventually decided they could put their talents to use for themselves.
"It was that initial push we needed from ourselves to leave the safety net of having 'real' jobs that we decided art is a real job, and we can treat it as such," Marie said. "We were doing freelance artwork for others until we were able to build our own portfolio with iconic images and eventually branched out onto surviving solely on our own works."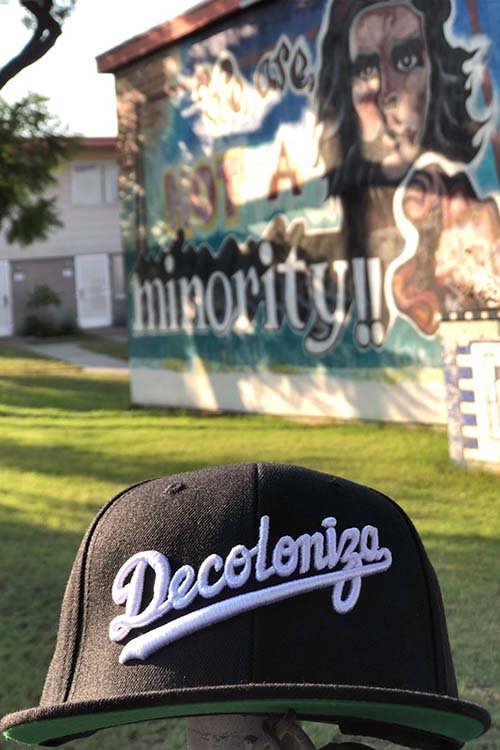 Courtesy photo.The couple printed T-shirts with their designs and began selling them at events. The reception was more than enough to continue investing in their art, which has served as the backbone of their business for 20 years.
Marie attributed some of NSRGNTS's success to the mentorship they received along the way.
"Over the course of many years, we've gotten to know many in and out of Native Country. Mary Lyons, Winona LaDuke, Walt Pourier, George Rivera — to name a few — have been so helpful to our growth," Marie said. "We also as a couple and individually seek out traditional guidance from a traditionalist within our communities. This has been essential to us, to our business, to our family, and to our works because it keeps us spiritually connected to our roots and to also what we feel is the most important aspect, operating out of integrity."
That integrity centers on their art: Ik is of Mayan and Nahuan descent, while Marie is a member of the Pueblo, Dine and Hopi tribes. Their art has subsequently proved the best way for the couple to connect with and express their culture, Marie said.
"We often tell people, 'Without art, there is no culture,'" Marie said. "Our traditional dances are an art form. Our songs and poetry have been gifted to us by artists from many different nations. When you look at traditional pottery, beadwork, quillwork or graffiti, you see the culture manifested through that art medium."
Along those lines, Marie recommends Native entrepreneurs embrace their creativity and learn to love the journey: "Success for most is not overnight and requires lots of self-determination, patience and belief in your business."
--
EDITOR'S NOTE: This story has been updated to correct a typo in Leah Marie's name.