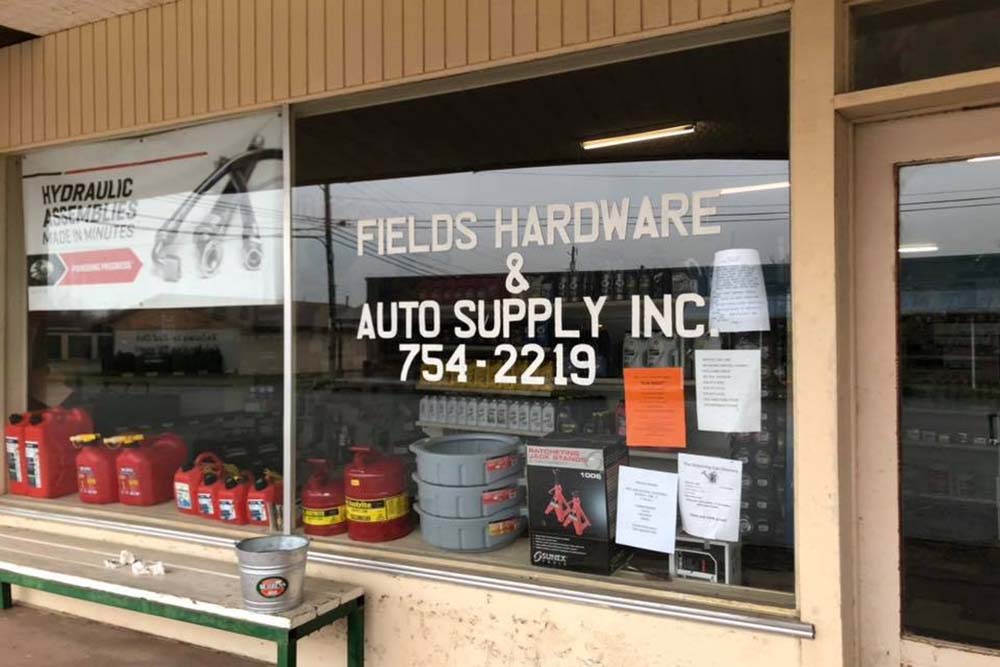 Details

Entrepreneurism
RED OAK, Okla. — Chris Goldsborough has come to know his small community on a deep level over the three years he's owned Fields Hardware.
The retail hardware business operates in Red Oak, Okla., a small community of about 500 people nestled deep in Latimer County along Oklahoma Highway 270.
Goldsborough, a Choctaw citizen, said he feels a sense of accomplishment when people enter his establishment and find exactly what they need.
"It's a good business. You feel like you get to help people out," Goldsborough told Tribal Business News. "By them taking care of me, I try to take care of them at the same time."
Thanks to a steady influx of customers working on projects during the COVID-19 pandemic and the store's expansion into mechanic services, Fields Hardware has been able to grow throughout the year, even adding a new employee.
Since taking over the business from Steve Fields in 2017, Goldsborough (Choctaw) has built out the hardware store to sell bumper-to-bumper parts for automobiles, motorcycles and ATVs.
"Another thing about a small town: If you're going to stay in business and do well, you have a lot of things to provide," Goldsborough said. "If you're going to make it work, you need to have a lot you can offer people."
Goldsborough also outfitted the store with the facilities to perform everything from tire work to oil changes, with room to grow even more, he said. Backed by grants from the Choctaw Nation, Goldsborough recently started construction on a new bay and lift.
Fields Hardware's growth during the pandemic mirrors trends nationally in the sector. According to a July 2020 Business Wire report, hardware sales have skyrocketed during the pandemic, climbing roughly 22 percent.
Even with a broad range of available services, Fields Hardware strives to give customers the kind of attention they couldn't get in a big box store.
"In a small town, every customer counts. They're not just a face or another swipe of the credit card," Goldsborough said. "You know all of them on a personal level."
Building personalized relationships with customers lets Fields Hardware offer charge accounts, an important option in small communities where many people live on fixed incomes, Goldsborough said.
"I think I get a lot of respect from people because I still do that," he said.
Fields Hardware recently received the "Chahtapreneuer Award" from the Choctaw Nation for the company's community contributions, including everything from house calls to charitable donations.
The award goes to businesses in the Choctaw Nation that benefit the community around them.
"We're incredibly proud of all our Chatapreneuers. Owning a small business takes hard work, determination and consistency," Gary Johnson, Choctaw Nation Small Business Development manager, said in a statement. "These awards showcase the achievements of some of the area's best entrepreneurs. It is truly a privilege to serve our Chatapreneuer business owners within their communities."
WORKING FOR HIMSELF
Prior to owning Fields Hardware, Goldsborough got into working for himself after quitting a job with Caterpillar in 2005.
"I was on call seven days a week," he said. "I had enough of that and I said, 'I'm going to do my own thing.'"
His first taste of entrepreneurship came in 2005 by way of chicken houses, which eventually grew into a farm Goldsborough runs with his family. He purchased Fields Hardware as a way of getting away from the chicken industry and into a more predictable and stable market.
During the week, a hired hand helps run the farm while Goldsborough manages the store. Goldsborough takes over the farming on the weekends.
"Really, I put in way more hours working for myself than I did anybody else, but it's worth it," Goldsborough said. "I'm working for myself, so if I fail, it's my fault. I'm the one determining my future. The harder I work, the better I do."
That kind of dedication is critical to building a business, Goldsborough said. Starting out is always going to be rough, but sticking with it will feel worth it in the end.
"If you're looking at starting your own business, be willing to put in more hours than anybody else, and honestly put less money in your pocket. I'm not saying you're not going to make money, but I'm saying don't get discouraged if you start a business and you're not drawing these huge paychecks," he said. "You're the last one to get paid."
For all the blood, sweat, and tears that have gone into building trusted local businesses, Goldsborough said the effort has been worth it.
"I haven't regretted it at all," he said.
Want more news about the $130 billion tribal economy?
Tribal Business News publishes thoroughly reported and well-crafted stories about Native businesses and entrepreneurs, growth and expansion strategies, best practices, economic data, government policy and other relevant business news. Tribal Business News is required reading for tribal council members and leaders of Native businesses, as well as state and federal legislators, policymakers, economic developers, entrepreneurs, bankers, lawyers and anyone interested in doing business in Indian Country.
Sign up for our free newsletter to track Native business and the tribal economy. Or sign up for a premium digital subscription ($99/year or $10/month— cancel anytime) to gain full 24/7/365 access to our business news reporting. Megwetch.