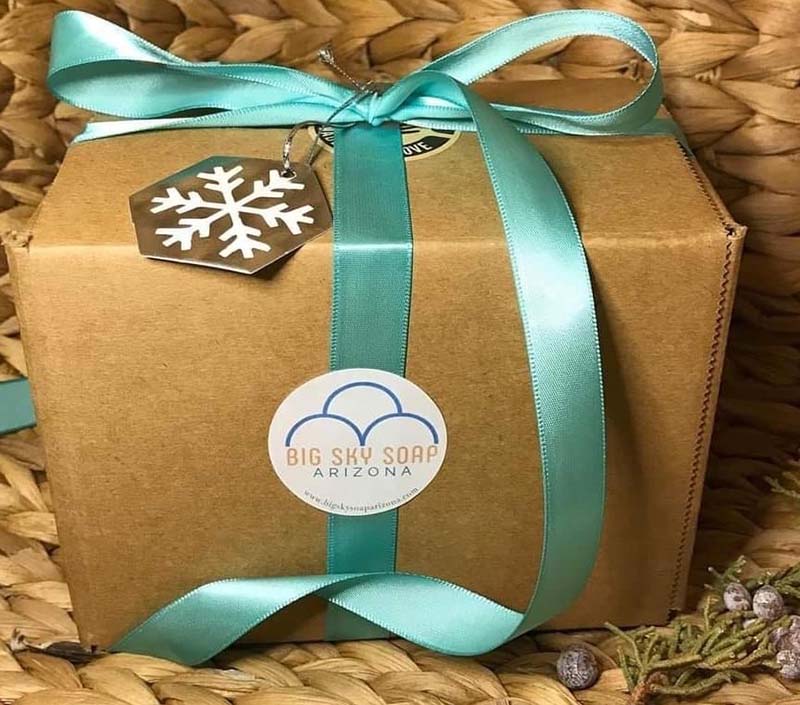 Details

Entrepreneurism
SECOND MESA, Ariz. — Jennifer Himel has a goal with her company, Big Sky Soap, to ship products to every state in the nation by the end of 2021.
Currently, Himel is about halfway there, having tapped into a market need that's picked up momentum as the COVID-19 pandemic drags on. With the holidays approaching, she finds Big Sky's e-commerce store more bustling than ever, traction she hopes will keep her business growing into the new year.
"I would like to be in a shop that customers can come into and have an experience of browsing the products in a brick and mortar store," Himel (Hopi-Teiwa) told Tribal Business News. "I'm working on that currently, and that dream is going to be sooner than I had expected."
Himel runs Big Sky Soap out of the Hopi Cultural Center in Second Mesa, Ariz. She initially started making soap to give away in 2018, but quickly realized the business potential. After first operating under a peddler license, Big Sky Soap shifted into a full-blown business that Himel hopes can serve as an example for other Hopi to follow.
Encouraging more entrepreneurship will only lift up the whole community, she said.
"I want to pave the way for other entrepreneurs to see that in themselves," Himel said. "If I don't see community success, then I can't fully say I am successful until I see that starting to happen around me."
'MIXTURE OF ART AND CHEMISTRY'
Himel got into soapmaking after picking up some books on the subject from the library where she worked at the time. It started out simple enough with her using premade bases to build into more customized products.
The complexity ratcheted up once she started to build her own bases for further customization.
"It's a mixture of art and chemistry, I would say. It can go horribly wrong, and it can also be super rewarding and wonderful," Himel said. "There is an endless possibility of recipes and formulations you can create with soap. Sometimes it works and sometimes it doesn't, and you learn to respect the product itself."
Respecting the process came naturally after cold process soapmaking — which involves lye and oils — proved to be a perilous undertaking, giving Himel some chemical burns as she learned the ropes.
Still, even failed batches of soap turned out to have uses in her home as laundry detergent and dish soap, Himel added.
The products that make it out the door take shape as an array of salves, soaps and scrubs, ranging from mixtures inspired by Hopi traditional ingredients to seasonal concoctions from more common sources. Some of those products are cold processed soaps made with oats and honey, or sugar scrubs made with juniper berries.
"I'm learning from some of the elders around here as I've been doing this — they're willing to share information with me about some of the plant uses from plants around here," Himel said. "There's actually a lot of really amazing plants here that have uses that are medicinal in some ways or are good for your skin."
Big Sky also offers products in commercially popular scents like peppermint and pumpkin pie.
"People on the reservation, we're Americans just like everybody else, so I also have soaps inspired by some of that stuff," Himel said. "I don't like to get stuck into a mold of what Hopi culture looks like in my soaps. It kind of changes and adapts to the seasons, as well as our own people and what's popular here."
A cultural duty to the land remains core to Himel's business. Himel said she sources her products sustainably and avoids using ingredients that are rare or necessary resources for other practices.
"Our people are known as stewards, and we are happy to be stewards of the land, so we have to have respect for the grounds and what's growing on it," Himel said. "That's always at the forefront of my mind: Is the way I'm conducting business respectful of my culture and my tribe?"
FROM MARKETING TO MARKET
As COVID-19 swept across the United States earlier this year, Himel was working as a marketing coordinator for a Hopi radio station and making soap as a side project. However, the need for soap quickly ramped up during the pandemic after doctors warned unwashed hands could be a primary vector for the virus.
"I had people reaching out to me asking for soap, and there was a need there. I basically donated all that I had that was left, and I realized that what I was doing was a need," she said.
From there, she began making soap to sell, but the demand quickly eclipsed her ability to make it while working her day job.
"I was selling them faster than I could keep up with and keep up with my job, so there came this point where I had to decide what I was going to do: follow my passion or follow stability," she said.
With that in mind, Himel made the decision to form Big Sky Soap in July of this year. She said the choice represented a big career shift that left her stomach turning at first.
Himel knew her product was good. To that end, she sold out of soap during her first foray into the local farmer's market. But starting her own full-time business was still a daunting move.
"Every time you make a big decision in entrepreneurship, you get that little 'what did I just do?' feeling. But once I got past that, it was a sense of freedom," Himel said. "You start to trust in yourself, believe in yourself. That's something you learn as an entrepreneur.
"The mistakes are my responsibility, but the rewards are my responsibility, too. Those rewards are not something I'd want to trade; it's really cool."
Initially, Himel would hand deliver her products to customers on the reservation. As a pandemic-prompted lockdown loomed, she realized she would have to move her business online and start shipping via the U.S. Post Office.
That process involved some growing pains at first, as she learned the ins and outs of running an e-commerce business and getting the product out to people.
"That was the first time I had ever operated an online store. It was a totally new thing from website design to navigating shipping to determining the price of the products. Shipping is something that is always on people's minds, and offering an affordable shipping cost is super important, I've learned," Himel said. "There's also the ways you package your items. When you're mailing out a product, you have to set yourself apart by creating a product that is different from what they might order elsewhere."
Himel attributes some of her early successes to lessons learned at Change Labs, a Tuba City-based Native business incubator. Coaches at Change Labs helped her learn about financing and scaling up her operation.
"All the coaches there, especially Trish Rensink and Tim Deal, taught me a lot," Himel said. "They spent a lot of time showing me and encouraging me."
Himel was part of the Change Labs Business Incubator program, a 12-member, year-long cohort program that began in July.
The program teaches members everything from financial advice to acquiring their business license, alongside developing marketing and branding for fledgling businesses, said Change Labs coach Kristine Laughter.
Watching Himel successfully take her business online has been "great," Laughter said.
"This is something they have a passion for, this is their work. They're taking all of that and making it work. … (Himel) is definitely committed to making sure her business succeeds," Laughter said. "There's a feeling like a mother watching her child succeed. This is my first time actually going through this process with them, and it's really good to hear all of our members, to see how much passion they have around doing something that's going to benefit their community."
Now that Himel has the business up and running online, she's planning to bring the operation to a brick-and-mortar store in the future.
She's also built a positive relationship with the Hopi Economic Development Corporation, which has offered up a potential commercial space.
"The shop is the long-term goal, and if that were to grow into a small factory of some kind, where Hopi might be known for the soaps created here, that would be awesome and something that has not been done here before," she said.
Building up the Hopi community around her stands front and center in Himel's aspirations. She believes many people in that community could have ideas that would make a great basis for a business.
"There's so much talent here that is not realized," Himel said, adding that Hopi people are known for their artwork. "To lift those arts into other products could be such a benefit to the community."
Want more news about the $130 billion tribal economy?
Tribal Business News publishes thoroughly reported and well-crafted stories about Native businesses and entrepreneurs, growth and expansion strategies, best practices, economic data, government policy and other relevant business news. Tribal Business News is required reading for tribal council members and leaders of Native businesses, as well as state and federal legislators, policymakers, economic developers, entrepreneurs, bankers, lawyers and anyone interested in doing business in Indian Country.
Sign up for our free newsletter to track Native business and the tribal economy. Or sign up for a premium digital subscription ($99/year or $10/month— cancel anytime) to gain full 24/7/365 access to our business news reporting. Megwetch.