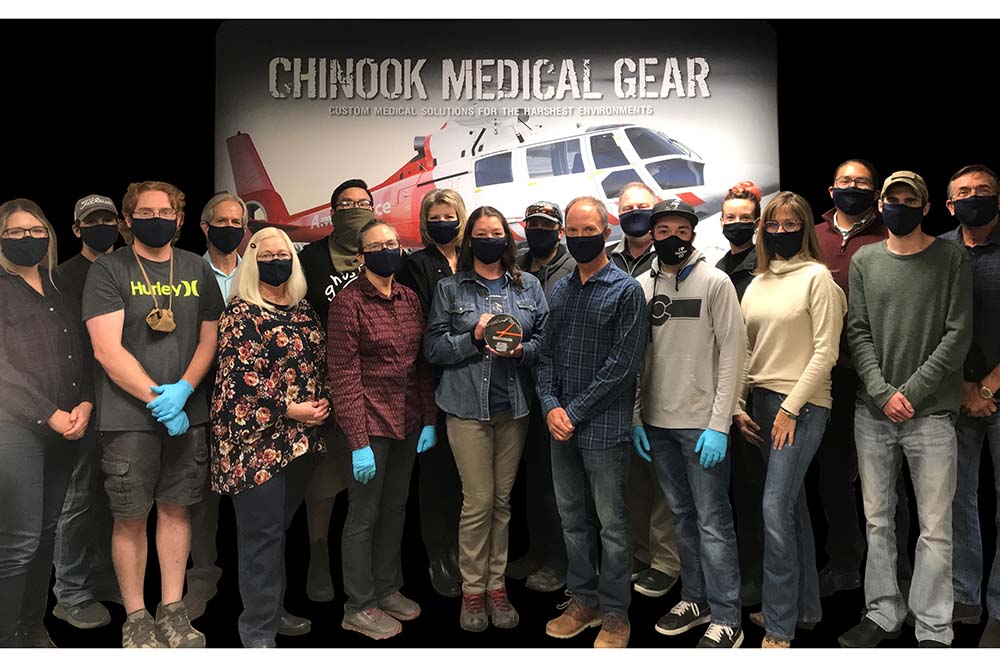 Details

Entrepreneurism
DURANGO, Colo. — Native ownership has unlocked a sea of potential new business opportunities for Chinook Medical Gear, a maker of custom medical kits intended for use in harsh environments.
Long-time employee Ben Crowder (Osage Nation) partnered with two other employees to buy the company from founder Carl Darnell in 2015, with Crowder taking over majority ownership shortly thereafter.
The ownership transition positioned the company to take advantage of set-asides in federal contracting that prioritize various agencies doing business with disadvantaged minority owned businesses. Chinook Medical Gear secured 8(a) certification from the U.S. Small Business Administration in early 2019.
"We could literally double our revenue in three to five years if we focus on contracting now that we're 8(a) certified," Crowder told Tribal Business News. "There's so much opportunity in our core market that our sales team is really focusing there."
The Durango, Colo.-based Chinook Medical Gear sells a range of emergency medical kits to customers including government agencies, the military, law enforcement, emergency medical services and schools. The company also targets private sector contractors, corporations and adventure-based firms for the kits.
Darnell and a business partner, both avid outdoorsmen and mountaineers, started the company in 1990 after identifying a need for high-end medical supplies that would stand up to extreme conditions for the outdoor recreation market, including for products such as compression bandages and tourniquets. Darnell, a Vietnam veteran, later entered the military and federal contracting sector after the terrorist attack on Sept. 11, 2001.
The federal business remains a key driver for Chinook Medical Gear's revenues, although the company remains diversified.
"Most of our revenue comes from the federal government, but we sell to schools, EMS, a ton to law enforcement, fire rescue, local search and rescue, all the way down to the home prepper individual," Crowder said. "Generally, you can buy the same exact supplies that the military uses."
While the 8(a) certification opened more federal contracting opportunities for the company, Chinook Medical still must deal with a "knowledge gap" when it comes to working within the complex federal bureaucracy.
"There's not a lot of people out there who know contracting inside and out, and trying to navigate the federal contracting world can be confusing and difficult at times," Crowder said.
FOLLOWING PASSIONS
Among Chinook Medical Gear's civilian ventures, the company helped promote the Stop the Bleed initiative in 2015, which encouraged bystanders to act as immediate responders and stop life-threatening bleeding during emergency situations.
"Schools and theaters and malls are starting to have bleeding control supplies right next to their automatic defibrillators," Crowder said. "That's a huge growth potential for us."
The company also worked with the city of Durango on its own month-long Stop the Bleed campaign in May 2020.
This month, the Colorado Minority Business Office recognized Chinook Medical Gear with a 2020 Governor's Minority Business Award.
Sherry Waner, chief development officer at First SouthWest Bank, nominated Chinook Medical Gear for the award, noting the company "has truly enriched its community and is an excellent example of small business strength and growth in rural Colorado."
Despite the company's success under his leadership, Crowder almost didn't get the opportunity. When founder Darnell decided he wanted to sell the company, Crowder had no money in the bank. In fact, Crowder wasn't initially included in conversations about an acquisition because it seemed too improbable that he could participate in the buyout.
But Crowder saw an opportunity and took it, securing help from fellow business owners and a Small Business Administration loan through a local bank.
As a U.S. Air Force veteran and long-time employee, Crowder said he couldn't let the chance slip by him to own his own business in a field that aligned with his passions.
"I was very excited, but also very scared," Crowder said. "As someone who grew up poor, on and off the reservation in Oklahoma, with no money, it was a giant leap into the business ownership world. But I saw the potential with the company. It was right down my passion lane. It was an opportunity for me to serve in another manner, and I could become a business owner."
It's been a long road to business ownership for Crowder, a first-generation college student in his family. He lived on his grandfather's allotted land on the Osage Nation reservation in Oklahoma until he turned 18 and joined the United States Air Force.
From there, he attended Fort Lewis College in Colorado on a Native American scholarship and earned a degree in business. Soon after, Chinook Medical Gear hired him on as a sales rep.
"I'm the first one in my entire family to go to college — I'm very proud of that," Crowder said.
SKY'S THE LIMIT
For Chinook Medical Gear, the advantage of working in the medical supply industry has been its relative stability. Even amid the fluctuations of COVID-19, the company's sales have been fairly flat throughout the year. Crowder projects 2020 revenues to dip about 1.5 percent compared to the previous year.
Still, the pandemic has disrupted operations in other ways, Crowder added.
"We're in the first responder supplies, and the industry still needs those supplies, so we're sheltered and saved by that fact, but we have had supply chain impacts," he said. "Some of our kits have gloves and masks. We had a supply issue for a while, and we still do in the gloves and masks sectors. Now that the vaccine is starting to be readily available, we're having supply issues with our IV supply."
Aside from federal contracts, the company also sees opportunity in continuing to diversify its portfolio, such as getting into manufacturing IV components and marketing directly to EMS and fire/rescue teams.
As long as the company is careful, Crowder believes Chinook Medical Gear has a bright future ahead of it.
"The sky's the limit with our growth potential. We've just got to focus and do it strategically," he said. "If you chase everything shiny, you won't get anything done, but there's a lot of shiny stuff out there, that's for sure. We're excited."