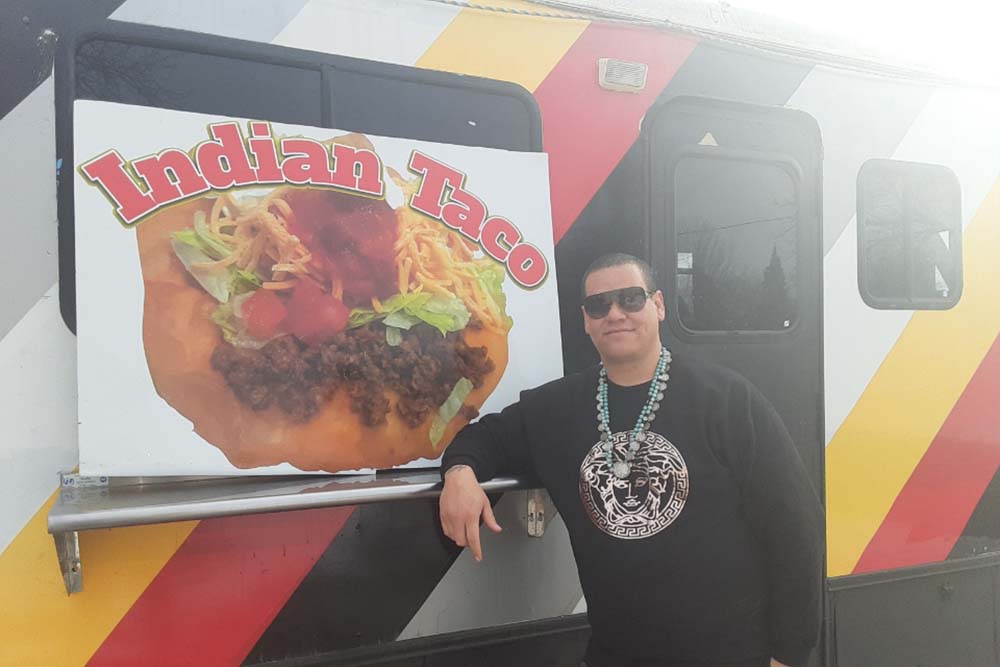 Details

Entrepreneurism
SIOUX FALLS, S.D. — Despite the ongoing pandemic that has devastated the restaurant industry, one Native American chef has decided the timing is right to invest in a permanent home for his food truck business.
Lawrence West's Watecha Bowl food truck has garnered a following in Sioux Falls, South Dakota, serving a unique mix of traditional Lakota food and carnival-inspired twists. Visitors can choose from selections such as Indian tacos, buffalo soup and fry bread corn dogs.
Soon, they'll be able to find West's take on Lakota fare at a consistent location. After a successful year with his food truck business, West has begun converting his T-shirt design retail storefront into a restaurant.
"I just received all my final permits from the city, so I'm out celebrating," West (Lakota) told Tribal Business News. "We're weeks away from opening. We've been in the swing of that."
West wanted to create a central location where people could come experience Lakota culture through food, whether that was other tribal members reconnecting with their culture, or non-Natives looking to broaden their horizons.
"My food business is a strategic move," West said. "I give an avenue for people who have been disassociated from the culture to come in and feel at home in a place they never learned about. Non-Natives have a safe and healthy environment where they can come in and get introduced to the culture."
West's success is notable given the massive downturn of restaurant sales across the country. Amid lockdowns and an economic recession related to the pandemic, foodservice revenues plummeted by nearly 45 percent at their lowest point compared to 2019, according to a report from industry analyst McKinsey.
West's growth plans also go beyond his new brick and mortar restaurant. As 2021 wears on, he plans to add a second food truck to bring his food to the rest of South Dakota. From there, West hopes to eventually launch a Lakota restaurant franchise.
CREATING A GATHERING SPOT
West started his first business — a T-shirt design and retail company — from his bed.
After medical problems left him bed-ridden and forced him to leave his day job, West decided to go to work for himself. The burgeoning apparel business grew from his bedside to his basement once he was feeling better, and then from his basement to a storefront.
West said it was the promise of better pay and a rebellious streak that drove him to continue pursuing his entrepreneurial endeavors. The ability to set his own schedule and make time for his family also pushed him to keep going with his business.
"I have a lot of skills and, low key, I have a problem with authority," West said. "I don't have a problem working with people or communicating, but I don't like others who don't work as hard as me to be in a position of dictating what I have to do."
Eventually, West leveraged the profits from his T-shirt business to fund the Watecha Bowl food truck. He took the name from the word for community eating that's used across many tribes.
"A number of tribes recognize (the word) in the traditional sense," West said. "It essentially means the community feeding the community. A 'Watecha' gathering is where the community comes together like a potluck dinner."
West saw the food industry as a vehicle for communication and unity, a way to share his culture with people around him and to bring others together, whether via a food truck or storefront.
"In the land of the original Native American people, there's not much culture when you get outside of the reservation, and even on the reservation, there's not that much of a traditional culture among our people," West said. "I started (the business) because I wanted to make a place to represent our people, that people in the city could identify with, and would choose to come and interact. I use my business to educate people, to connect people, to host events."
'JUMP IN FEARLESSLY'
West also wants to represent and inspire other Lakota people. Many of his fellow tribal members suffer with some of the same issues of abuse and incarceration that he has, and West wants to demonstrate that a new life is possible afterward.
"I've been to a lot of dark places. I don't come from any sort of money. I come from humble beginnings to have the business I have," West said. "After everything, you can still start over. You don't have to let anything in your life define you. It's imperative to be a representation for Native Americans that can inspire others to stand tall and be proud and represent who they are with no shame."
For Native people looking to follow West's lead into business, whether in restaurants or otherwise, he encouraged people to take the leap and be fearless.
"Don't ask, don't quibble, just jump in fearlessly," he said. "A lot of people at the first sign of confusion, they associate it with failure and the Native people think they can't do stuff without assistance or we've been trained to live off government and survive in hostile situations. We fear the unknown. We just need to move forward, to go forward and carry that medicine, that inspiration."