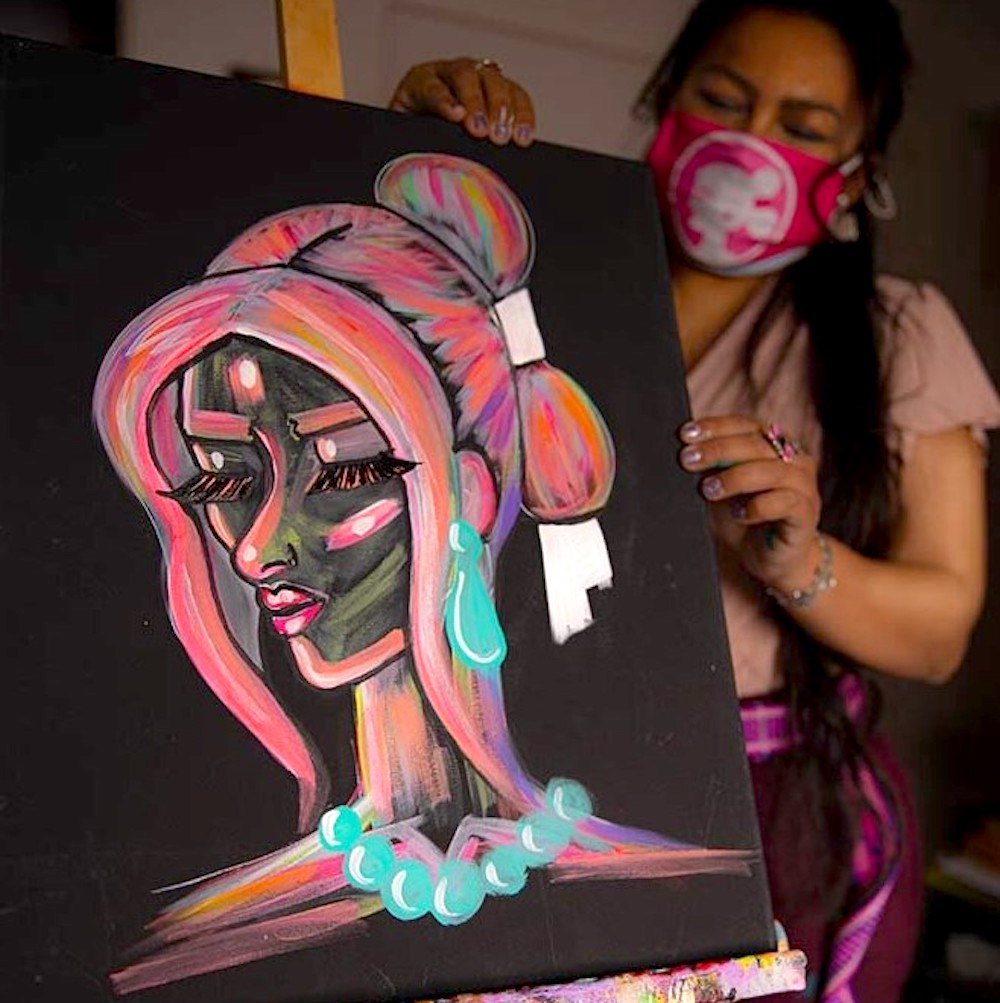 Details

Entrepreneurism
Navajo tribal member Crystal Dugi was diagnosed in 2014 with bipolar disorder, and she quickly realized it was going to affect her work life. Namely, struggling with the disorder would keep her at home.
While Dugi and her doctors sorted out which medications worked to stabilize her mood, she began painting to alleviate stress and anxiety. Her paintings often feature vivid colors splashed across portraits of Native women or elements of nature.
While painting began as a healing process, Dugi said she eventually realized she could make a business out of selling her work. She started a company under the name "Crystal L. Daghaa'ii."
"I was able to start my business with help from my parents and support from my family and friends. My parents provided startup funds and I was able to sell artwork to family and friends to start," Dugi told Tribal Business News. "I then was able to start sharing my artwork on social media. My local community rallied around my work and shared it and from then on my business began to grow."
Now, Dugi sells work via art website Redbubble as well as her Instagram page, where she keeps track of which original works are available for purchase.
The plan is to eventually build the company into a shop or gallery, employing other people, Dugi said.
Building a brick and mortar shop — even if it wasn't necessarily for art — would create generational wealth for Dugi and her family, giving them something to pass down to another family member.
"The only hurdle I see myself facing involves being bipolar," Dugi said.
It was her disorder that first inspired Dugi to begin making her art, so it was perhaps appropriate that it also provided her biggest challenge.
"As long as I know myself, my artwork and my disorder, I believe I will be successful," Dugi said.
Culture and harmony
Dugi is building on that goal from a stronger foundation thanks to her experience with Change Labs, a Tuba City, Ariz.-based Native business incubator.
Dugi is a member of Change Labs' class of 2021, working with the incubator to develop not only her business but also a curriculum on teaching others the healing power of art. The program has been "an amazing experience," she said.
"Before the incubator, I had no system in place; I hadn't acknowledged that I was running an actual business," Dugi said. "Through them, I was able to register with the Navajo tribe and now I am in the process of registering as an LLC. They have been the biggest blessing of my art career."
Maintaining an artist's perspective and an entrepreneur's business sense can strike a difficult balance for many Native artists, said Reuben Roqueñi, director of transformative change programs at Vancouver, Wash.-based Native Arts and Cultures Foundation.
"One of the most difficult challenges for a Native artist, stepping from a personal practice into a commercial one, is in maintaining the integrity of one's culture, while balancing the demands of the market," Roqueñi said. "For many artists, there can be a broad gap between what is their authentic voice and what is a best business practice. An artist has to at once know themselves, know their audiences, and be prepared to respond to the opportunities available to them."
Dugi said she's been able to balance those forces, mainly because her culture serves as the central inspiration for much of her work in the first place.
Dugi's work primarily consists of portraits of Navajo women meant to share Dugi's healing experience with others. Many of her paintings focus on the Navajo concept of "Hózhó," or "harmony," and its intersection with womanhood.
"I believe deeply in Hózhó and bringing harmony to anyone that will see my artwork. I find that practicing Hózhó as business owner has benefited me in many ways," Dugi said. "For the most inspired pieces, I am inspired by the Navajo woman. I love painting the beauty that is a woman. I come from a long line of strong Navajo women. I believe in the matriarchy and its strength, so most of my best work involves traditional Navajo woman influences."
In the same vein, Dugi hopes her experience helps inspire other artists and Navajo businesswomen.
"My best advice is to just start. I always tell myself that it is not without great effort. It takes work and is far from easy, but I've learned that I'd rather do the work doing something I love than work at a job that I don't want to wake up for," she said. "Be ready to work longer hours for no pay because it will pay off.
"Real work always pays off in many forms and blessings."