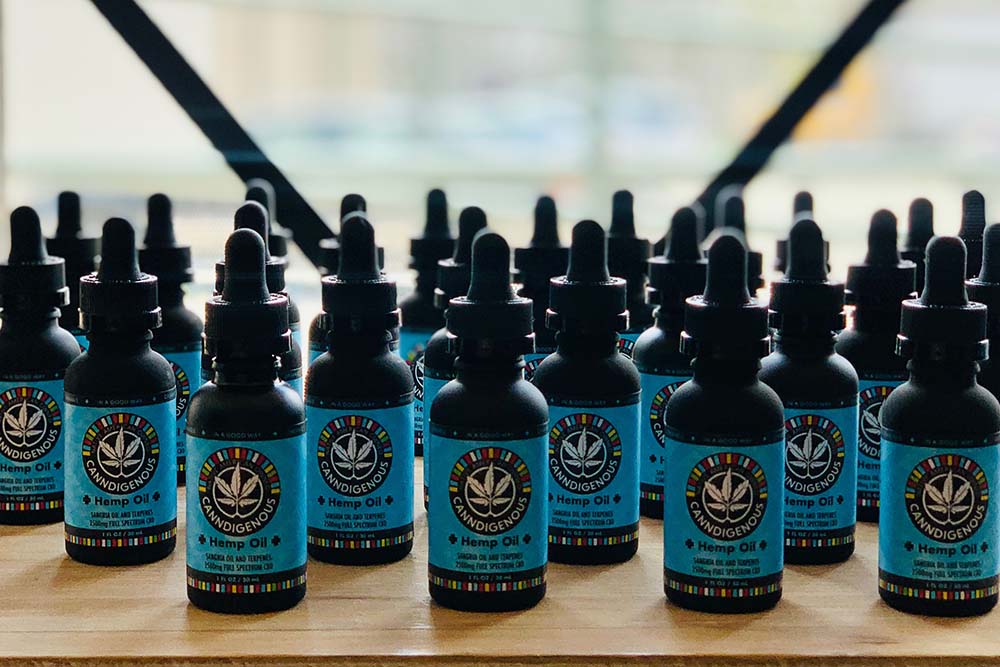 Details

Entrepreneurism
CAMBRIDGE, Wis. — The creators of CBD brand Canndigenous celebrated the cannabis user's April 20 holiday the best way they knew how: with a new product launch.
The celebration, which featured food and live music, served as the launch point for a new line of CBD oils from Canndigenous, a Native American-owned company based in Cambridge, Wis., about 25 miles east of Madison.
"The special thing about our oil is it's actually from the flowers that we grow," said owner Robert Pero, a member of the Bad River Band of the Lake Superior Tribe of Chippewa. "The flower that we grew in our fields, the oil of that flower is in our tinctures. One of the reasons for that is transparency: We wanted people to see that seed-to-oil, seed-to-smoke, or farm-to-plate mantra of seeing what it is you're ingesting."
Canndigenous' newest oils come from Pero's initial 10-acre hemp farm, which also supports Ripley Green LLC, his brick-and-mortar hemp products store.
The launch represents the latest expression of Pero's passion for cannabis as a medicinal product.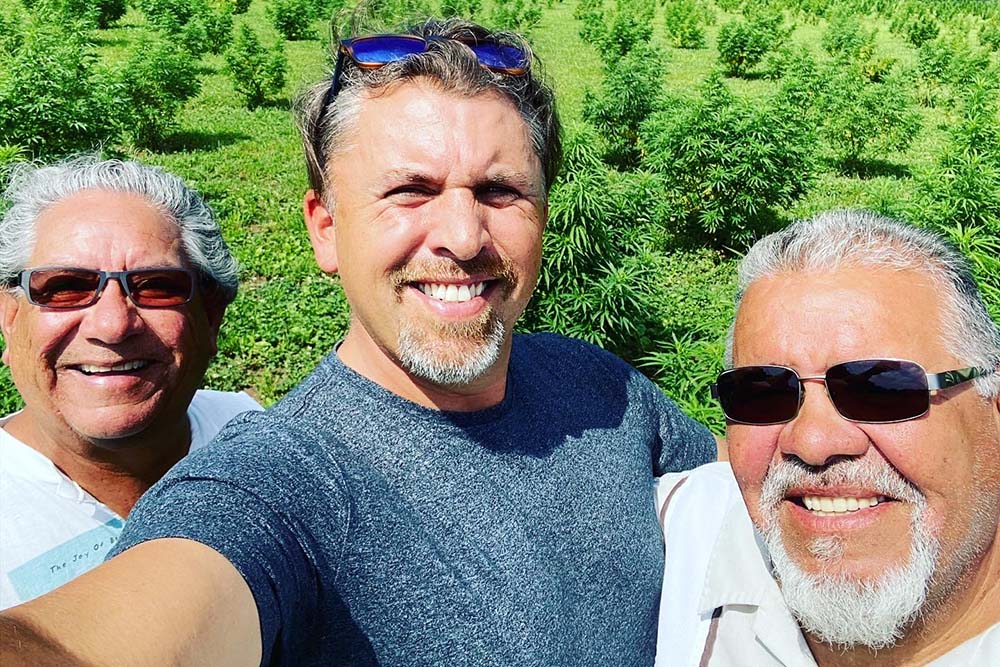 Canndigenous founder Robert Pero, center, hopes to bring clarity to issues surrounding cannabis via the hemp products brand. (Courtesy photo)
"I've been a cannabis user since my early 20s, never really understanding the legislation of it being illegal with alcohol being legal, with that being the bigger demon if there was one," Pero told Tribal Business News. "It was something that was helpful in life as an alternative to alcohol, which historically my family has not done well with."
Through his work as a cannabis producer and marketer, Pero hopes to recalibrate the conversation around CBD to focus more on its medicinal effects.
"The medicinal aspects of cannabis have always taken a backseat to the psychoactive effects, which I feel is a mischaracterization," Pero said. "I feel there's a lot of clarity that can still be brought to the table to this situation and that's kind of where my passion comes from and where it's brought me to now."
With the launch underway, Canndigenous opened up its web store to orders from across the United States. Indeed, the company is entering what's a vibrant burgeoning market: A December 2020 report by New Frontier Data notes the United States cannabis market will "double in size" to $45.1 billion by 2025.
In addition to its launch of CBD oils alongside primarily existing flower products, Canndigenous hopes to serve as a marketing brand for other organic farmers in the area who wish to get their products out to the public, Pero said.
"We're actually being approached by most of these farmers," Pero said. "There's a lot of cost sharing where you're splitting seeds or one person is doing indoor. People are sharing processing equipment. There's a lot of collaboration, which is how these relationships are built.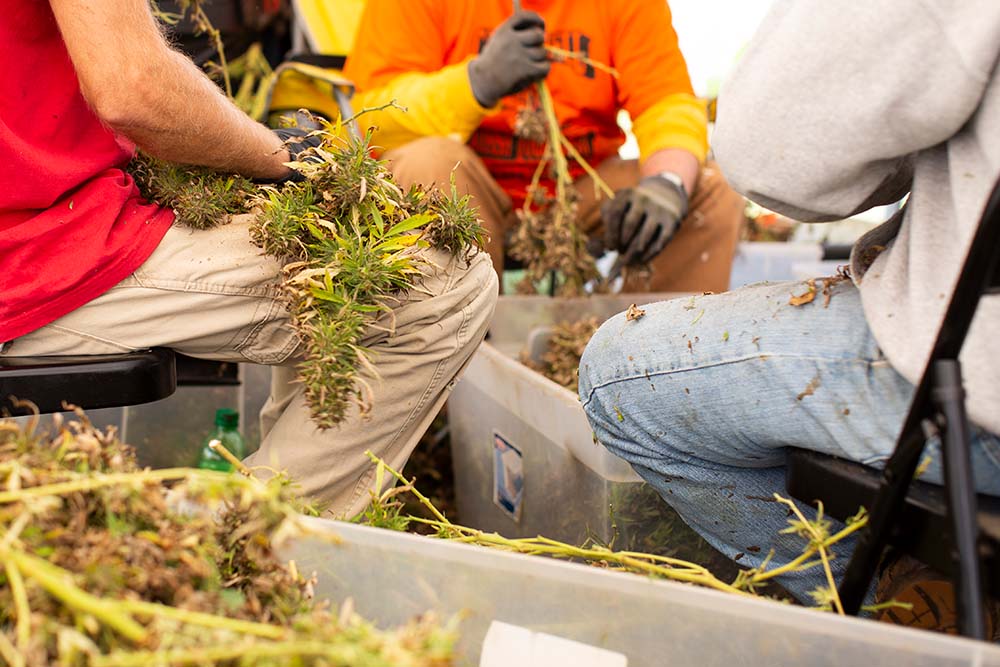 Wisconsin-based Canndigenous takes a seed-to-product philosophy with its CBD products. (Courtesy photo)
"When it comes time to sell, farmers we know who are great at farming but not maybe great at marketing are looking to Canndigenous to help source their product."
The company's first year in business was relatively slow, but Pero expects sales to pick up now that oils are in the market.
"We've had small revenue as our product rolled out, but this was the first year we expect to see more of that," Pero said. "We're in the midst of sort of this brand launch with a lot of ancillary parts."
Breaking the mold
Canndigenous is Pero's third business, behind brick-and-mortar hemp products shop Ripley Green and digital media agency Perodigm Design Studio LLC, also based in Cambridge, Wis.. Pero said he was motivated to strike out on his own after he lost his job as an insurance executive in 2010.
Pero had married a year before that, and had two children from a previous relationship. He was presented with a choice: Play it safe and re-enter the corporate world, or go back to school and start his own business.
"It was a huge gut check, an ego check. There was this reinvention of myself as a business owner coming out of the corporate world and cubicle world," Pero said. "I broke out of that mold 10 years ago and it was a very scary thing."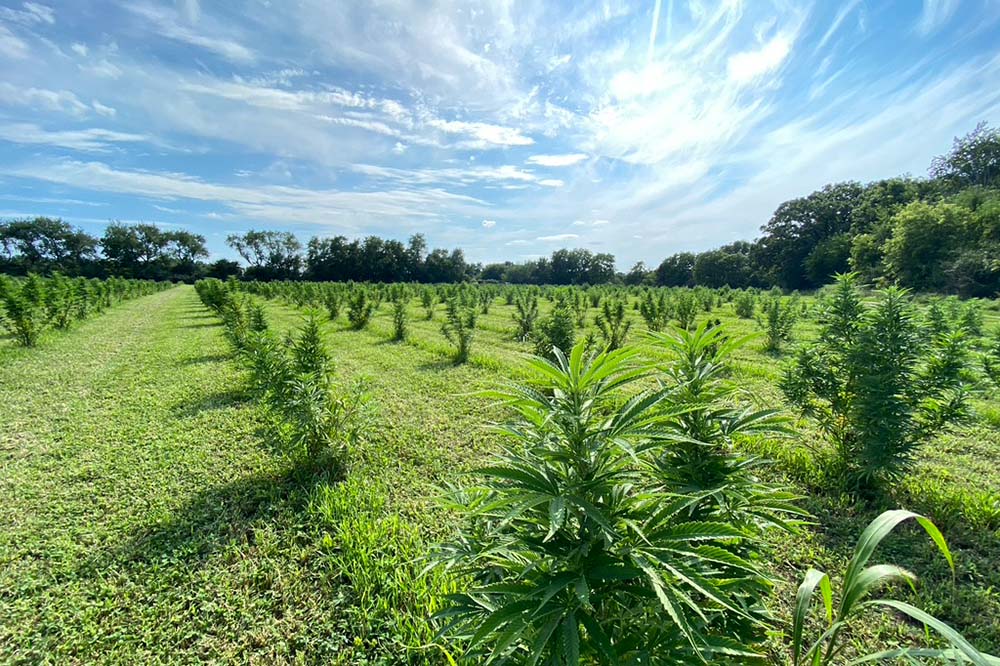 Canndigenous founder Robert Pero operates a 10-acre hemp farm in Wisconsin. (Courtesy photo)
Pero went back to college to earn a degree in graphic design and marketing from Full Sail University. With that training under his belt, he founded Perodigm in 2012.
"When the carpet gets pulled out from under you, what are you going to do: Go back to what you know or take a chance? If you have supportive individuals around you, that's what it took for me," Pero said.
From the start, Pero approached founding his businesses with a spirit of collaboration. He worked with a film company to start Perodigm, and he collaborated with growers to start both Ripley Green and Canndigenous.
He relied on partners including the American Indian Chamber of Wisconsin, who helped show him the ins and outs of running his own business as he started out, and Hales Corner, Wis.-based First American Capital Corporation, a Native CDFI that helped fund Pero's hemp farm.
"It really is the collaborative spirit of companies in Wisconsin that set the stage for how Canndigenous came to be," Pero said.
Given that he relied on help from other companies to get started, Pero plans to assist other farmers and entrepreneurs get their ideas off the ground through his ventures at Perodigm and Canndigenous.
"Anytime you have multiple businesses, you have to put people in positions where they feel invested and valued. There are business partners (in Canndigenous). Right now, I am the sole owner, but these individuals are working for equity," Pero said.
Providing opportunities for others is crucial to helping advance Native-owned business, Pero said.
"It's just been a fantastic reciprocal thing and we're happy to showcase and be proud of my heritage," he said. "I think it's needed in Native country to have some influencers breaking the mold."
Want more news about the $130 billion tribal economy?
Tribal Business News publishes thoroughly reported and well-crafted stories about Native businesses and entrepreneurs, growth and expansion strategies, best practices, economic data, government policy and other relevant business news. Tribal Business News is required reading for tribal council members and leaders of Native businesses, as well as state and federal legislators, policymakers, economic developers, entrepreneurs, bankers, lawyers and anyone interested in doing business in Indian Country.
Sign up for our free newsletter to track Native business and the tribal economy. Or sign up for a premium digital subscription ($99/year or $10/month— cancel anytime) to gain full 24/7/365 access to our business news reporting. Megwetch.