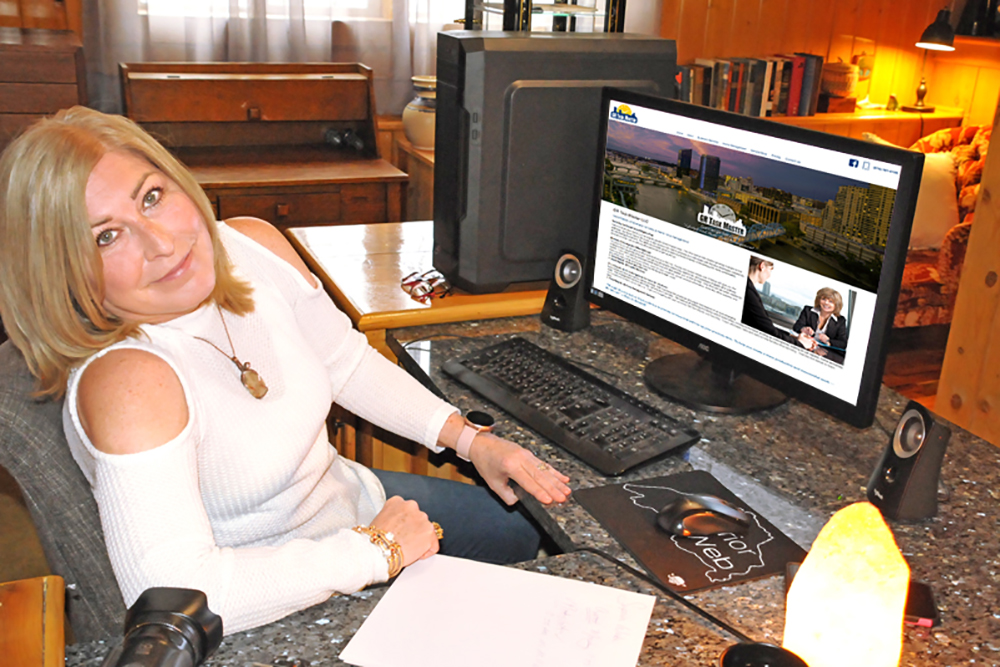 Details

Entrepreneurism
NEWBERRY, Mich. — Gina Harman landed in web design in a nontraditional way: She needed a website for her and her husband's artwork, so she made one herself in 1999.
She discovered she had a knack for the work, which served as the eventual seed for her to launch her own company, which recently rebranded to Superior Web Design.
"We started out as just a fine art company," Harman told Tribal Business News. "It was a thing of necessity to go into web design. Then people started asking us to make websites for them, too."
Since its inception, the Newberry, Mich.-based web design company has been focused on helping small businesses make the leap into online marketing and e-commerce sales. The shift has become especially important during the COVID-19 pandemic, which forced many people into working from home and running their businesses through new channels.
"We wanted to help small businesses and help people survive this," said Harman, a member of the Sault Ste. Marie Tribe of Chippewa Indians.
Now, even businesses whose traditional models survived the pandemic are reaching out to Superior Web Design for help in making the transition to new modes of work and sales.
"People who are struggling but surviving, now they're contacting us," Harman said. "They need every bit of help they can get."
Superior's portfolio includes websites for Sault Tribe Health Division, McMillan Township, and Newberry Country Club, as well as a suite of private businesses such as Sleepy Eyed Goose Resort, McConnell Sand and Stone, and Fisherman's Digest.
The company's specific focus on easing the transition to remote work also has helped clients launch new businesses. That includes Mary Jo Jezowski, who started GR Task Master LLC to provide hands-on services for companies working remotely in the Grand Rapids, Mich. area.
Jezowski launched the business in January. GR Task Master aids small businesses by providing courier services, document delivery, mail drop off and general office maintenance, among other things.
"(Harman) has helped create my website," Jezowski said. "The website has helped bring in customers for me and let everybody be aware of what it is that I'm doing. We did this all remotely. She was able to work with me remotely through the internet and emails — it's worked out really great."
Invention by necessity
Superior Web Design currently employs three people: Harman, her husband, and a programmer hired to help build the code for the company's websites.
The company's size and focus on other small businesses makes it a perfect fit for people trying to break into online sales and marketing, where a personal focus on the product or service is often necessary, Harman said.
"There's bigger companies than us, but they're not focused just on small businesses. They can be sterile and not very personal, and what I give is a personal touch," Harman said.
Together, the team builds and hosts websites, providing everything from security certificates to search engine optimization. Their design philosophy ensures the websites load correctly and legibly on mobile devices and desktop computers. Each website includes a "custom content management system simplified for the layperson" so that clients can easily update their page, Harman said.
Harman's background as an artist also allows her to do photoshoots for small businesses within an hour of Newberry, providing images for the sites her company designs.
"We want to see these people thrive, overcome obstacles and surpass their dreams," Harman said.
These services are a result of meeting her own businesses' needs and gradually scaling up to help others. Much of what would become Superior Web Design began in Harman's attempt to strike out on her own as an entrepreneur.
"I was working for other people, and for some time I was working three jobs, and one week in particular I worked 86 hours. I decided, I have to back up from there," Harman said.
Harman worked through jobs in banking, maintenance and eventually kitchen design. In her last design gig, she became proficient in technology, which opened up a new world of possibilities, she said.
"When I got that job, I didn't even know how to turn on a computer," Harman said. "Once I learned through that, I learned the capabilities of the computer and what we could do with that, and our business needed a website, so that's what we did. Then other people said, 'You did one for yourself, could you do it for us?' (The websites) were ugly back then, but we got better and better."
Harman said she and her team now focus on continued learning and finding new skills that will serve clients.
"We all work together really well," she said. "We're just trying to keep developing. We're learning new stuff. We're going to be focusing on tourism next."
For other people looking to follow in Harman's footsteps, she said her best advice was to figure out what makes them distinct.
"You find what makes you unique, aside from everyone else out there, and draw upon that," Harman said. "What makes me and my husband unique is that we're both artists. I've been a photographer since I was 14 years old. Now you put that with new technology out there and you have what we do today."
Since you're here.
Doing business anywhere is a challenge, but it's even more challenging in Indian Country. Tribes and their citizens face unique obstacles as they try to build Native-owned enterprises: the patchwork of federal laws, bureaucratic red tape, limited access to capital and the fact that most people are unfamiliar with what's involved in operating a business in Indian Country.
We believe Tribal Business News can help remove some of those hurdles by highlighting what tribes and Indigenous business owners are doing to build the tribal economy. We're committed to bringing you thoroughly reported and well-crafted stories about Native entrepreneurs, M&A, expansions, best practices, economic data, government policy and other relevant business news. Our goal is to make Tribal Business News required reading for tribal council members and leaders of Native businesses, as well as state and federal legislators, policymakers, economic developers, entrepreneurs, bankers, lawyers and anyone interested in doing business in Indian Country.
Hopefully, you'll consider supporting Tribal Business News through a discounted subscription ($99/year — use coupon code "TBN21") or a donation to help fund our reporting. Sign up for our free weekly newsletter that comes out each Monday morning.
Megwetch for your continued support.