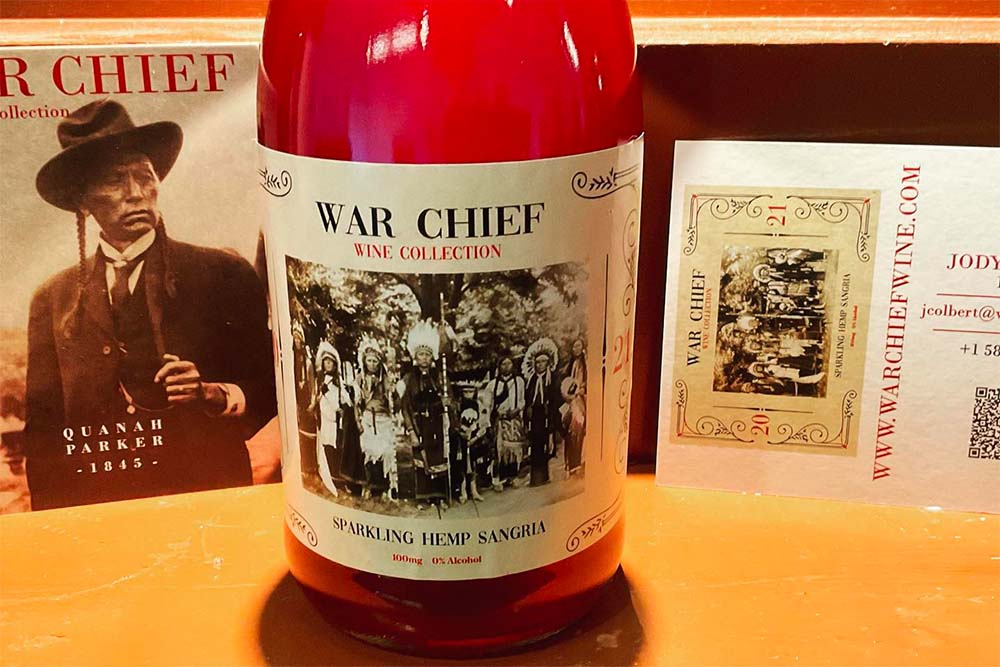 Details

Entrepreneurism
After losing a family member to alcohol and opioids, Jody Colbert knows all too well where addiction can take people.
As part of her effort to combat alcoholism she describes as "rampant" among Native communities, Colbert created a hemp-infused, non-alcohol wine under the brand War Chief Wine Collection LLC.
"I want to set that trend in Indian Country and bring non-alcoholic beverages to our communities, where our people should have a choice," Colbert said. "I want to get a healthy solution out there that's non-alcohol."
According to a report by American Addiction Centers, the 2018 National Survey on Drug Use and Health found that nearly a quarter of Native Americans said they engaged in binge drinking that year, and one in six Native adolescents engage in underage drinking.
Colbert's goal is to provide a healthy alternative to alcohol both for recovering alcoholics and younger people, and by extension improve the health of these communities.
"Sometimes people get tempted and want to drink — this will relax you instead," Colbert said. "I want to bring healthier choices for our Indian brothers and sisters. Hopefully, this will be a good choice for our younger generation coming up."
War Chief Wine is created by separating the alcohol from newly-made wine from Napa Valley, Calif., then infusing it with hemp, which Colbert said doubles the wine's healthy properties while getting rid of its downsides. She also uses the alcohol to make hand sanitizer and cleaning supplies.
"Hemp is a natural, healthy alternative," Colbert said. "The wine is still good for you, it still has antioxidants, and now it will also relax your mind and body. It's not a THC high, it's more of a relaxation.
"Everybody that's tasted it so far likes it, and they don't like non-alcohol (wines)," she added. "(War Chief Wine) tastes like wine."
Colbert started the business in 2019 with her own money and assistance from her father, who helped fund her initial investment and continues to contribute roughly 50 percent of the capital for production. The process of perfecting the product took roughly a year.
From there, she set up an e-commerce website that currently serves as the sole storefront for purchasing War Chief Wine. Colbert hopes to expand into new markets soon.
Colbert's efforts come at a moment of opportunity as the popularity of non-alcoholic and low-alcohol drink options are on the rise, according to a 2021 study by London-based market research firm IWSR.
That study forecasts the no- or low-alcohol drinks market, including beer, wine, spirits and other ready-to drink products, to grow by 31 percent globally by 2024. The segment accounted for a 3 percent share of the market in 2020.
"What we're seeing is a moderation trend that's sweeping across key global markets, and that's bringing with it increased demand for reduced alcohol, or alcohol-free drinks," says Mark Meek, CEO of IWSR Drinks Market Analysis. "Brand owners will have an important role to play in the future development of no- and low alcohol, as increasing the breadth of products available to consumers and their price points will support category growth and broaden its appeal."
The company's study focused on 10 countries — Australia, Brazil, Canada, France, Germany, Japan, South Africa, Spain, the U.K. and the U.S. — that make up more than three-quarters of the market for global no- and low-alcohol drinks consumption.
The U.S. is the second largest market, where the segment grew 30 percent by volume during a pandemic-marked 2020 "despite the enormity of the challenges faced by the industry."
Across the study area, no- and low-alcohol wine consumption increased by 4.9 percent by volume last year, driven by "strong gains" in the U.S. and U.K. IWSR expects the no- and low-alcohol wine segment to expand at a compound annual growth rate of 7 percent to 8 percent from 2020 to 2024.
Colbert's main plan for expansion focuses on getting her product into health food stores, where she feels Native Americans don't traditionally have products on the shelves. With a healthy product that uses hemp and has no alcohol, Colbert sees those storefronts as a good way to present and sell War Chief on its health benefits.
"It's unheard of for a Native American woman-owned business to get wine bottles on shelves," Colbert said. "It's a matter of people believing in my product. People should want it on their shelves."