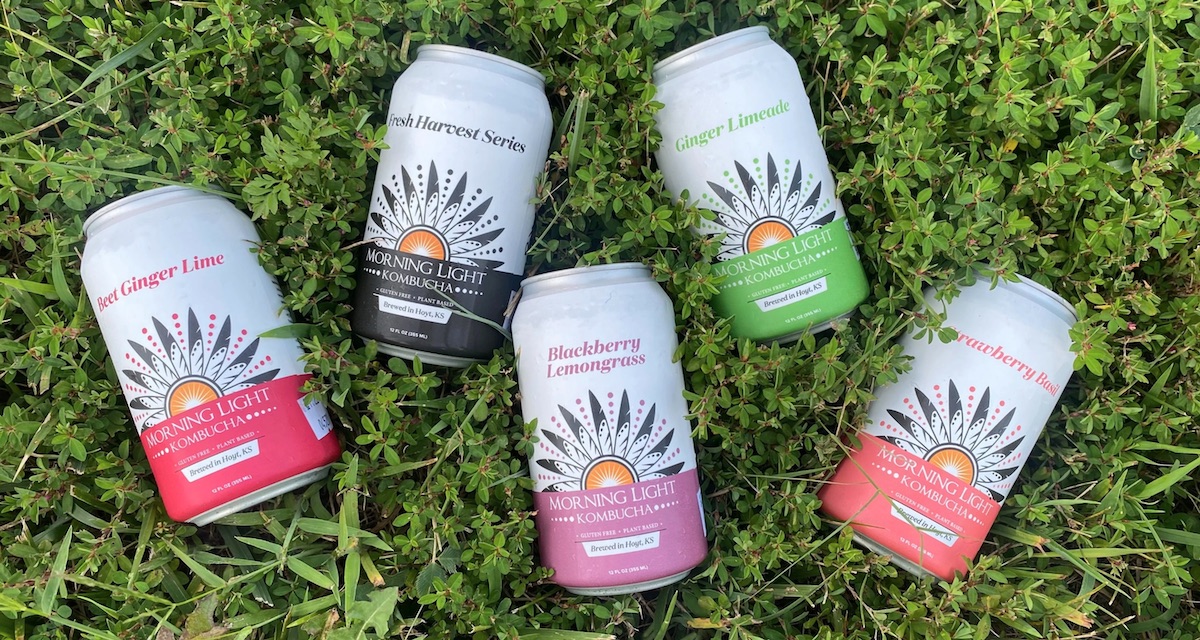 Details

Entrepreneurism
HOYT, Kan. — Morning Light LLC is planning for a major milestone in October, when the company expects to begin shipping its canned kombucha product nationwide.
Prior to the shift toward online, nationwide sales via its website, Morning Light primarily sold its products directly to local customers and through wholesalers.
The move marks the latest step in Morning Light's rapid expansion, preceding a planned move from the company's current 1,600 square-foot facility in Hoyt to a 4,000-square-foot facility on 10 acres of Prairie Band of Potawatomi Indians reservation land.
All of that growth was fueled by a pivot to doorstep delivery and curbside refill services that boosted sales during the onset of COVID-19, said owner Melinda Williamson. Despite the pandemic, Morning Light grew from a solo, strictly local operation to hiring its first employee in the summer of 2020.
"Business has been incredible. During the pandemic, we saw our sales rise by a little over 25 percent," Williamson (Prairie Band of Potawatomi Nation) told Tribal Business News. "I designed a website and opened up an online store, and that really catapulted the business."
The operation recently began canning its products following a $23,000 loan from Eagle Butte, S.D.-based Akiptan, a Native community development financial institution that focuses on Native American agriculture operations across Indian Country.
The prepackaged kombucha has proven so popular within the local market via Morning Light's website that the company now eyes an expansion to a national footprint, Williamson said.
"It's just taken off, it's insane, and it's been selling really well," Williamson said. "Things are really growing with the business."
Tapping the market
Kombucha, a fermented tea drink, has been meteorically rising in popularity in recent years and market researchers believe that trend will continue. According to a report from ResearchAndMarkets.com, the kombucha segment is expected to expand at a 22.21 percent compound annual growth rate from 2018 to 2028.
Trade publication Bar and Restaurant paints a similarly rosy outlook, pointing to an increasing focus on healthier drinks of both alcoholic and non-alcoholic varieties.
Williamson first saw the potential with kombucha when she set out to start her own green smoothie food truck in 2016.
"I was saving up some money, and I was going to try to get a loan for the rest so I could get off the ground," Williamson said. "I knew I wanted kombucha on my food truck, so I started brewing it, and people started going crazy. I said, 'Well, I have my $5,000, I have the startup funds, and this was doing so well.' So I decided to go forward."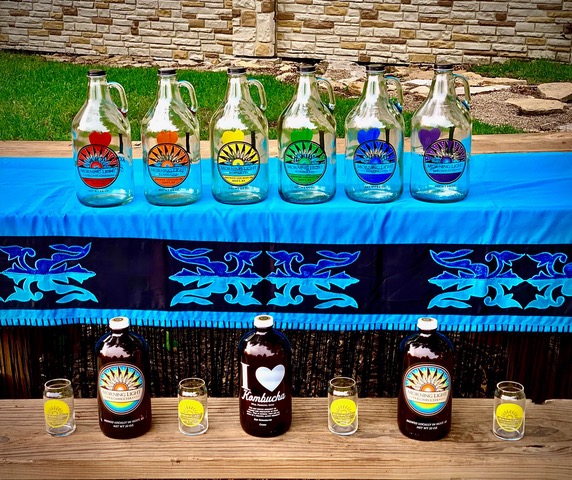 Morning Light Kombucha launched by offering refillable glass bottles at local farmer's markets. (Courtesy photo)After leaving a full-time job in academia in 2016 to pursue something closer to her home on the Prairie Band reservation, Williamson turned her full focus to brewing kombucha. She began selling her products at local farmer's markets, which alongside a part-time job with the tribe's language and culture department, helped pay the bills.
"I wasn't in it to be huge," Williamson said. "I loved what I did, and it gave me the freedom to be present with my daughter."
After COVID hit and farmer's markets went away, Morning Light made a move into the delivery market that really kicked the operations into gear.
"When we're at the farmer's market, we were reaching a lot of like-minded people, people who were interested in local and fresh. I was like, 'This is where we should be, this is our customer base,'" she said. "What I didn't really realize was that when I started opening things up, there were so many people that wanted kombucha, but the farmer's market might not have been their thing.
"It just opened us up to an entire demographic of people. We weren't reaching them before, but when we did a lot of advertising, it was just crazy."
Williamson set about getting kombucha orders out to the local market through curbside and delivery services. In particular, the delivery services were a hit because of the way Morning Light approached refills, Williamson said.
The company allowed customers to place their empty containers on their doorstep, where Morning Light would retrieve them and replace them with fresh bottles, then rewash and reuse the old ones for the next refills.
It was a model that Williamson encouraged among the small-scale wholesalers who carried her product. Morning Light struck up distribution deals with businesses in other nearby communities who could afford to buy and sell some of the products, expanding the company's market.
Through that, Williamson not only created new revenue streams for Morning Light, but also for the small business partners who were struggling to make money amid the pandemic lockdowns.
"Yoga studios, spas — these small businesses began offering doorstep delivery in their communities," Williamson said. "That allowed them to create revenue where they couldn't before."
So far, the model has proven to be sustainable. Prior to launching its canned packaging, Morning Light Kombucha operated almost entirely with refillable, reusable bottles.
"That just gets me super excited to really have a model like that, where we're able to continue to reuse what we have," Williamsons said.
Sustainability focus
Williamson pointed to sustainability as a key goal for Morning Light, a tenet that led the company to the refillable bottles from the start. However, as demand grew, Williamson revisited the concept of offering prepackaged, canned kombucha.
"It was a year ago that I really said, 'This has the potential to grow into something big,' and I decided to move forward into growing the business in a serious way for the first time," Williamson said.
Morning Light secured a loan from Akiptan to buy new fermentation equipment, begin canning products, and start labeling and design work in the fall of last year. The line of canned kombuchas then launched in February.
Even with the shift to prepackaged products, Williamson plans to keep the company's focus on remaining as sustainable as possible. That includes it's new building on the Prairie Band reservation, which will eventually be able to run off the grid using solar energy.
"We're going to be doing a lot of things we can't do right now, like recycling our wastewater," Williamson said. "I love that we'll be able to have this facility on the reservation."
Moreover, after construction on Morning Light's new facility is done, Williamson plans to begin growing as many of her own ingredients as possible on the accompanying 10 acres of land.
"Right now, an important part of my business is sourcing local," Williamson said. "The partnerships are incredible, but there's dips and dives with it being farms. We're not able to get enough strawberries, or the blackberries this year are horrible. Now since we're growing, we're really looking to supplement those things that are hard to come by sometimes."
Williamson also hopes to bring jobs and an economic boost to the Prairie Band of Potawatomi reservation. She said she wants to center Native communities in her plans going forward. "That's really where I want to see my product," Williamson said. "The next goal of the business is now to get it into actual communities and small businesses and reach as many Native people as possible."