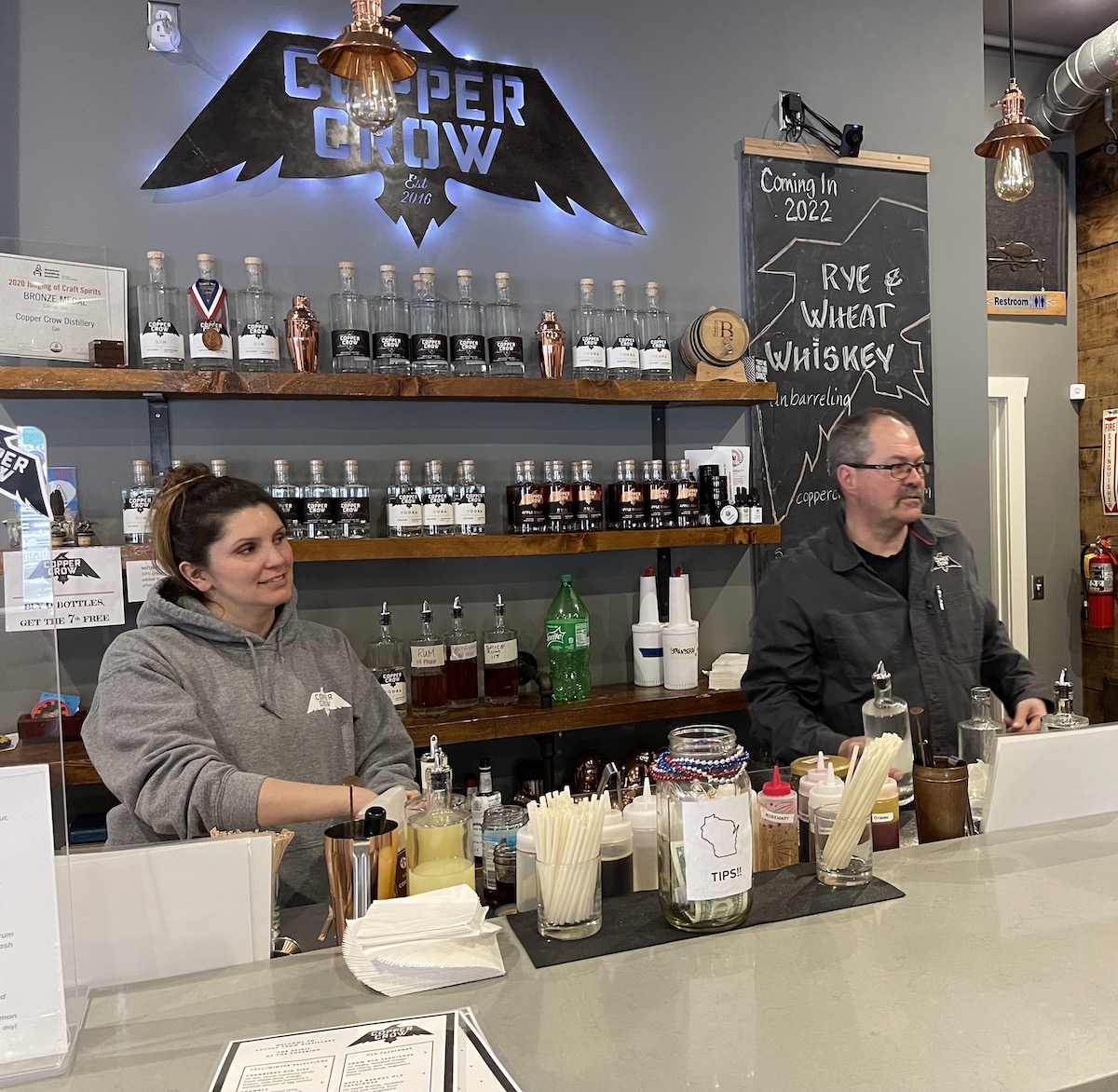 Details

By

Matthew Gryczan

Entrepreneurism
BAYFIELD, Wis. — People who want to set up retail businesses on tribal lands learn fast about the need for permits and approvals from municipal, state and maybe federal departments. But they sometimes overlook an equally important review: tribal councils.
Curtis Basina, who with his wife Linda are registered members of the Red Cliff Band of Lake Superior Chippewa Indians in Wisconsin, made sure their tribal council was on board with their plan to launch a craft distillery in 2017. Basina said it's one of the smartest moves he's ever made.
"It's crucial for them to understand what it is that you're doing, who you are marketing to, and how you're going to go about doing it — particularly in our business," said Basina, who founded Copper Crow Distillery, a Bayfield, Wis.-based manufacturer of signature vodka, gin, whiskey and brandy that became the nation's first distillery to operate within a reservation.
"A couple of council members and members of the community voiced some concerns, and we explained that our target market was people visiting the greater Bayfield area, which is the gateway to the Apostle Islands," he said. About 290,000 people visited the Apostle Islands National Lakeshore last year to enjoy its 21 islands and 12 miles of shoreline on the northeastern tip of Wisconsin on Lake Superior.
"We explained that the products would be extremely high quality spirits and cocktails that are first rate, catering primarily to tourists — not cheap booze that would be distributed among our own community members."
With that context and the possibility that Copper Crow Distillery would help boost tourism, the Red Cliff tribe has been supportive of the business, Basina said. The same cannot be said of a proposal made by the Penobscot Nation in Maine to launch a line of signature vodka that would have been sold to tribal-run casinos.
"The Penobscot tribe was granted their basic distillery permit just a couple of weeks after we got our basic permits, and they went to their tribal council and said, 'Hey guys, we have our basic permit and this is what we want to do,'" Basina said. "Their business board said: 'No, you're not.'"
News agencies reported that a former Chief of the Penobscot Nation and other tribal members opposed the business and initiated a petition drive against it. The opponents asked for more detailed information, such as the source of funds to launch the enterprise, financial exposure for the tribe itself, and traffic generated by trucks servicing the distillery.
Basina, who retired from the Wisconsin State Patrol after 17 years of service, said he recognized the potential market for locally made craft spirits after witnessing the success of local breweries and wineries in the Bayfield area. But having a good idea was only the first step on a long road that required an iron stomach for taking risks.
He and his wife first attended a conference to learn the "math, science and alchemy" of distilling spirits, and there met master distiller Rusty Figgins, who encouraged Basina to develop a spirit that was connected with Wisconsin's signature dairy industry. From there, Basina developed a proprietary process for fermenting dairy whey, the liquid byproduct of making cheese that is somewhat plentiful in northern Wisconsin.
"Whey is a waste product, and we are turning it into a value-added product," said Basina, 61. "We're just a handful of companies in the U.S. that use whey as a base product in some of our spirits."
Copper Crow's whey-based gin that was awarded a bronze medal by the American Distilling Institute in 2020 is described as sweeter with a creamy finish, similar to sake.
At a national conference in Louisville, Basina learned another trade secret. At a breakout session, master distiller Bryan Davis, who is revered for inventing a way to replicate the tastes of barrel-aging spirits in the laboratory, told the group at a breakout session Basina attended that "when you make something, make it quality. Don't get greedy. "
Along with his investment of time, Basina had to spend money to further fashion his vision of a distillery. He paid a consultant to conduct market research and develop a business plan on the feasibility of a distillery in Bayfield. The result — an 8 by 11-inch report that was three quarters of an inch thick — not only convinced Basina he was on the right track, but it also proved to be invaluable when it came time to approach his local bank for a loan.
Then came a throat-tightening moment in the business journey.
"We were going through the permitting process, and the federal government wants to know everything, like where is the money coming from and how are you doing this," Basina said. "But you have to have your equipment ordered before they will even issue you a distillery permit — and I figured that we were investing somewhere between $600,000 and $700,000 in the venture at that time."
With a solid personal and business balance sheet — virtually no debt — and a good relationship with his bank, Basina and his wife were able to secure financing to launch Copper Crow. As its only full-time employee, Basina estimates he is working in the neighborhood of 100 hours a week now to prepare for the peak season. The distillery can produce about 1,500 proof gallons on an annual basis, with a proof gallon equalling 1 liquid gallon of spirits that is 50-percent alcohol.
He is joined by his wife during the peak tourism season that runs from the end of June through the end of October, and they employ about 10 part-time employees during the summer to run the operation.
Advertising is largely word-of-mouth, as Copper Crow products are only available in Wisconsin.
"Because we rely so heavily on the tourism industry, we are fanatics about quality," Basina said. "If you make someone a bad cocktail, they are going to remember that. And if you make a fantastic cocktail, they are going to tell their friends, and their friends will tell their other friends."
In spring, Copper Crow will be releasing its first batch of whiskey that has been aging in barrels for four years. The company has speakers constantly playing everything from background music to Willie Nelson reciting Louis L'amour novels, with the idea that the vibrations help to age the whiskey.
"Our barrels are pretty well cultured," Basina said with a laugh.