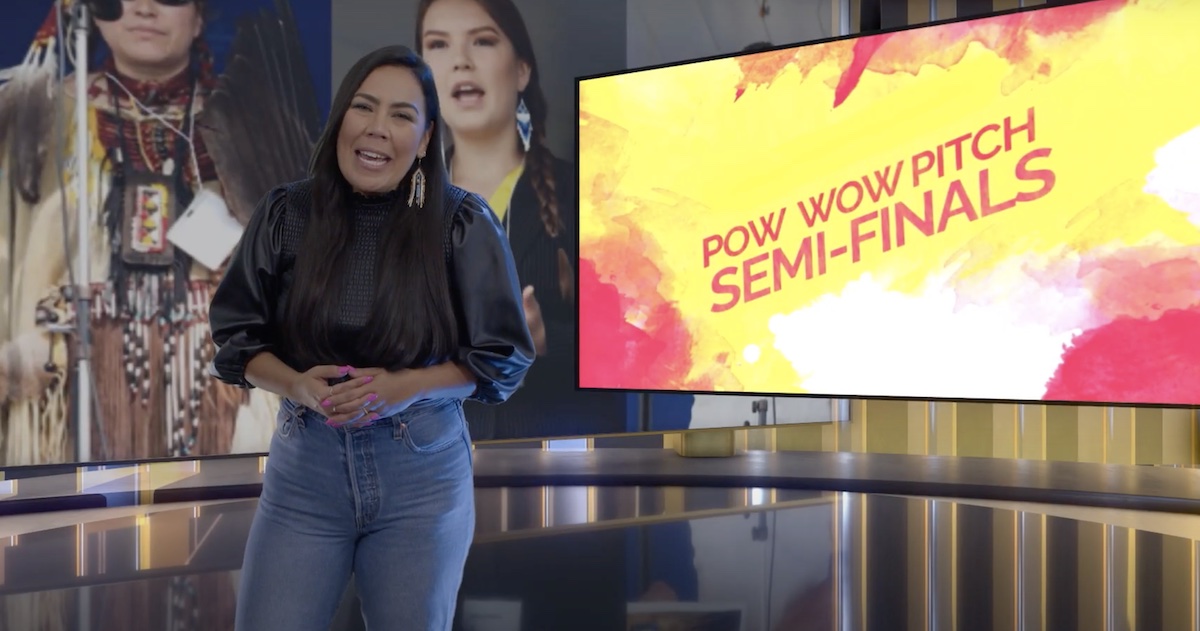 Details

By

Elyse Wild

Entrepreneurism
WINNIPEG, Manitoba — On Saturday, May 21, at the Manito Ahbee Festival, Pow Wow Pitch held the first of three in-person opportunities to participate in its four-month-long pitch competition.
At the Winnipeg, Manitoba event, Indigenous business owners pitched their business idea for 1 minute in front of a panel of judges for a chance to win $5,000, $2,500, $1,000 or $500.
"Manitoba is well known for our established and growing business community, including many Indigenous entrepreneurs and small businesses," Manito Ahbee Executive Director Lisa Meeches told Tribal Business News. "Pow Wow Pitch is an amazing opportunity for any Indigenous person with a creative business idea to share their ideas and skills to win great prizes and important mentorship."
Never miss the biggest stories and breaking news about the tribal economy. Sign up to get our reporting sent straight to your inbox every Monday morning.
Sunshine Tenasco, who is from Kitigan Zibi Anishinabeg First Nation in Quebec and serves as CEO of Her Braids, founded Pow Wow Pitch in 2016 to accelerate Indigenous business growth while providing a collaborative platform for Native-driven entrepreneurship.
This year's competition kicked off on April 6. Indigenous business owners in Canada or the United States can pitch at live in-person events or online to win $200,000 in cash prizes, ranging from $500 to $25,000 across various categories.
According to the U.S. Census Bureau 2020 Annual Business Survey, in 2019, an estimated 26,064 American Indian and Alaska Native-owned businesses generated $35.8 billion in receipts. In Canada, more than 50,000 Native-owned businesses contribute approximately $30 billion to Canada's economy.
With Indigenous businesses facing barriers like geographical isolation, institutional bias and lack of access to traditional financing, competitions like Pow Wow Pitch provide a safe and enriching platform for Native entrepreneurs to grow.
Jennifer Harper (Anishinabe) is the founder and CEO of B Corp.-certified sustainable cosmetics company Cheekbone Beauty and serves on the Pow Wow Pitch advisory board. Harper participated in the pitch competition in 2018. She notes that while she didn't win, the lessons, networking opportunities and support she gained have been invaluable.
"It was an incredible experience because it would be the first time that I was actually pitching my business," Harper said. "It's not about winning, it's about what you learn."
Harper's Pow Wow Pitch experience prepared her to appear on the popular CBC show Dragon's Den and eventually secure investors. (She received an offer from a Dragon but turned it down as she would be giving up too much of a stake in the company.)
In 2020, while many businesses were struggling under the crushing weight of the pandemic and stay-at-home orders, Cheekbone Beauty had its best year ever, hitting 7-figure in revenue for the first time. The brand has been featured in industry-leading beauty and fashion magazines like InStyle and Vogue and is available for purchase in Sephora, Canada.
While Harper is highly successful by any standard, in the early days of Cheekbone Beauty, she was working on the business in her free time. She was seeking a network of Native entrepreneurs to identify with when she linked up with Pow Wow Pitch.
"When you're a solo entrepreneur, you're doing so much work alone and you really don't tell people about what you're doing or what's happening," she said. "Pitching at Pow Wow Pitch completely pushed me out of my comfort zone and helped me evolve. It's a safe place for Indigenous entrepreneurs to come and literally begin to build their entrepreneurial skills."
Along with the opportunity to win cash prizes, Pow Wow Pitch participants have access to industry-leading mentors; a six-month free Shopify membership to launch their brand on the e-commerce platform; and the opportunity to participate in the Pow Wow Pitch Box program, in which the nonprofit buys and distributes up to 25,000 units of an entrepreneur's product.
"Pow Wow Pitch has an incredible network surrounding it," Harper said. "I remember feeling validated and important just from how their team interacts with all of the entrepreneurs."
This year's Pow Wow Pitch co-presenting sponsors are Royal Bank of Canada, Shopify, Meta, Mastercard and more. Along with Friday's pitch at the Manito Ahbee Festival, entrepreneurs will have the opportunity to pitch in-person on June 25 at the Summer Solstice Indigenous Festival and on July 25 at the Kamloopa Powwow.
Digital applications for Pow Wow Pitch close on June 21. The team will announce the top 25 finalists on Sept. 22, with winners announced on Oct. 19.
Harper's advice for entrepreneurs who are thinking about pitching: "Just do it."
"Don't let the fear of the unknown stop you," she said. "It is such a great starting point to honing that message that you are trying to get across to your customers, who at the end of the day are the ones that will be helping you pay your bills."