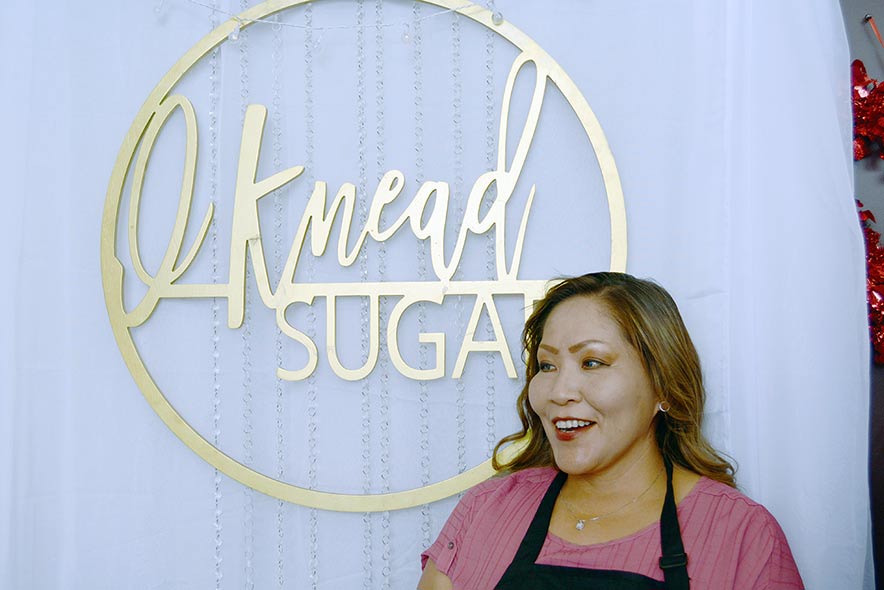 Details

By

Stacy Thacker, Contributing Writer

Entrepreneurism
The pages of the family cookbook are worn and discolored, the binding held together by tape. But the recipes inside hold years of memories for Jacqueline Ahasteen (Dine) and a basis for her business.
Ahasteen is the owner of I Knead Sugar, a bakery and tea shop located in Gallup, N.M. She opened her doors six and a half years ago and brings more than custom cakes and baked goods to her customers — she also shares Navajo culture through food and tea.
Ahasteen started baking as a teen and used the cookbook as her guide.
"I've always baked cakes and cupcakes, cookies, things like that for my family," Ahasteen said. "I used to use an old cookbook that my dad used to get a lot of recipes from."
Ahasteen keeps that cookbook in her bakery as a reminder of where she's come from. She was 16 years old and pregnant when she taught herself how to bake. Her friends had stopped coming around, and she found solace in the recipes of the old white cookbook.
"Some of the ingredients that I would see in this book, I didn't know what they were," she said. "I would have to run downstairs, go look in my encyclopedia that my parents bought us and then I would have to look up what that term was or what that product was."
Ahasteen, 47, grew up on the Navajo Nation in the Window Rock, Ariz. area, with only one grocery store nearby. If the store didn't carry an ingredient on her list, she would have to wait until the weekend when her parents could drive her the 26 miles into Gallup to search the shelves of another grocery store.
She dreamed of starting her own bakery, but eventually had to put those dreams on hold. She was a single working mom with three kids, and was progressing through her career.
Ahasteen worked as an electronic engineer in Phoenix, but when she decided to travel back home to the Navajo Nation, there weren't any jobs for her. She settled for an IT job, but knew that her passion was in baking. She started creating cakes and baked goods as a side business, then decided in 2016 that it was time to chase her dream. She signed a lease for what would be her new bakery.
Since opening I Knead Sugar, Ahasteen has been able to sponsor her kids' sporting events while also creating employment opportunities for local high school students where they can earn credit for school and earn pay during the semester. She also offers baking classes for kids and collaborates with other local businesses to host events.
"It's not about trying to out-compete somebody, it's about trying to build everybody up with us to make a better environment, to make a better community," Ahasteen said.
A year ago, she expanded the bakery and has since added a tea room. The tea room is filled with classical music and three different sitting areas, each with its own Navajo theme and decor.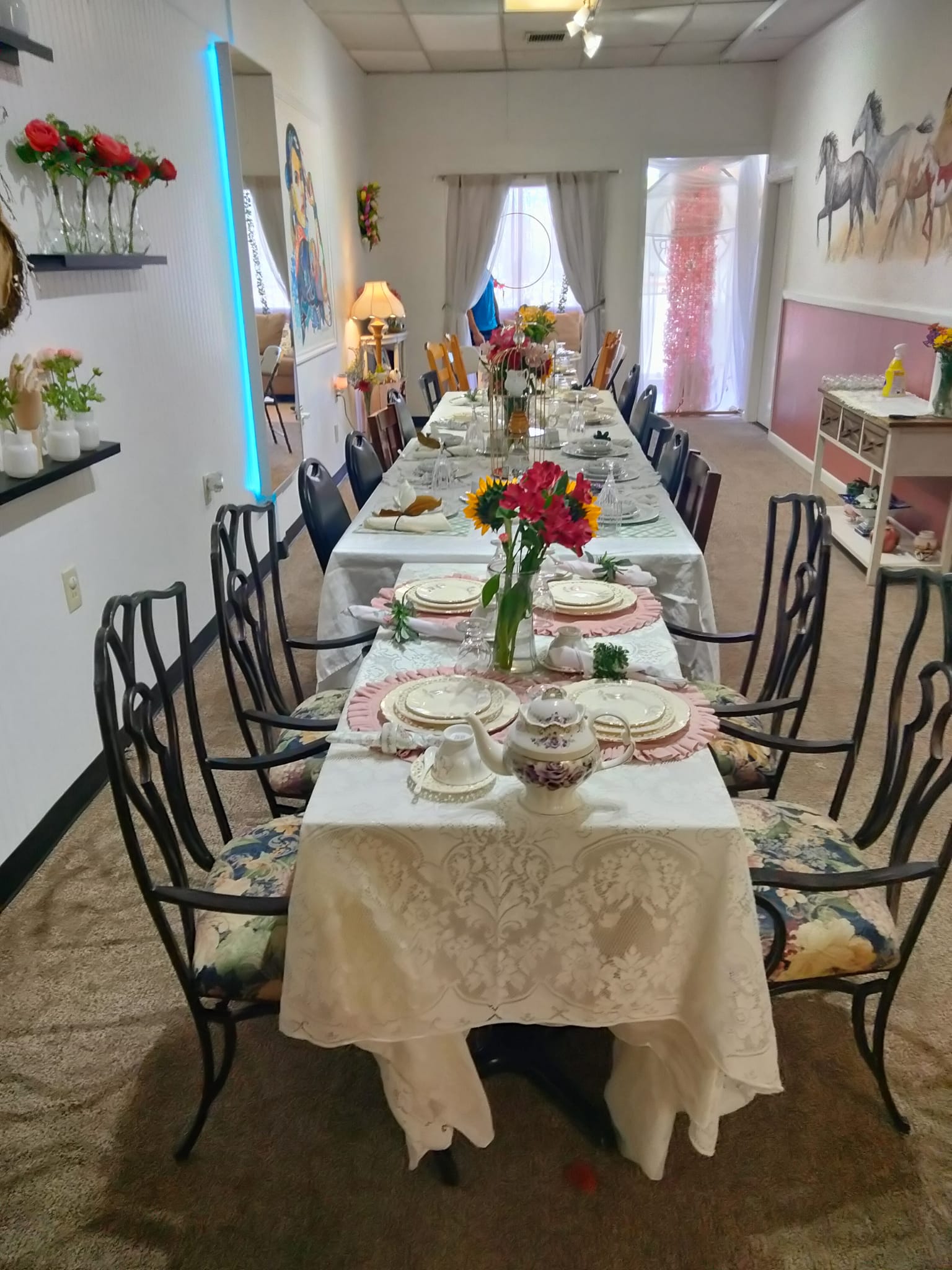 "It's a healing space for people to come sit and have a cup of tea," Ahasteen said. "When you have an environment that's so inviting, warm, smells like lavender, you have all the elements there, it gives you a welcoming feeling."(Courtesy photo) There is a corn pollen room, a turquoise room, and a coral room — each symbolizing a part of Navajo culture. There are also murals painted on the walls that depict Navajo resilience and scenery that were painted by her dad, Jack Ahasteen, a well-known Navajo cartoonist.
The tea room can accommodate a group of up to 20 people for events as well as single seating for everyday use and offers a menu that highlights traditional Navajo foods and tea as well as bite sized sandwiches and pastries.
"It's a healing space for people to come sit and have a cup of tea," Ahasteen said. "When you have an environment that's so inviting, warm, smells like lavender, you have all the elements there, it gives you a welcoming feeling."
Ahasteen wanted to give customers the full experience of a tea party with crystal and porcelain ware. It's a setting she's admired since she was young. She remembers her mom, Irene, bringing back magazines from the hospital she worked at, and those magazines highlighted home decor.
"I'd collect them and I'd look at those pictures of table settings and crystals," she said. "I just naturally became infatuated with that setting. When I finally got a chance to share that with people, that's always the kind of space I wanted to share."
Growing up, Ahasteen and her siblings helped her grandma haul water, herd sheep and bring in wood but what really sticks with her is coming inside during the cold winter months after finishing up chores and being met with a cup of tea, a piece of fry bread and a bowl of warm blue corn mush, all prepared by her grandma.
It's a comforting and healing memory. One where she felt safe and secure, and one she hopes to recreate for her customers through her bakery and her tea room.
"It was just a dream that I wanted for a really, really, really long time," she said of her business.