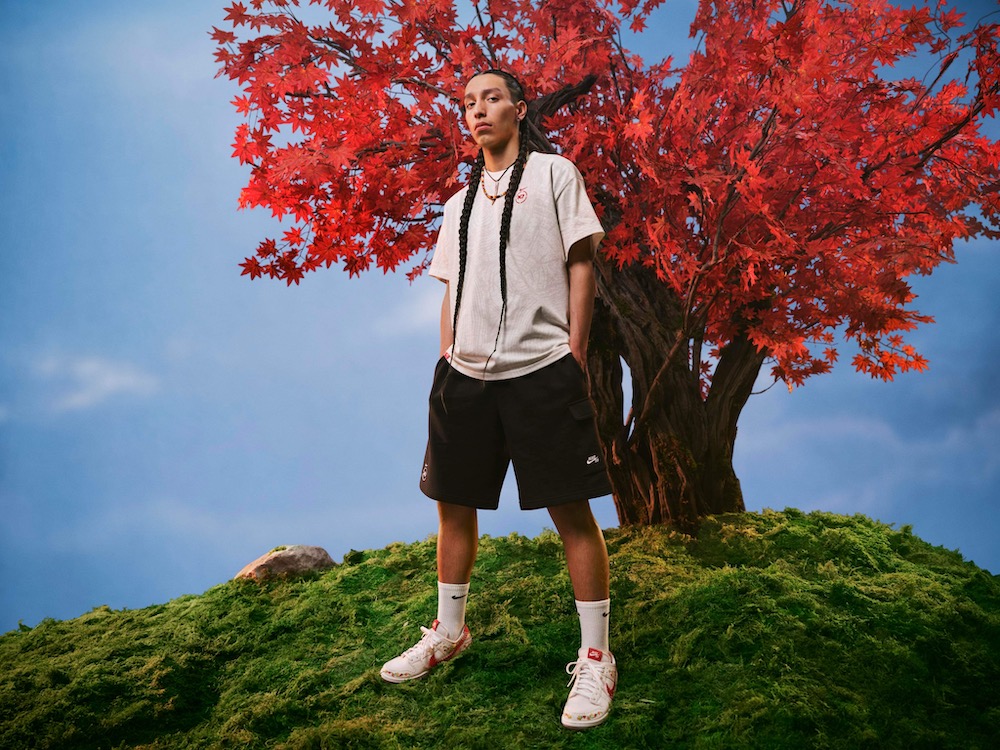 Details

Entrepreneurism
"Being Indigenous is so Beautiful." That's the mantra of Chippewa/Cree/Blackfeet designer and influencer Rebekah Jarvey. Her authentic and inspiring attitude, paired with a funky signature style, is lifting her higher and higher.
A passionate creator of bold and playful Indigenous luxury fashion — she once created a culturally inspired mask featuring Louis Vuitton leather during the pandemic — Jarvey has caught the attention of fashion mavens, national media and even a certain global footwear company based in the Pacific Northwest.
Never miss the biggest stories and breaking news about the tribal economy. Sign up to get our reporting sent straight to your inbox every Monday morning.
Last year, a graphic designer at Nike who knew Jarvey from social media reached out and enlisted her as one of the Native creative consultants on the footwear giant's SB Dunk Low x N7.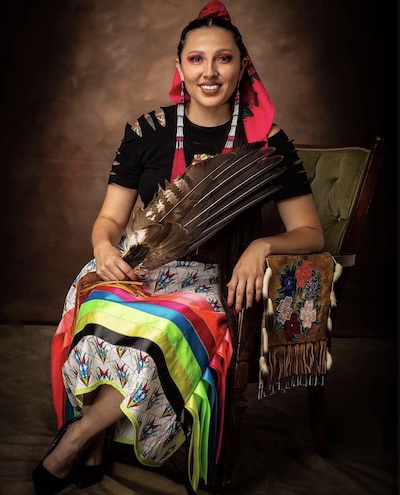 Chippewa Designer Rebekah Jarvey (Courtesy Photo)N7 is a division of Beaverton, Ore.-based Nike Inc. that utilizes Native designers and consultants, and raises funds to uplift Native communities all over North America. Nike's N7 website amplifies Jarvey's powerful voice by featuring her words:
"Seeing our art and legacy come to life and carry on in a new way is exciting, Our art has been translated through different mediums and passed down for generations through the matriarchy. Helping with this design and seeing it highlight our culture for a new generation is incredibly special."
The Nike collaboration is just one highlight of Jarvey's runway whirl of a year. With nine shows already under her belt, including one in Cannes, France, she's in the eye of a summer style storm.
Next on the Jarvey agenda is a jaunt to the southwest where she'll be selling her first ready-to-wear collection — dubbed "Love and Fashion" — at the Santa Fe Indian Market. She'll also be showing at the Native Fashion Show presented by Native Max and The Native Guitars music, art and fashion event, both on Thursday, Aug. 17.
As if that's not enough, Jarvey holds a full-time job as a human resources generalist for the Rocky Boy Reservation in Montana and teaches sewing classes, including ribbon-skirt making, at Indian centers across the country.
For the Nike consult, Jarvey said she mostly offered insight on how to design the embroidered yellow Ojibwe/Chippewa-style flowers adorning the shoes.
"I'm definitely proud. They're badass shoes," Jarvey told Tribal Business News recently, adding: "I'm the proudest when I see the pictures of my 18-year-old son Royce wearing them."
Royce's modeling career is gaining steam alongside his mom's burgeoning fashion fame. Royce, who has been modeling since he was seven, is one of the official models for the new Nike shoe.
He also graced the cover of Unity Magazine this month and will be walking in five shows during the week of Indian Market.
The Nike gig represents exposure on a new level for Royce, who is pictured on rack cards along with his name and tribe in Nike Factory Stores. He's also shown on cards inserted into every Dunk Low shoebox.
"People from all over the nation have been sending me pictures of him that they see in the N7 section of Nike Factory Stores," Rebekah said. "It's pretty phenomenal. I don't always share that kind of stuff with him because I want to make sure he doesn't get too big-headed. Being a model, you do get treated differently."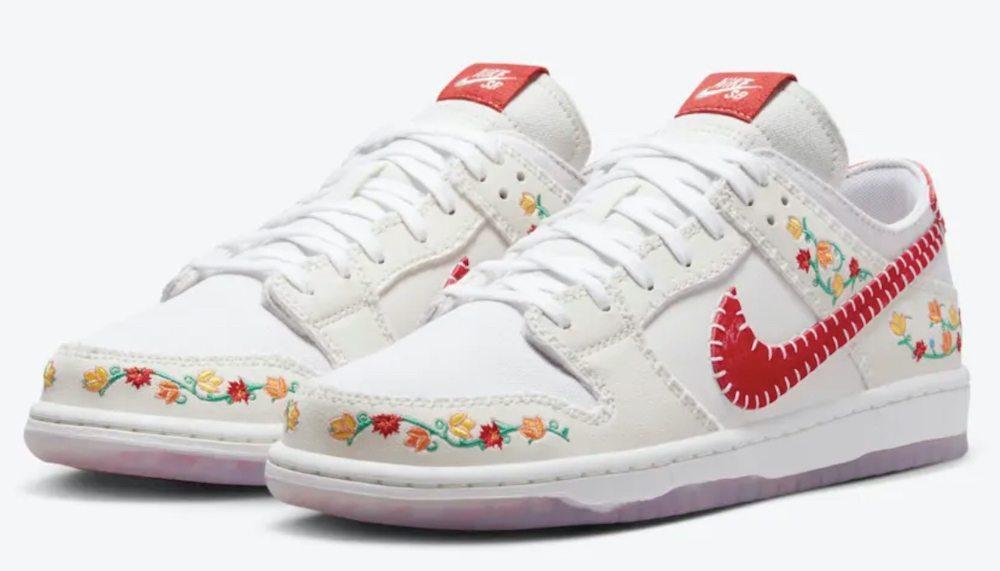 Chippewa designer Rebekah Jarvey was a design consultant on the Nike SB Dunk Low x N7 shoes. (Photo: Nike)
A single mom, Rebekah calls herself a "protector" of her son, adding that "keeping him humble is a value I hold highly."
The mother-and-son success story is the result of years of devotion, dedication and hard work. Over the years, she's involved Royce in her projects and shared her cultural and artistic skills with him.
"Since Royce came into this world, we've been on this dual journey of conquering and trying to figure out the world together," Jarvey said. "It was always important for me as his mother to include him in what I do."
Something to dress up for
A lifelong fashionista, beader and sewist taught by the generations before her, Jarvey has long been known and respected for her talent and tenacity in her corner of Indian Country.
She's a fashion star and role model on The Rocky Boy Reservation reservation, where she's been running the annual Honour Our Legacy fashion show, which spotlights Indigenous designers from all over the country, since 2017.
"I wanted to share my love and passion for fashion with my community and introduce them to fashion and Indigenous designers and just give them something to dress up for. When you're dressed up it brings up your level of self confidence," Jarvey told Native News Online in a 2020 interview. "The fashion show is like my baby. Every year in September everybody that knows me knows I just dedicate my whole self to it."
But what ended up making her a breakout sensation was the loud and proud Night & Day mask she fashioned during the pandemic.
The bold, three-dimensional mask dripping with fringe and incorporating Louis Vuitton-logo leather, went viral. Suddenly, news outlets nationwide started contacting her, and Jarvey's signature streetwear-and-Indigenous-flair style broke through to the masses.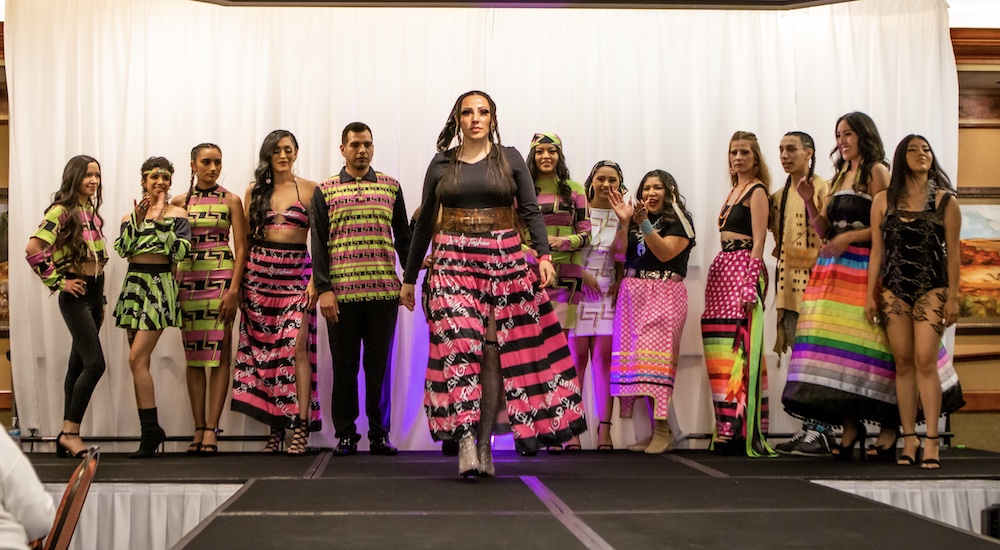 Chippewa designer Rebekah Jarvey and her models at a recent show in Albuquerque, NM. (Photo: Ryan Begay)Three years after the Night & Day mask burst onto the scene in all its Indigi-glam glory, Jarvey is experiencing another fashion first.
"I pre-launched my first ready-to-wear collection on June 3rd, 2023 and that was a really significant date, because on June 4th, 2020, I released the Night & Day mask," she said. "I've come full circle."
She decided to add ready-to-wear to her custom creations to satisfy her flock of followers, known as "Bek-nistas" in a play on her first name.
"It came together because there was a push for it. That's what my supporters wanted from me. They were just constantly asking for it. And I wanted one too," she said. "I realized I need to listen to the people and give them what they want. So I made a bright, bold and fun collection. Not everybody wants or can afford one of my custom pieces. But with ready-to-wear, I reach a bigger audience and I have something for everybody."
For the pre-launch, Jarvey presented images of the RTW items before investing all her time and money in creating the pieces, and began taking orders to gauge the real interest.
"People may say they want it, but at the end of the day, are they really going to buy it?" Jarvey said. "That's always an issue."
The clever pre-launch strategy was a huge success, she said, and now the entire line is available for purchase at Rebekahjarvey.com. People attending Indian Market can also see the pieces in person and buy directly from Jarvey
Being a successful and sought-out designer doesn't come without some pitfalls. Jarvey admits she has felt exploited and misled at times by event organizers. She advises aspiring Native fashion-industry pros to do their due diligence before they commit to an event or project.
"When you get invited to a fashion show, make sure you ask all the right questions and you get a thorough understanding of what you're getting yourself into," she said. "Research the people you're working with and reach out to models, designers, and different people in the industry for their opinions. Don't just get one person's opinion."