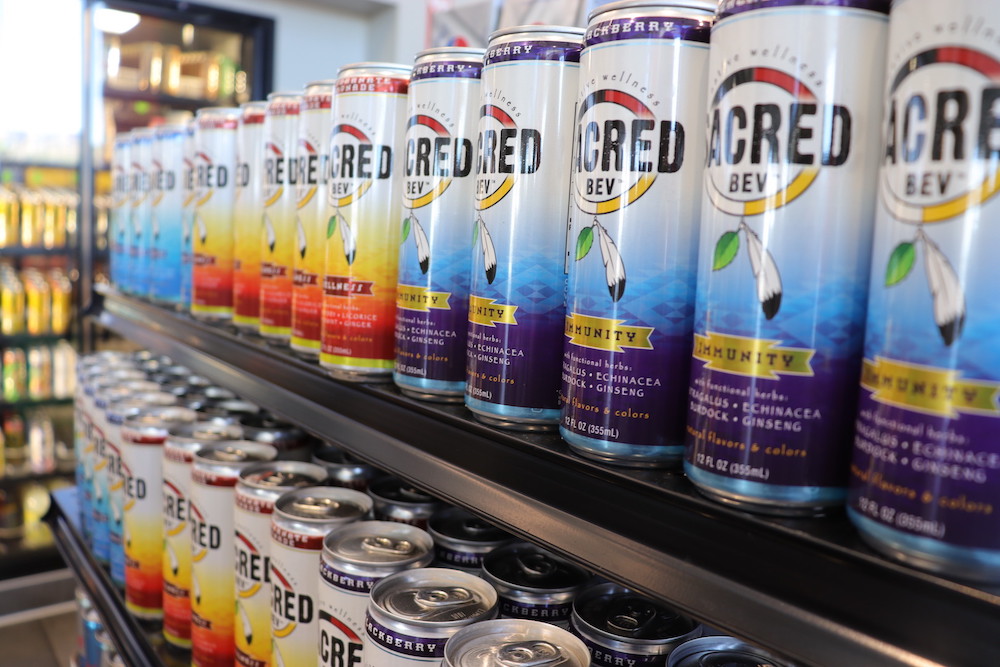 Details

Entrepreneurism
In April, Justin Quis Quis launched Sacred Bev, a Native American beverage company, with an initial run of 7,200 cans of wellness drinks sold to tribal clients around California. By mid-August, Quis Quis was touring a production facility in Los Angeles that would help Sacred Bev scale its production to nearly 30,000 cans for its third run.
Things have escalated faster than Quis Quis, a member of the San Pasqual Band of Mission Indians, thought possible. In addition to individual client accounts, Sacred Bev has been picked up by a distributor, meaning its drinks are now showing up in grocery stores and mini-marts around the state.
"We're stoked," Quis Quis told Tribal Business News. "We felt like we had a really good thing on our hands, and we've gotten nothing but very positive reviews."
Quis Quis describes the Sacred Bev drinks as "functional beverages made with natural flavors." With names like "Wellness," "Immunity," and "Tranquility," the drinks are made with flavors such as pomegranate, blackberry, and prickly pear, as well as a carefully selected blend of ingredients such as burdock root and lemon balm that achieve specific health results.
Sacred Beverage drinks have landed amid a surge in popularity for "functional beverages," defined as products built around particular ingredients that have supposed health benefits, such as energy or probiotic drinks. A market report by Precedence Research places the global market size at $140.87 billion in 2022 - a $20 billion uptick compared to the $129 billion market in 2021. (The U.S. market was valued at $40.3 billion in 2022.)
Overall, the report places the compound annual growth rate at 8.94 percent between 2022 and 2030. The report attributes the consistent growth to a renewed interest in health solutions following the coronavirus pandemic.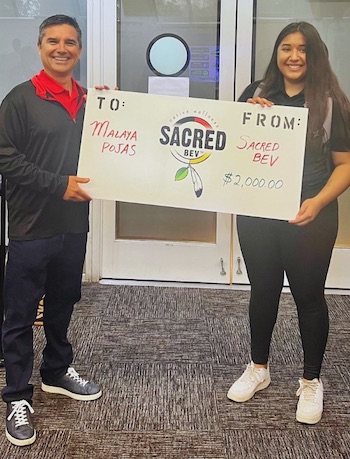 Malaya Pojas (right) receives a scholarship check from Sacred Bev founder Justin Quis Quis. The check was the first such donation made from company proceeds to Inter Tribal Sports, a semi-organized league in Quis Quis' home state of California. (Courtesy photo)
"To support their invulnerability, shoppers are continuously moving toward more wellbeing-advancing food sources and drinks. This has brought about a flood popular for practical beverages," the report reads. "The quantity of wellness aficionados and the rising client inclination for solid options in contrast to sweet sodas are probably going to fuel market expansion. Besides, expanded extra cash and wellbeing cognizance are fuelling interest for practical refreshments."
That's encouraging news for Quis Quis and his team. Sacred Bev began as a passion project for Quis Quis, a former vice chairman and gaming commissioner for the San Pasqual Band of Mission Indians. After more than 20 years of working in Indian Country, Quis Quis wanted to create a business that would commemorate the communities and cultures he had visited and experienced, and that would also support efforts to give back to those communities.
"I've seen a lot of areas where tribal communities needed a spotlight and people needed to know not only the struggles but also the successes, but also know that we do have some third-world type of issues within the borders of the US," Quis Quis said. "We really wanted to focus on giving back to Native communities, and I really wanted to do something that I had the vision for."
That vision is already producing results for the community. Initial Sacred Bev sales have funded contributions to Inter Tribal Sports, a San Diego-based semi organized sports league for Native youth, Quis Quis said. That translated to a $2,000 scholarship for one Inter Tribal Sports' employee, an investment Quis Quis plans to repeat throughout the year for others.
"We wrapped our arms around them," Quis Quis said. "They exist only on grants, donations, and fundraising. They don't have a revenue stream. Our tribe has contributed to their annual budget and they're always looking for other resources. We spent a lot of time and some money to support them as best we could. That's the kind of thing we want to do."
Sourcing Native, Selling Native
When Quis Quis started researching and developing the drinks in 2021, sourcing local ingredients from Native communities was another important part of the vision. Currently, 11 of his ingredients come from farms in Northern California, but he hopes to expand that number in the future.
"I haven't been able to find somebody through my sources, but I'm hoping someone will come to us with a big prickly pear farm or tons of ginger and peppermint," Quis Quis said. "I'm sure there is but I haven't been able to find that. That would be the ultimate find."
Quis Quis also looked locally when he began marketing the drinks to other tribes and found an enthusiastic audience waiting among Native purchasers, he said.
Never miss the biggest stories and breaking news about the tribal economy. Sign up to get our reporting sent straight to your inbox every Monday morning.
An early customer was the Valley View Casino and Hotel, owned by Quis Quis' own tribe. Bruce Howard, the casino's general manager, said the drink has built up a "competitive presence" among the array of drink options at the establishment.
"There's probably 20 types of beverages here and he's definitely holding his own. People are coming back for it," Howard said. "People love the beverage and the packaging, and just as importantly as anything else they love the marketing. It's a busy world in beverages but he's keeping up. He didn't rush the rollout. He knew he had one chance to make a first impression and he did it well."
Sacred Bev has also attracted more than 14 private accounts and a statewide distributor getting the product into grocery stores and gas stations, where it's proven a popular sell.
That means the company has already crossed a massive hurdle in finding someone willing to bet on the product, Quis Quis said.
"The distribution of a beverage is very difficult," Quis Quis said. "You have to sell the distributor on why you're different, because they're very used to what they have to sell. The people they're selling to, they're comfortable with what they have. They always like something new and they want to be at the head of the curve on something new, but they're not just going to take anybody in."