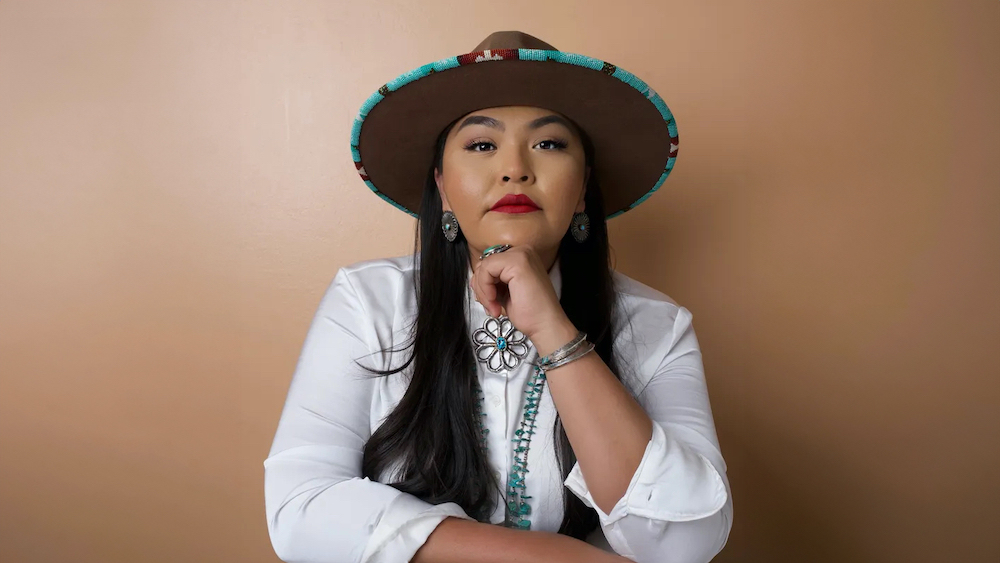 Details

By

Kaili Berg

Entrepreneurism
Since middle school, Calandra Etsitty (Diné) has always known she wanted to own a business.
Watching her seamstress mother create clothing and drawing inspiration from her father's jewelry creations, Etsitty also recognized early on that her business would be based around a high level of creativity and meticulous craftsmanship.
Today, Etsitty is the artist and entrepreneur behind Winston Paul, a distinctive clothing and accessory company based in Window Rock, Ariz. She crafts a range of products, including handmade makeup bags and contemporary two-piece outfits that draw inspiration from traditional art, street art and urban culture. With each piece, she channels the lessons learned from her parents growing up.
"I feel like what keeps us standing out is our craftsmanship, our handmade goods, and that everything's made-to-order and not mass-produced," Etsitty told Tribal Business News. "This allows our team to really get to know our customers and approach retail through a more bespoke, personalized lens that more accurately reflects the craftsmanship of the Navajo people."
Never miss the biggest stories and breaking news about the tribal economy. Sign up to get our reporting sent straight to your inbox every Monday morning.
That type of singular authenticity is helping Etsitty build the Winston Paul brand amid a recent surge of Indigenous fashion. Over the past two years, Native designers and fashion models have made their way from the rez to the runway at business events like the Northwest Native Economic Summit last month in Oregon and last year's Reservation Economic Summit in Las Vegas. It's become a growing part of the estimated $1.5 billion market for authentic Native American arts and crafts.
Winston Paul and Etsitty are still early in the journey. The business's name pays tribute to her little brother, Winston, and her Cheí (grandpa), Paul. It encapsulates the brand's connection to the Navajo Nation and what matters to Diné people.
"Our items are special, I feel because they are made on the Navajo Nation. I feel like we stand out from people by staying true to our values, our principles, and everything that we stand for," Etsitty said. "I could have easily gone to Los Angeles and had items manufactured, but I chose to keep it handmade."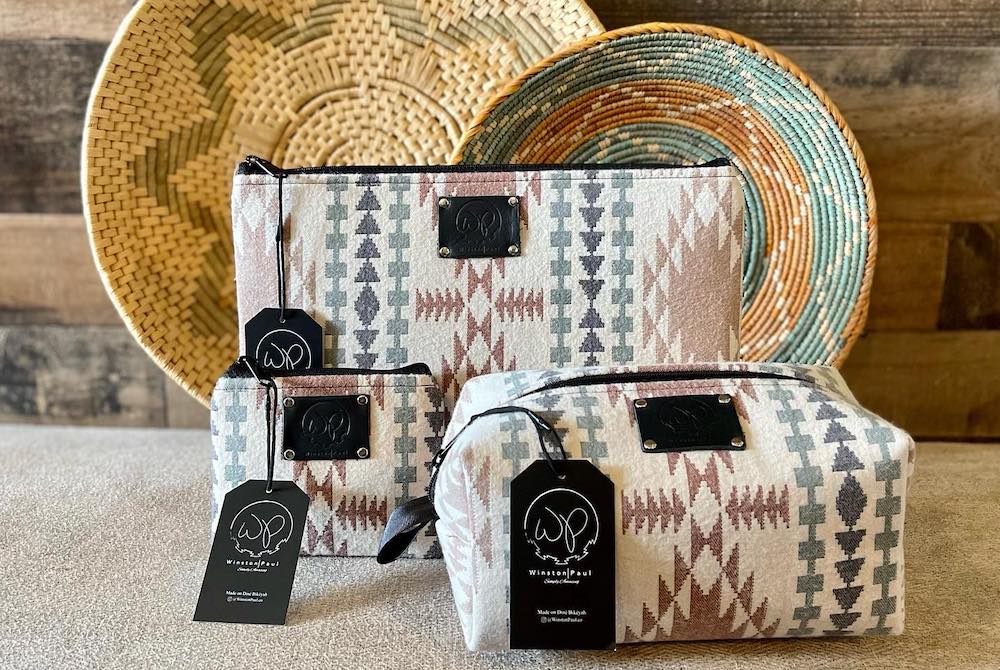 Etsitty makes her products on Navajo Nation, which gives them a "special" feel that reflects her heritage. "I feel like we stand out from people by staying true to our values, our principles, and everything that we stand for," Etsitty said. (Photo: Courtesy)
She also chose to keep it close to home. After high school, she attended college for fashion marketing at the Art Institute of Phoenix until her father became ill, and she could no longer afford school. She moved to San Antonio, Texas where she worked in retail, a job she disliked. She then moved back to her hometown in Many Farms, Arizona to begin her new journey.
"It was in my moments of unhappiness and really struggling to figure out my next move that I decided it was time to act on my lifelong dream of starting Winston Paul," Etsitty said.
To finance her new venture in 2017, Etsitty was given use of her sister's credit card and $100, which she used to purchase sewing items off Amazon and bought her website domain. She gathered gently used fabrics and reconstructed them into unique garments that she began to sell via her new website and social media.
"I am thankful that I have a family that was able to support me like that, especially my sister," Etsitty said. "I always felt like the black sheep, because I am so different from how my family is. They saw something in me and were able to give me this opportunity."
After years of selling her handmade goods primarily at flea markets and via the web, she's taken two long strides forward this year. She amped up her web presence for increased selling online and, earlier this year, made the decision to open a storefront in Window Rock. The doors opened in September, though she's only open for limited hours right now because of a shortage of employees.
Etsitty's plan for 2024 is to reach as many customers as possible and to have her products available in more locations such as local casinos, shops and, at some point, national retailers.
To celebrate the upcoming holiday season, Winston Paul is featured in the first ever GoDaddy 2023 Gift Guide, which offers unique gifts backed by inspirational stories of small businesses that can reach millions of potential customers.
"The inclusion in the GoDaddy Gift Guide has already started to bring more traffic to the website and I am hopeful that is a sign of more growth to come in 2024," said Etsitty.
While attending a Native Woman Lead Conference in October of 2022, Etsitty was introduced to the University of New Mexico's Rainforest Innovations and the Tribal Entrepreneurship Enhancement Program where she learned that there were resources available for business owners who needed it. She was introduced to different resources, educational workshops, and funding opportunities.
"They have been helpful in providing the financial (planning) assistance needed to move our company forward. We were given budget journals and filing cases to organize our company spending and keeping information in its place," said Etistty.
While there are many complexities and challenges that still exist for Indigenous business owners such as Etsitty running their business and opening a storefront on ancestral land, this is a recent development and success for the Navajo Nation's growing economic and entrepreneurial environment.
Small Native owned businesses like Winston Paul keep Native dollars in Native hands by expanding the range of businesses and available capital within the Navajo Nation. It plays a critical role in reducing the outflow of capital to border towns, also known as "economic leakage", and helping to repair the Navajo economy.
"It's really important to me that my business is on the Navajo Nation so that we have something to call our own. It has always been my top priority. I have always prayed about it, and here it came."