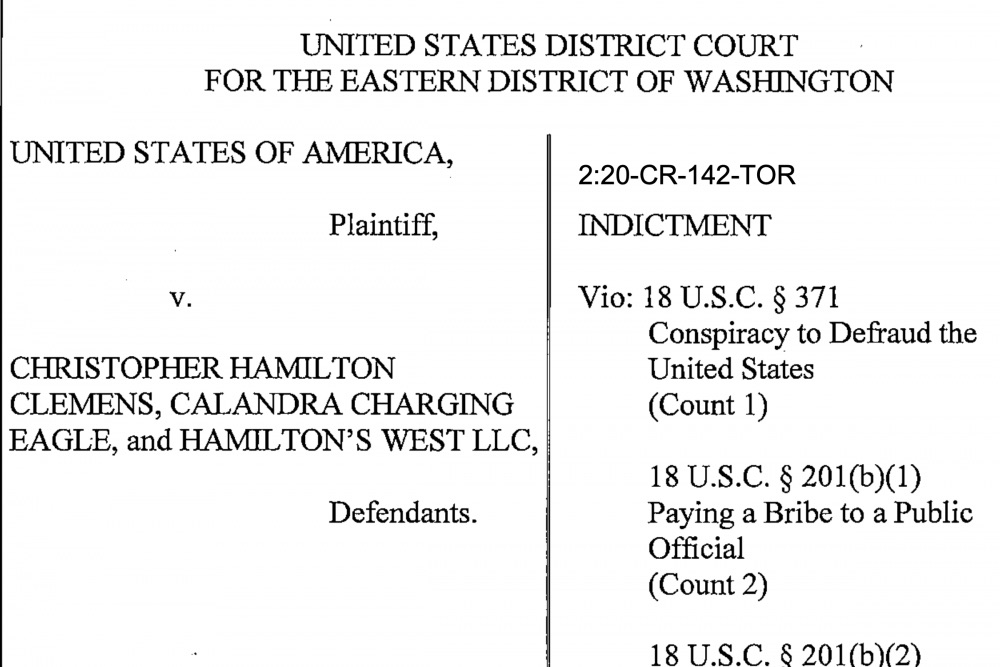 Details

By

Tribal Business News Staff

Native Contracting
SPOKANE, Wash. — The owner of a government-contracting firm has been charged with bribery in connection with payments made on behalf of a former official at the Bureau of Indian Affairs who helped steer contracts to the company.
In an indictment on Wednesday, Oct. 21, the U.S. Attorney's Office for the Eastern District of Washington charged Christopher Clemens, owner of Clarkston, Wash.-based Hamilton's West LLC, with bribery of a public official.
Additionally, the indictment charged former BIA official Calandra Charging Eagle of Albuquerque, N.M. with accepting a bribe.
Clemens, Charging Eagle and Hamilton's West also face charges of conspiracy to defraud the United States and theft of government property.
The U.S. Attorney's Office alleges Hamilton's West, Clemens and his unnamed prior employer — identified in the indictment only as a woman- and Native American-owned government contractor — paid off a $10,701 personal debt Charging Eagle incurred from a holiday party at Albuquerque-based Sandia Resort and Casino, which is owned and operated by The Pueblo of Sandia.
In return, Charging Eagle used her position as a contracting official with the BIA to provide confidential cost estimates to Clemens and the companies so they could tailor their bids accordingly, per court filings. While at the BIA, Charging Eagle had a role in approving contracts, modifications and invoices and shared inside information about the agency's procurement process with Clemens and the companies, according to the indictment.
The U.S. Attorney's Office alleges that Charging Eagle steered to Clemens a more than half-million dollar contract for a lightning protection improvement project at the Navajo Nation's Pine Hill School in New Mexico.
According to text messages cited in the indictment, Clemens and Charging Eagle also discussed drawing up a contract so that her mother would own a majority of Hamilton's West. The contract maneuver would allow the company to qualify for the Indian Small Business Economic Enterprise designation and access set-asides for government contracts.
"Just use her as 51% owner and give her a cut. She will do anything I ask," Charging Eagle wrote in a text cited in the indictment. "I'll get a copy of her [Certificate of Indian Blood]."
Clemens is alleged to have texted back: "OK I'll check how to make it happen."
According to its website, Hamilton's West lists as clients the BIA, Indian Health Service, U.S. Forest Service, U.S. Department of Energy, the U.S. Army Corps of Engineers, U.S. Geological Survey and the Department of Interior's Bureau of Land Reclamation. The company indicates it provides industrial and commercial building renovation and construction, prime contracting, personnel placement and project support services, energy retrofits, architectural metal fabrication, and various other construction-related services.
All the charges in the four-count indictment are felonies, the most serious of which carries a maximum penalty of up to 15 years in prison and a $250,000 fine.
An indictment is an allegation that crimes have been committed. Defendants are presumed innocent until proven guilty.
"The integrity of the federal procurement process is critical to ensuring that public funds are used appropriately and that precious and limited funds are used for improvements of tribal schools and facilities," U.S. Attorney William Hyslop said in a statement. "We will continue to work with our law enforcement partners to investigate and prosecute individuals and companies that misuse the federal contracting process."
The U.S. Attorney's Office was assisted in the case by the U.S. Department of Interior Office of Inspector General and U.S. Small Business Administration Office of Inspector General.