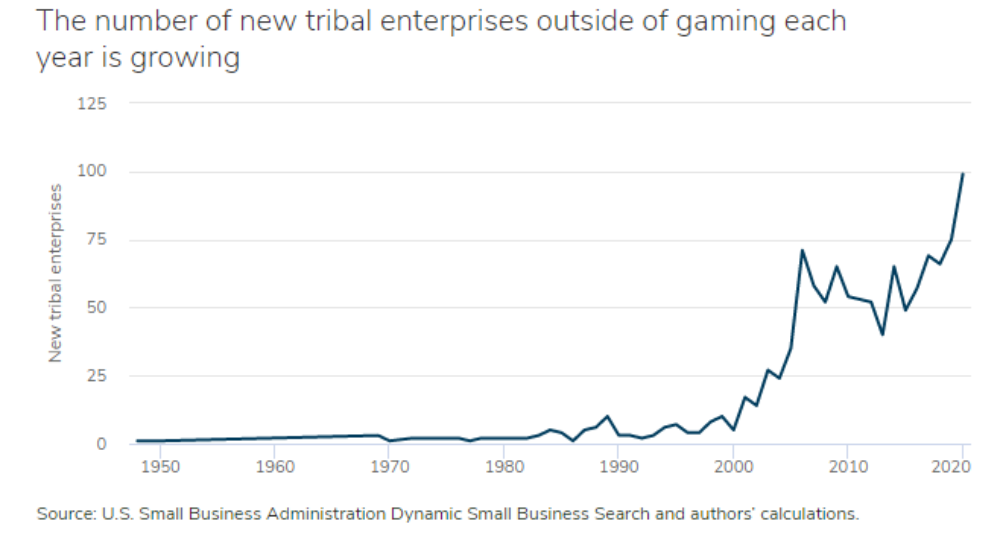 Details

Native Contracting
Tribes started a record 99 new non-gaming enterprises last year amid a drive toward diversifying their portfolios and easing their reliance on gaming revenues.
The figure marks the sharpest increase yet in a general upward trend that began in 2000, according to a new report from the Center for Indian Country Development at the Federal Reserve Bank of Minneapolis.
Diversifying revenue streams has played a huge role in staving off the worst effects of market fluctuations, said Annette Hamilton, CEO of Ho Chunk Inc, an economic development corporation owned by the Winnebago Tribe of Nebraska. Hamilton spoke on a panel of tribal economic development executives hosted July 14 by the Center for Indian Country Development as part of its ongoing Policy Webinar Series.
Hamilton said well before COVID-19 showed up the Winnebago Tribe was dealing with gaming revenue losses and adjusting its economic development strategy accordingly. The executive cited the launch of Iowa riverboat gaming as competition for the Winnebago's casinos, which tamped down revenues and forced the tribe to consider other income streams. Ho Chunk Inc. was born from a $10 million investment by the tribe to diversify its holdings.
"We really looked at what do tribes have advantages in," Hamilton said. "There was regulatory advantages in tobacco and gas, and in government contracting."
Early on, Ho Chunk invested in a grocery store, and eventually got involved in distributing tobacco, cigarettes and fuel. The company also began pursuing government contracts through subsidiaries like the All Native Group federal services company and Flatwater Group, which provides I.T. services. However, Hamilton said it took roughly four years for government contracting to become a profitable venture.
The Poarch Creek Band of Indians in Alabama shared a similar experience. The tribe branched into government contracting "around four or five years ago," and is now seeing a return on that investment, according to Chad Klinck, CFO of Creek Indian Enterprise Development Authority.
"It's been a good learning experience," Klinck said during the webinar. "We're really starting to take off."
8a benefits drive growth
According to the new Center for Indian Country Development report, government contracting makes up the bulk of the focus for new tribal enterprises created each year. More specifically, tribes are "overrepresented" in government contracts involving manufacturing, professional services, general administrative support, and construction, according to the report.
Those contracts represent more than 75 percent of overall tribal non-gaming enterprises, while collectively accounting for only 30 percent of all business establishments across the country.
The "overrepresentation" likely stems from the success of the SBA's (8)a certification program, which gives preference in government contracts to socially and economically disadvantaged businesses.
"This overrepresentation of tribal enterprises in the four most-represented industries suggests the importance of access to government contracting, particularly the SBA's 8(a) program, in determining the industry mix of tribal enterprises," according to the report.
Joe Nayquonabe, CEO of Mille Lacs Band of Ojibwe's Mille Lacs Corporate Ventures, said the 8(a) program was likely as important to Indian Country as the gaming industry itself.
"The 8(a) set-aside is probably just as big a market as the gaming industry with a lot less players," Nayquonabe said during the webinar.
According to a 2021 report by the Congressional Research Service, the federal government in the 2019 fiscal year awarded nearly $30.4 billion to 8(a) certified firms, which includes companies owned by African Americans, Hispanics, and some people of Asian descent — in other words, more than just small businesses owned by tribes, Alaska Native Corporations and individual Native Americans.
By comparison, tribal casinos generated nearly $35 billion in gross gaming revenue as of the 2019 fiscal year, according to the latest data available from the National Indian Gaming Commission.
While the National Indian Gaming Association estimates the tribal gaming industry faces losses of nearly $30 billion by 2022, tribal diversification into government contracting and other sectors proved to be a stabilizing factor during COVID-19 induced economic shock.
To that end, spending on government contracting increased to a record $682 billion in the 2020 fiscal year, according to an analysis by Bloomberg Government.
Hamilton at Ho Chunk said the stability afforded by these government contracts kept many Winnebago tribal employees afloat and working during periods of economic uncertainty.
"I will say our construction company continued to boom during COVID, and while I really think some of our businesses struggled, some of our contracts kept growing," Hamilton said. "As some of our businesses took dramatic hits, other businesses carried the day."
For many tribes, the federal government was both their biggest and most consistent customer, according to Hamilton.
"The U.S. government is the largest procurer of goods and services in the world, and they're guaranteed to pay," she said, "so it really is an opportunity."