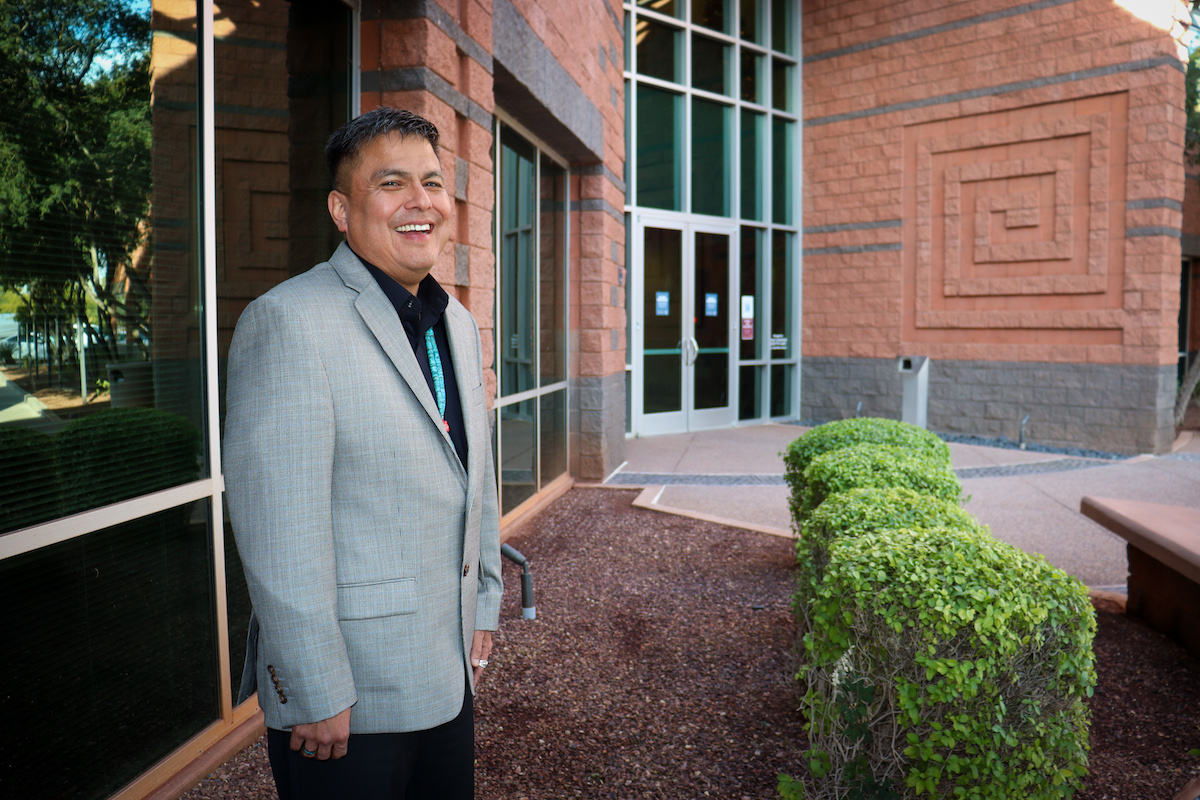 Details

By

Matthew Gryczan

Native Contracting
SCOTTSDALE, Ariz. — For Austin Tsosie, there's never a second to lose when it comes to jumping on a new opportunity, so much so that he'll create a new corporation before he even knows how it will make money.
Case in point: the Navajo Nation-owned company he leads, Diné Development Corp., has done all the paperwork to launch its ninth subsidiary in 2022, without determining what industry the new company will serve.
But it's not just wishful thinking on Tsosie's part. Diné Development's strategy is to have a constant pipeline of subsidiaries in front of the U.S. Small Business Administration for certification under its 8(a) Business Development program.
"We have to be constantly thinking ahead about creating companies, because as they grow, they 'graduate' out of the program," he said. "It's a constant churn of businesses. We set up companies in preparation so there isn't a delay in processing paperwork, and we jump on opportunities as quick as possible."
A company cannot retain its 8(a) designation after nine years, and it can take months or even more than a year to obtain an 8(a) certification.
Overall, Tsosie's strategy has been a recipe for success at Diné Development. Tsosie projects that his company will post just over $90 million in 2021, a 26-percent increase over 2020. Employment stands at about 520 people, up significantly from the 150 it employed in 2017.
"General government spending is flat, but we (DDC) are growing because we are taking more market share," Tsosie said. "It's been our strategic decision from the beginning to go after contracts that are supporting the war fighter. Because we deal with some top-secret projects, the government continues to spend money in those areas."
Companies that are 8(a) certified as Small Disadvantaged Businesses are given special consideration by the federal government for set-aside and sole-source contracts, along with other assistance. Companies owned by Native American tribes are presumed to meet the criteria of being socially disadvantaged, but there are other criteria that need to be met to become 8(a) certified.
According to the Congressional Research Service, 8(a) firms were awarded $34 billion in federal contracts in fiscal year 2020, including $9.3 billion in 8(a) set-aside awards and $11.1 billion in 8(a) sole-source awards. Established by Congress in 1914, the service was created as a department of the Library of Congress to do non-partisan research for the legislative branch of the federal government.
The service found that the SBA generally processes an application and issues a decision letter within 90 days of the receipt of an application package, but the agency will not process an incomplete application. Nearly three-quarters of 8(a) applications are initially rejected due to incomplete or missing documentation, and less than half of the complete applications are approved, the service reported.
Diné Development has eight named subsidiaries, a number of which are in various stages of the 8(a) life cycle.
Its latest named subsidiary, Seventh Emergence, expects to receive 8(a) certification next year to pursue set-aside and sole-source contracts that provide specialized research and development solutions to the intelligence community and defense sector. It shares an office in Odenton, Md. with another subsidiary, NOVA-Diné, which does technology assessment.
In addition, other subsidiaries include DDC IT Services for testing and maintaining software and hardware; DDC 4C for environmental services and natural resources management; BRIC for cultural resources management and other services; Diné Source for information technology services to federal customers; North Stone for I.T. services to federal agencies; and Red Canyon Technologies, which provides space operations planning, I.T. services and change management to federal defense and civilian agencies.
The bulk of the work performed by Diné Development and its subsidiaries can be anything from surveying unmarked burial grounds in the Southwest, planting trees in a reforestation project in South Carolina and performing information technology work in Poland and Bahrain.
"Our employees work from our corporate offices and locations scattered all over the world — where they sit behind military fences," said Tsosie, who was named CEO in 2016 after heading up the DDC IT Services subsidiary. The firm's main corporate offices are located in Scottsdale, Ariz.; Dayton, Ohio; and Odenton, Md.
While there is an impressive variety of work done by the eight subsidiaries of Diné Development, the common element is that nearly all of the federal contracting takes place outside of the Navajo Nation.
"Our charge is to provide services to the federal government and bring the money back home," Tsosie said. "We're part of the Navajo Nation strategy to diversify our revenue stream, so our work right now is primarily off-reservation. That's different from some (tribally owned) companies that stick to enterprises on-reservation such as farming and agriculture,"
The strategy has paid off for both Diné Development and the Navajo Nation. Diné Development issued two dividends and a one-time payment for COVID relief all totaling $1.2 million last year to the Navajo Nation.
--
About the author: Matthew Gryczan is founder of SciTech Communications and a veteran business journalist and editor, including for the likes of Crain's Detroit Business and The Grand Rapids Press.