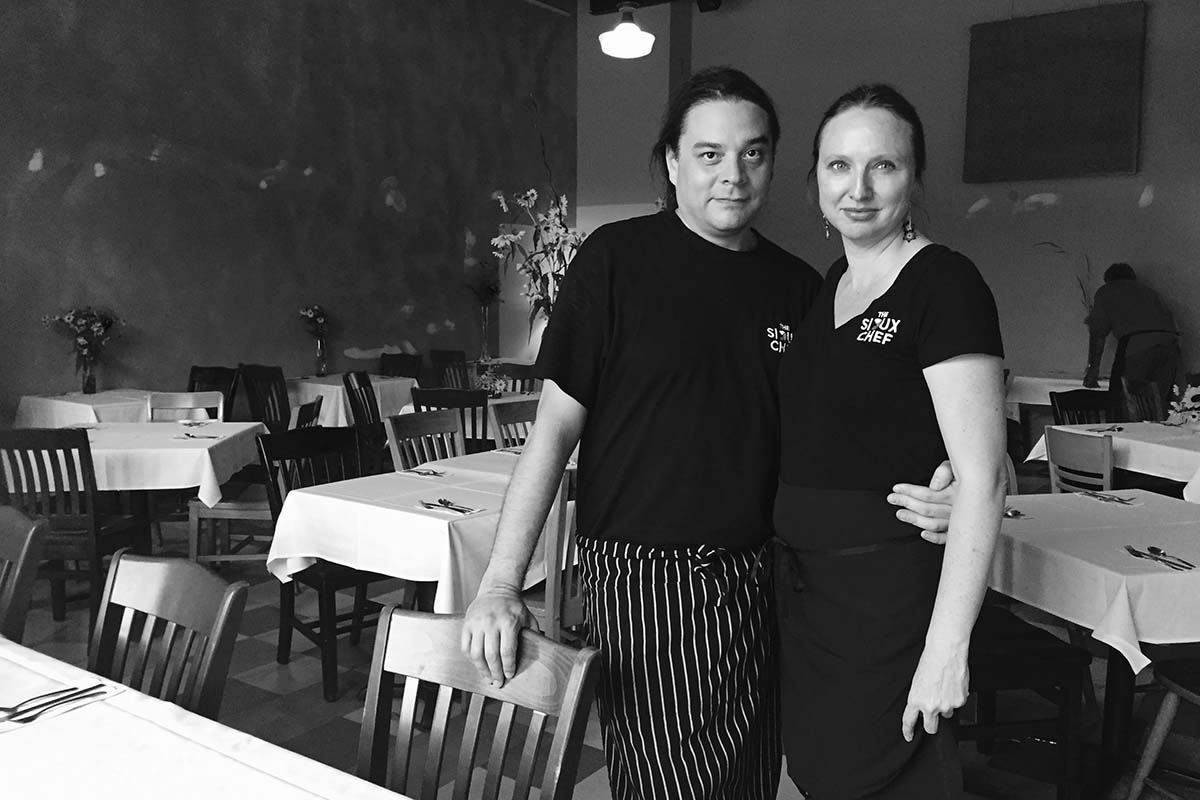 Details

By

JOSH SPANNINGA

Food/Agriculture
MINNEAPOLIS, Minn. — It's hard to believe just how much the restaurant industry has changed within the past year.
Like so many others in the industry, Chef Sean Sherman (Oglala Lakota), founder of Minneapolis-based food education and catering company The Sioux Chef LLC, was somewhat blindsided last March when COVID-19 swept the nation.
"Nobody could have foreseen the entire food industry being toppled overnight basically," Sherman told Tribal Business News. "Immediately, we lost all of our catering operation, we lost all of our travel dates."
Sherman founded The Sioux Chef in 2014 to celebrate the rich tradition of Indigenous, pre-colonial cuisine. His time as a chef in Mexico, where he worked closely with local ingredients that had been used in recipes for generations, inspired him to pursue the creation of The Sioux Chef. He also cites the success of restaurants that work with wild foods, such as Noma in Copenhagen, as motivating him to realize his vision.
"In the beginning, I just wanted to get the word out there that we could be doing modern Indigenous foods, and we could be doing something other than just fry bread by really showcasing our true diversity, and how much food and flavor we can be playing with with all of these plants that are around us," Sherman said. "It just grew and grew because we realized the need and demand for it — not just here or the cities where I was starting, but basically across the nation."
Of course, it's difficult to operate a restaurant and catering service when your surrounding community is in lockdown. Rather than get discouraged by the impending financial repercussions of the pandemic, Sherman and co-owner and partner Dana Thompson (Mdewakanton Dakota, Wahpeton Sisseton) took this as an opportunity to shift their attention to other projects that were in the works. That includes the Indigenous Food Lab, which is part of their North American Traditional Indigenous Food Systems (NATIFS) nonprofit.
"It really gave us the time to focus on the nonprofit," Sherman said. "The timing kind of worked out for us in a weird way because we had already set ourselves up the previous year to do all of this work with the nonprofit and raised the money that we needed so we were in a safe place, but it's not like that for everybody."
GIVING BACK
Once the uprising over the killing of George Floyd began in late May, The Sioux Chef partnered with Minnesota Central Kitchen, an initiative of Second Harvest Heartland, to provide hot meals to communities left without access to food in the aftermath of the protests. This way, they were able to keep kitchen staff employed while donating thousands of Indigenous meals per week. The company is currently basing operations out of the Indigenous Food Lab, which is located in the Midtown Global Market in Minneapolis.
"I've known Sean and Dana for a while, and Sean just reached out and said we want to be a part of what you're doing," said Dana Nelson, lead at Minnesota Central Kitchen. "He asked how do we help, we want to cook, we want to be involved. At that point, we sought out money to open the Indigenous Food Lab with Sean and his team at the Global Market really specifically to be able to react to neighbors who live in the neighborhood along Lake Street that no longer had grocery stores to depend on."
Minnesota Central Kitchen has partnered with other area restaurants and catering services, leading to the retention or re-employment of approximately 139 kitchen workers, and plans to serve 1 million meals by Thanksgiving.
Sherman and crew are playing a very important role in making all of this happen, according to Nelson.
"It's important to have meals that are pre-colonial and made with Indigenous ingredients — they're so nutrient dense," Nelson said. "When we're sharing those meals with folks who need one, sometimes it's the only meal they'll get, and it's definitely the most healthy and delicious.
"You think about being in a global pandemic and the biggest health crisis we've ever been through, to be able to share that nutrient-dense food is more important than ever."
As well, Sherman and Thompson both sit on the leadership committee for The James Beard Foundation's Food and Beverage Investment Fund for Black and Indigenous Americans, a new vehicle to direct financial and other supportive resources to companies across the country that are led by Black and Indigenous owners.
Foundation COO Kris Moon said the fund is "an initiative that the Foundation would not be able to undertake without the timeless dedication of activists like Sean and Dana who volunteer their time for just causes."
Sherman previously was awarded the James Beard Leadership Award in 2019, "one of our prestigious Awards programs which spotlights the important and complex realms of sustainability, food justice, and public health," Moon said in a statement to Tribal Business News. Sherman's "The Sioux Chef's Indigenous Kitchen" won a James Beard book award in 2018.
"The Foundation is continually proud to partner and work with Sean," Moon said.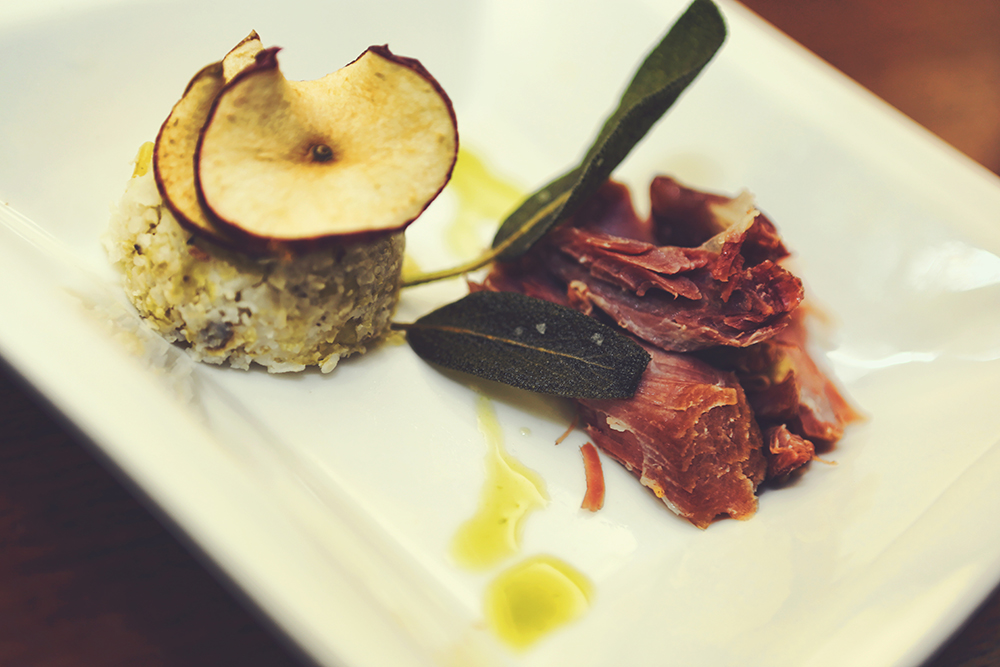 Smoked duck, crab apple, hominy and sage. Courtesy photo.
MOVING AHEAD
While Sherman and Thompson have been focusing more lately on their nonprofit NATIFS entity that operates the Indigenous Food Lab, they still have other exciting business endeavors in the works under The Sioux Chef brand.
Most notable is the Owamni restaurant, which is set to open in May 2021 as part of the Water Works project in downtown Minneapolis. It will overlook the Stone Arch Bridge and Saint Anthony Falls, and it gets its name from the Dakota term "Owamni Yomni" used to describe the falls.
"We're planning on opening over the summer and we have a lot of outdoor space there, so it's about as COVID-friendly as you can get," Sherman said. "There are two beautiful patios that overlook the riverfront. That will be grab and go. We're going to build it basically like the other park board restaurants where you just get in a line and get takeout. We felt like that was a safer model to do during this time."
Officials and residents are hopeful the Water Works project will help revitalize a downtown area that has been changing rapidly in the wake of COVID and the George Floyd protests. While many other downtown restaurants have announced plans to close, Sherman and Thompson remain optimistic about the particular benefits the future location of their restaurant will have to offer. They point to the continued success of other area restaurants with prominent outdoor seating, such as Sea Salt, when discussing plans for Owamni.
In addition, the Water Works Park will be easily accessible to the public, with both bike and kayak parking available. Owamni will feature five times more seating outside than inside, and will have an onsite garden to show off the ingredients for Indigenous dishes. The owners carefully will select any ingredients they need to ship in to follow the philosophy of the restaurant.
"Our model is we try to support Indigenous food producers first," Sherman said.
Depending on the success of Owamni, The Sioux Chef may open additional restaurants in the region. Lessons learned from these ventures will then be shared with other Indigenous entrepreneurs through the Indigenous Food Lab, a project which Sherman also hopes to expand into other communities across the nation.
"We didn't really want to create a franchise model or something like that and water it down. We really wanted to showcase the true diversity, so we tried to figure out how we could help tribes do it themselves and came up with this model of education, training and development," Sherman said. "That's what the Food Lab is going to play a role in: helping us to create culinary programs for tribal communities so there's at least one access point to help the Indigenous food that reflects their tribe, and to give them all of the tools that they need."
In recent weeks, The Sioux Chef entity has started booking virtual speaking engagements and educational events again. Sherman and Thompson continue to focus on what they can do to adapt their business in times of COVID, such as working with local architects to create an educational studio inside of the Food Lab where they can produce video lessons to be shared online, or planning a small Indigenous market where customers can pick up packaged goods such as rice, corn and beans.
All that is on top of the more than 300 meals per day they serve to their community.
"I was just over at the homeless encampment yesterday handing out hot soup," Sherman said. "There's just a lot of desperation out there and we're looking to address that. There's kids out there, which is really tough. Those kids were really happy to get hot food. It's hard to ignore when there are a few hundred people gathered who are struggling."
--
EDITOR'S NOTE: This story has been updated from its original version.